Here's a sampling of the Portland ADU (Accessory Dwelling Unit) projects, SMALL HOMES and Garage Conversions we've designed.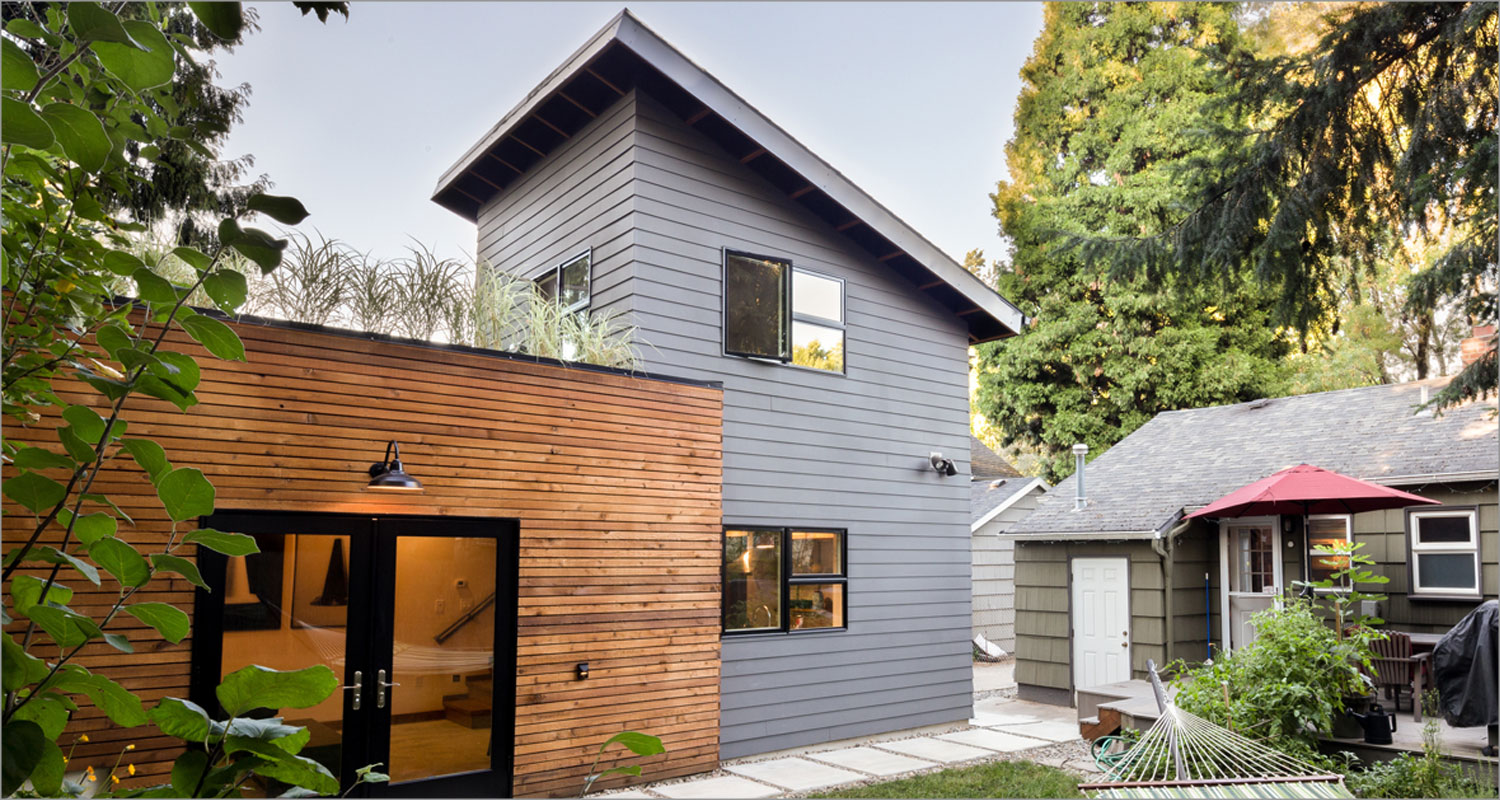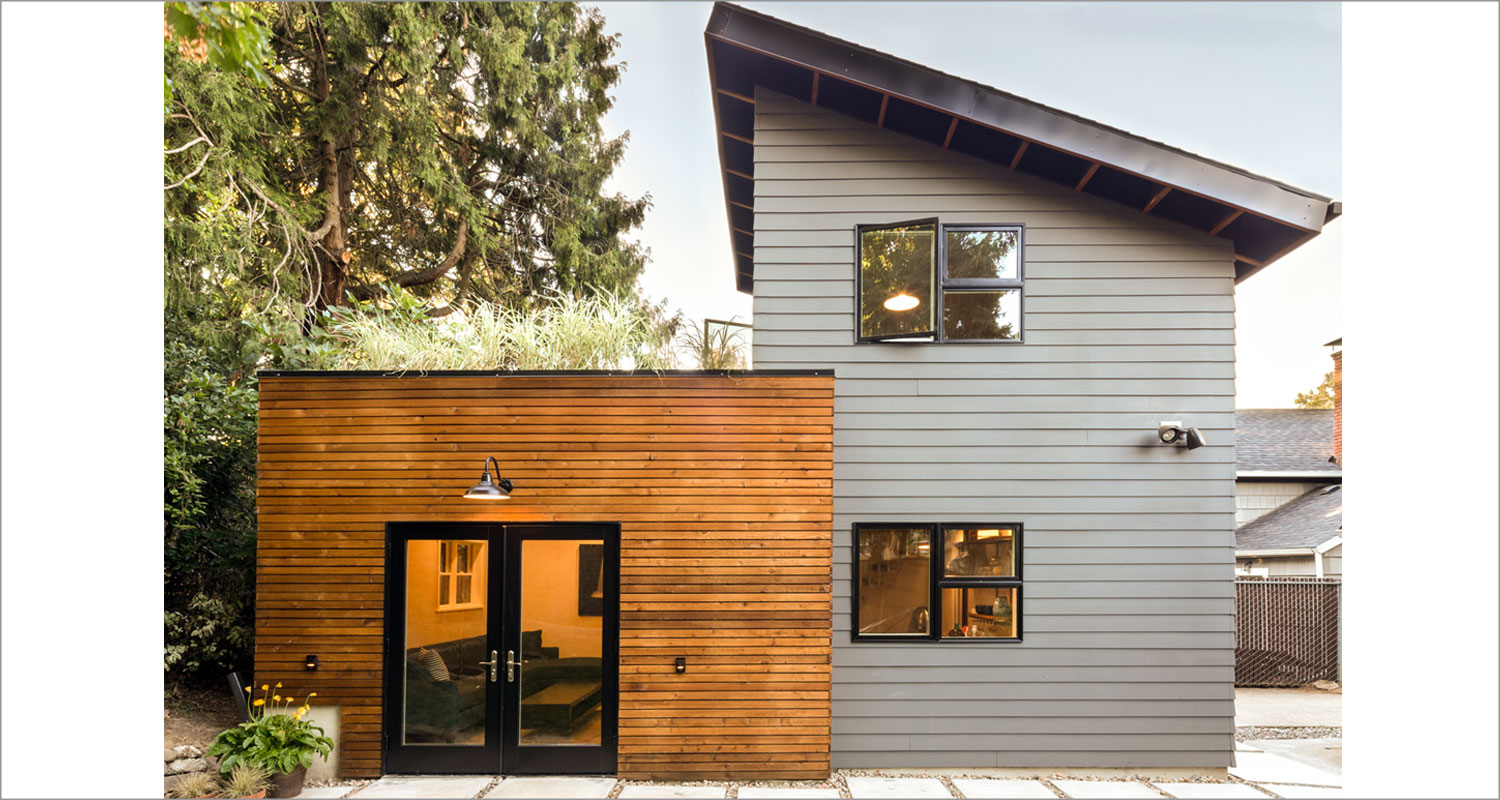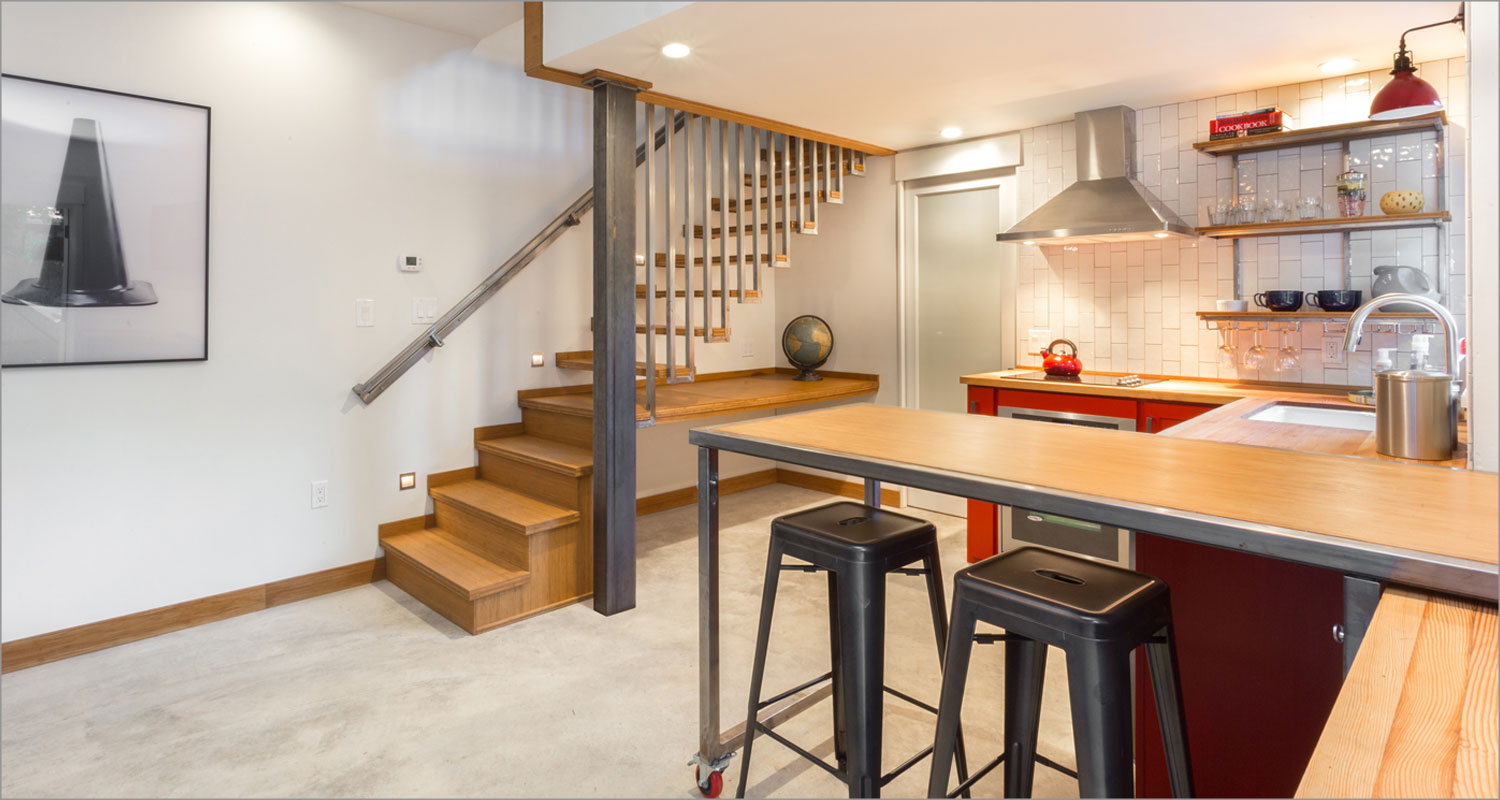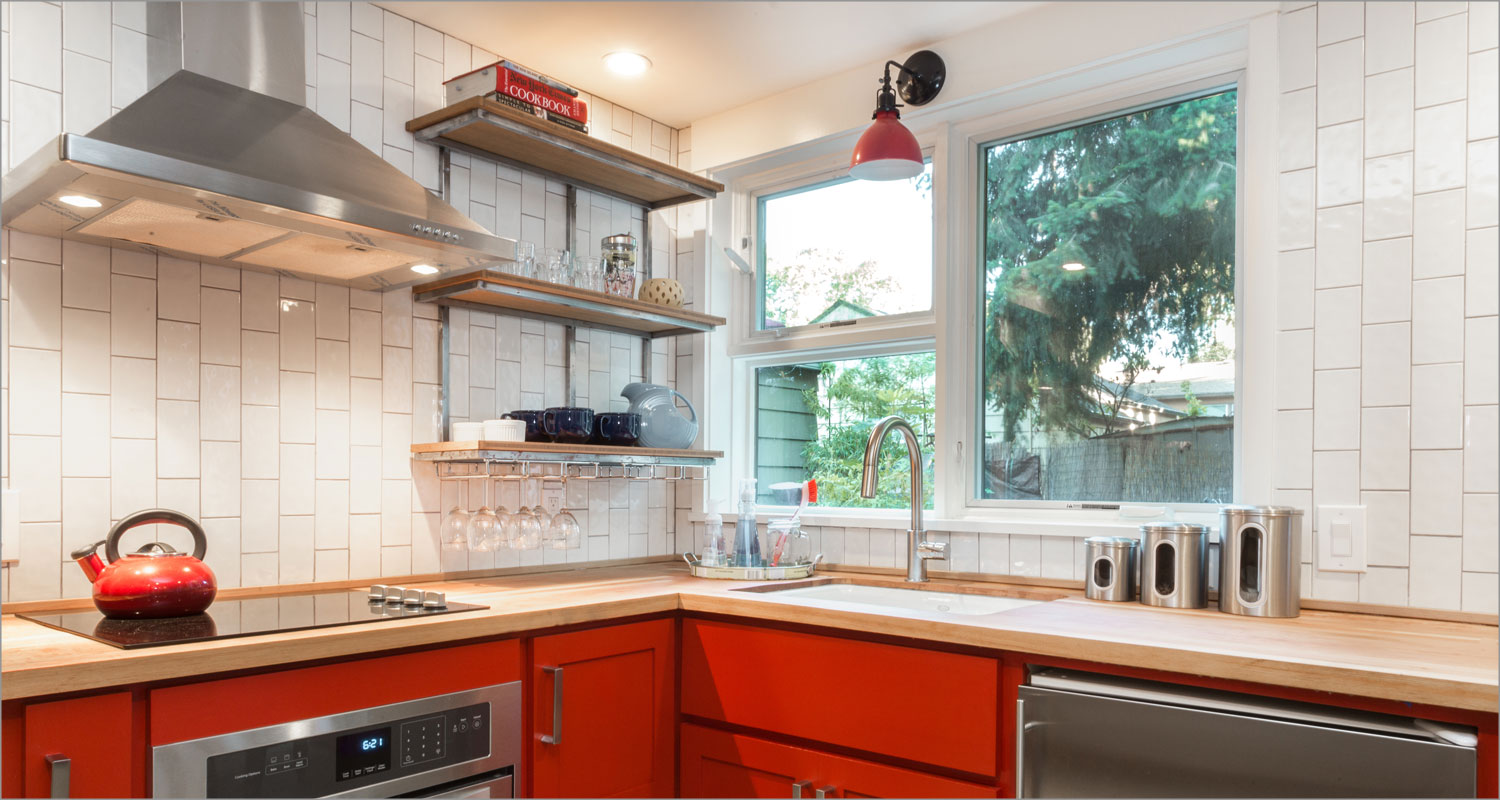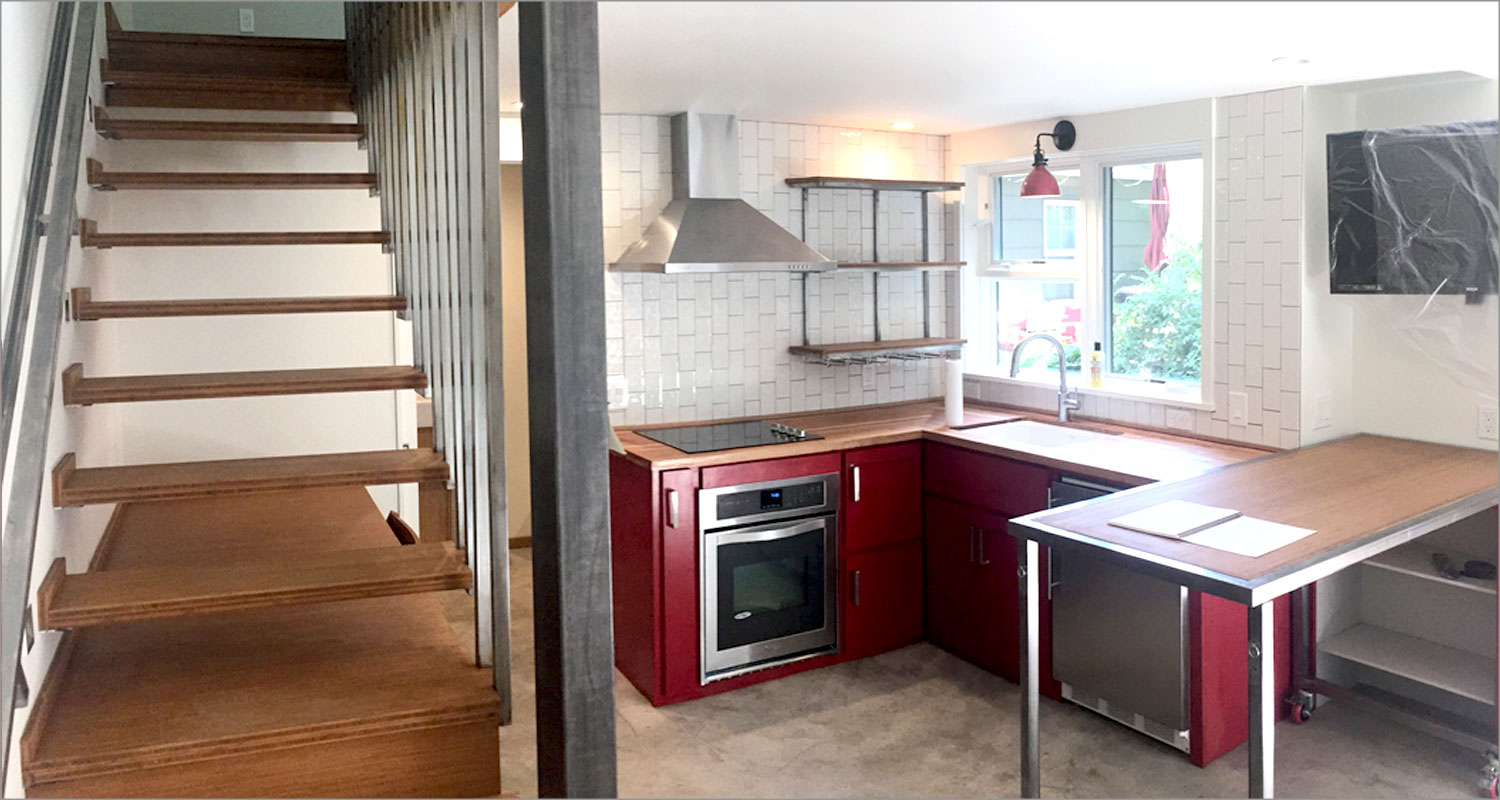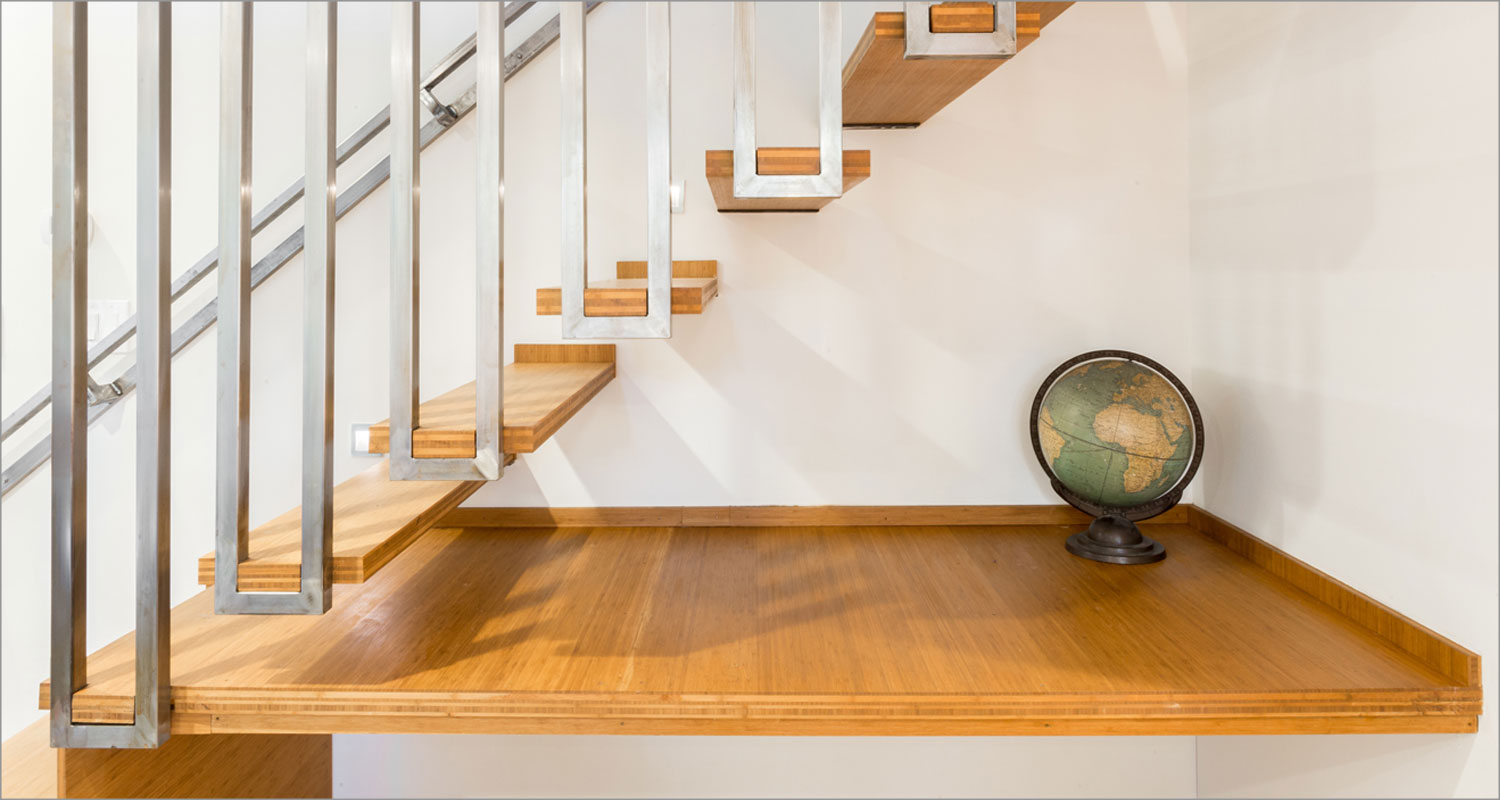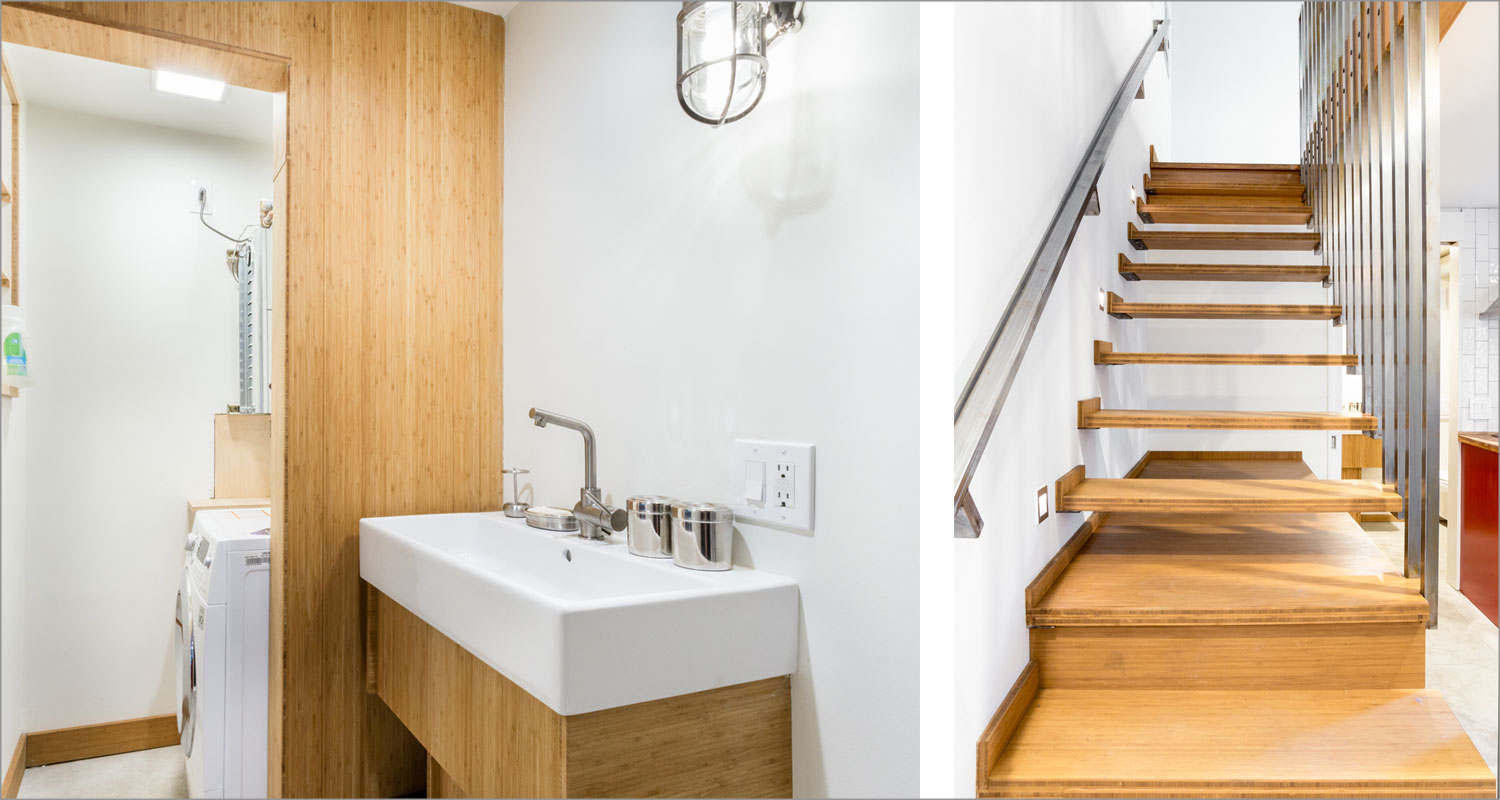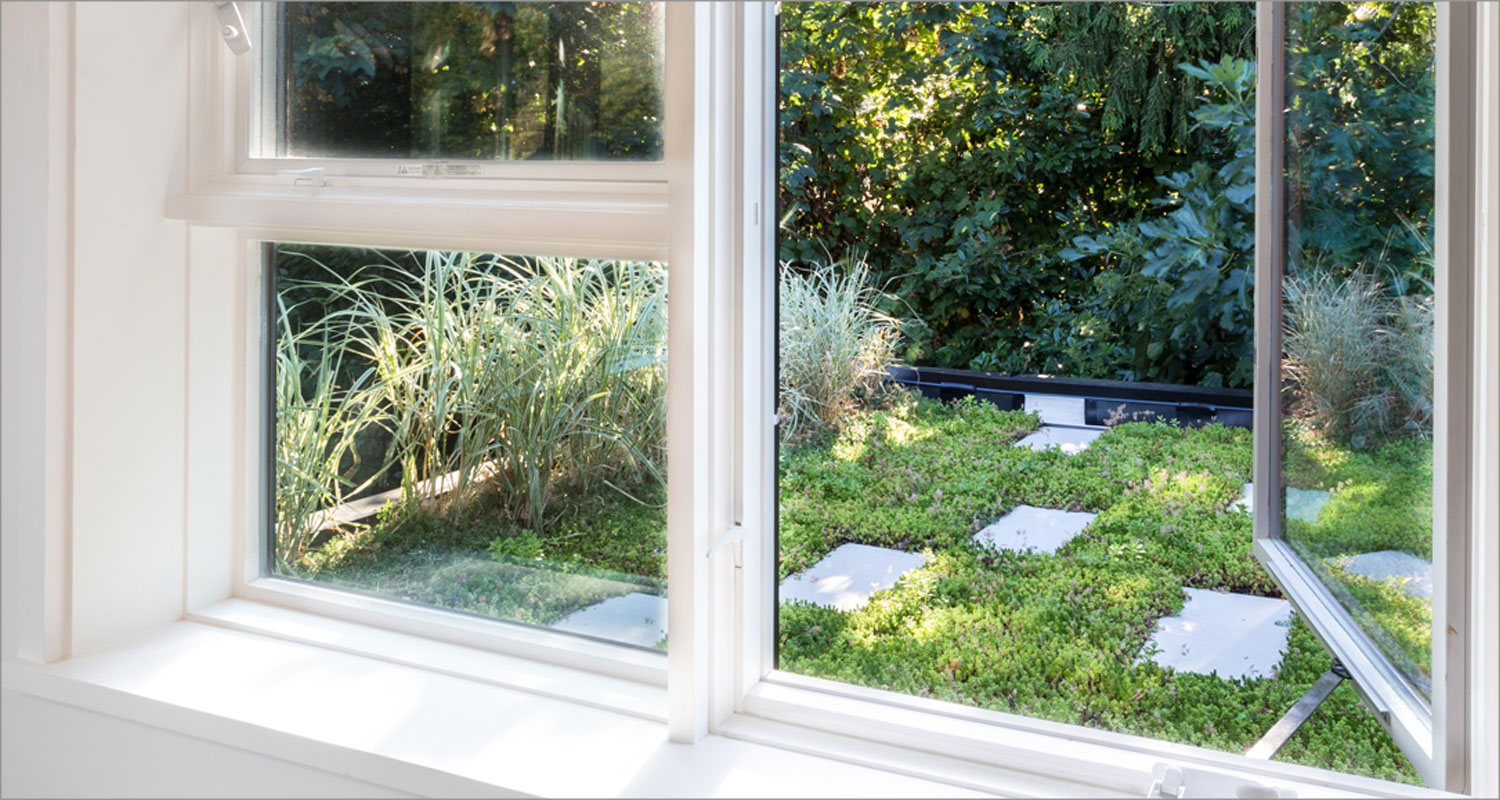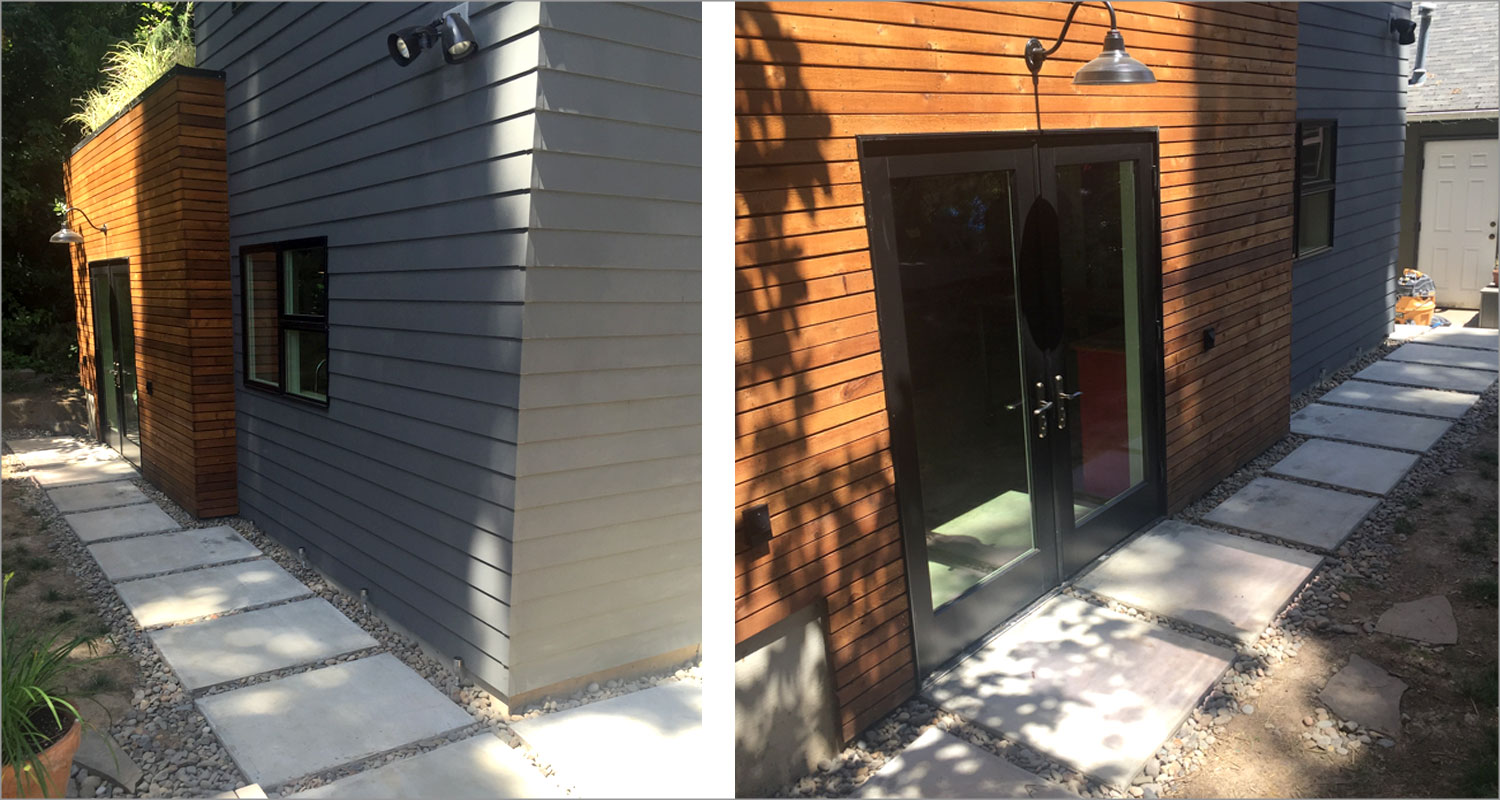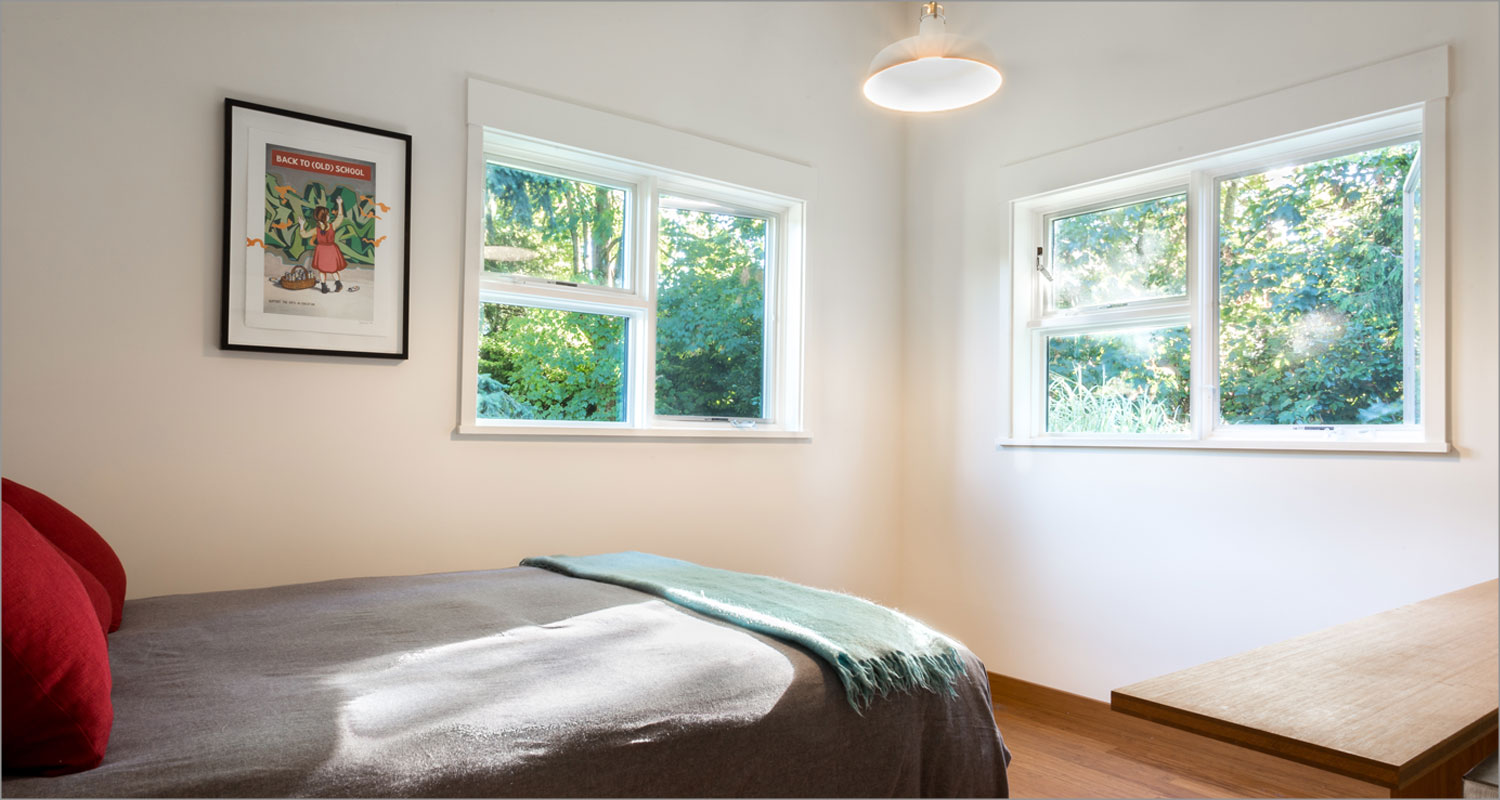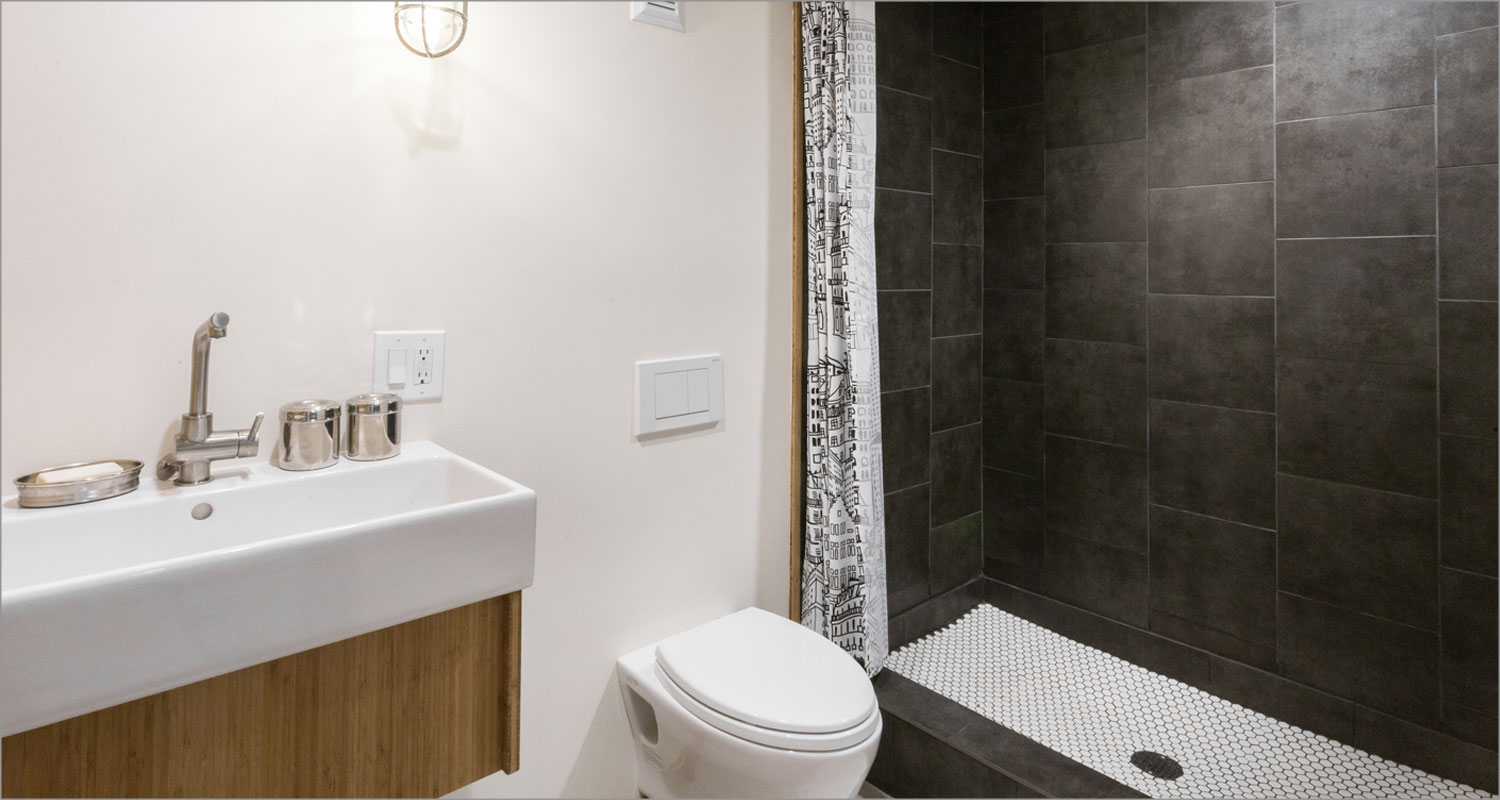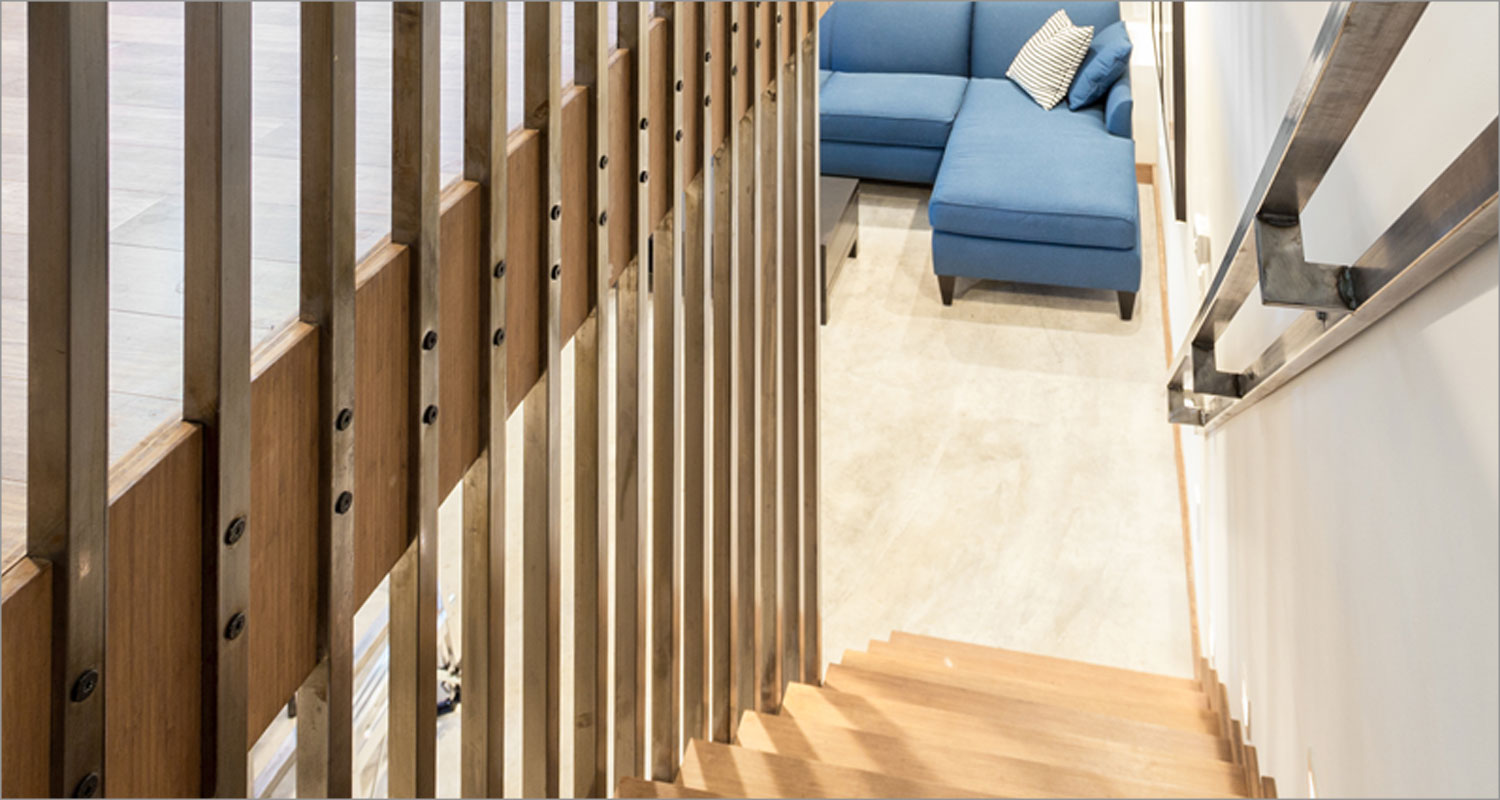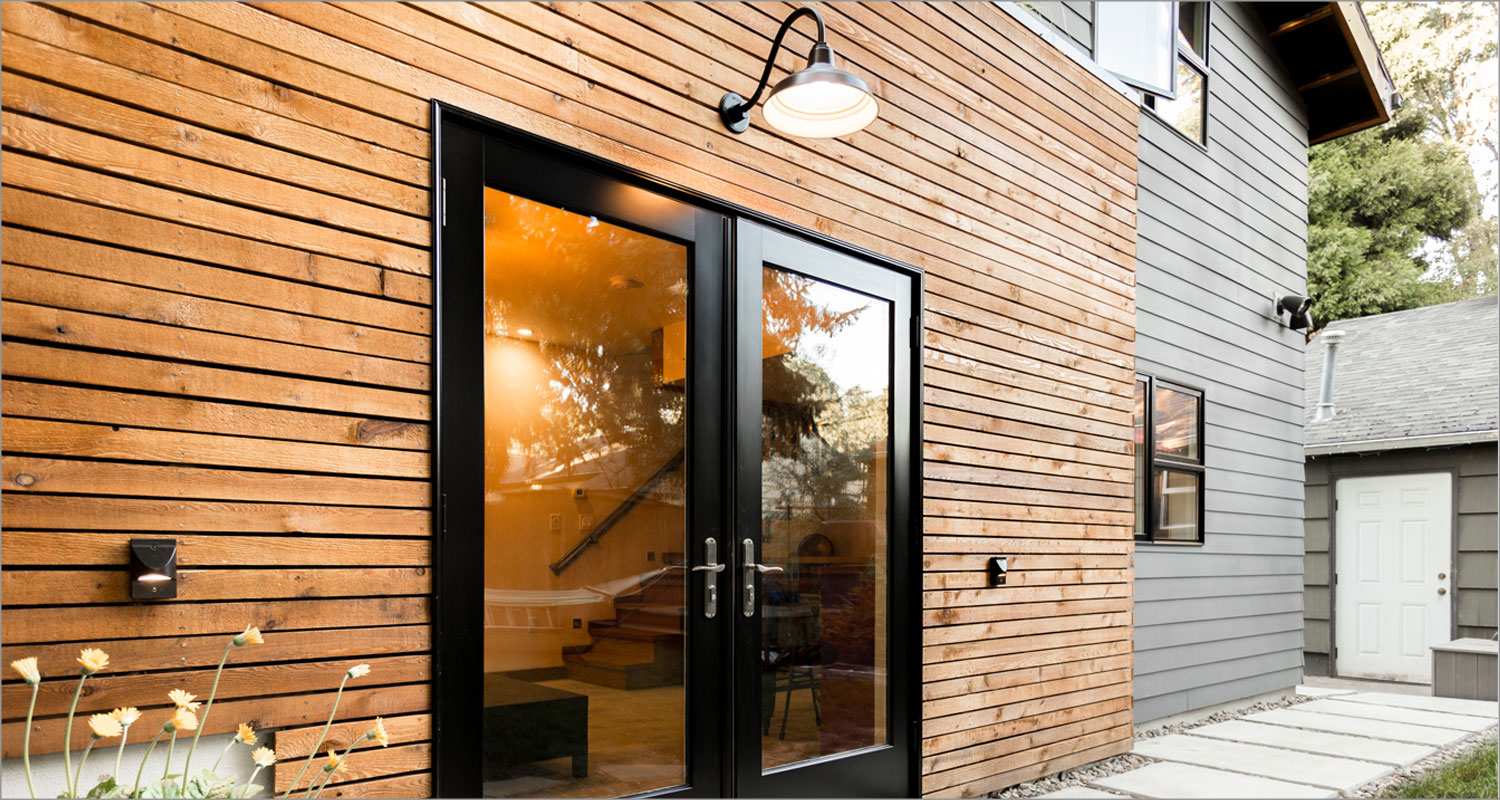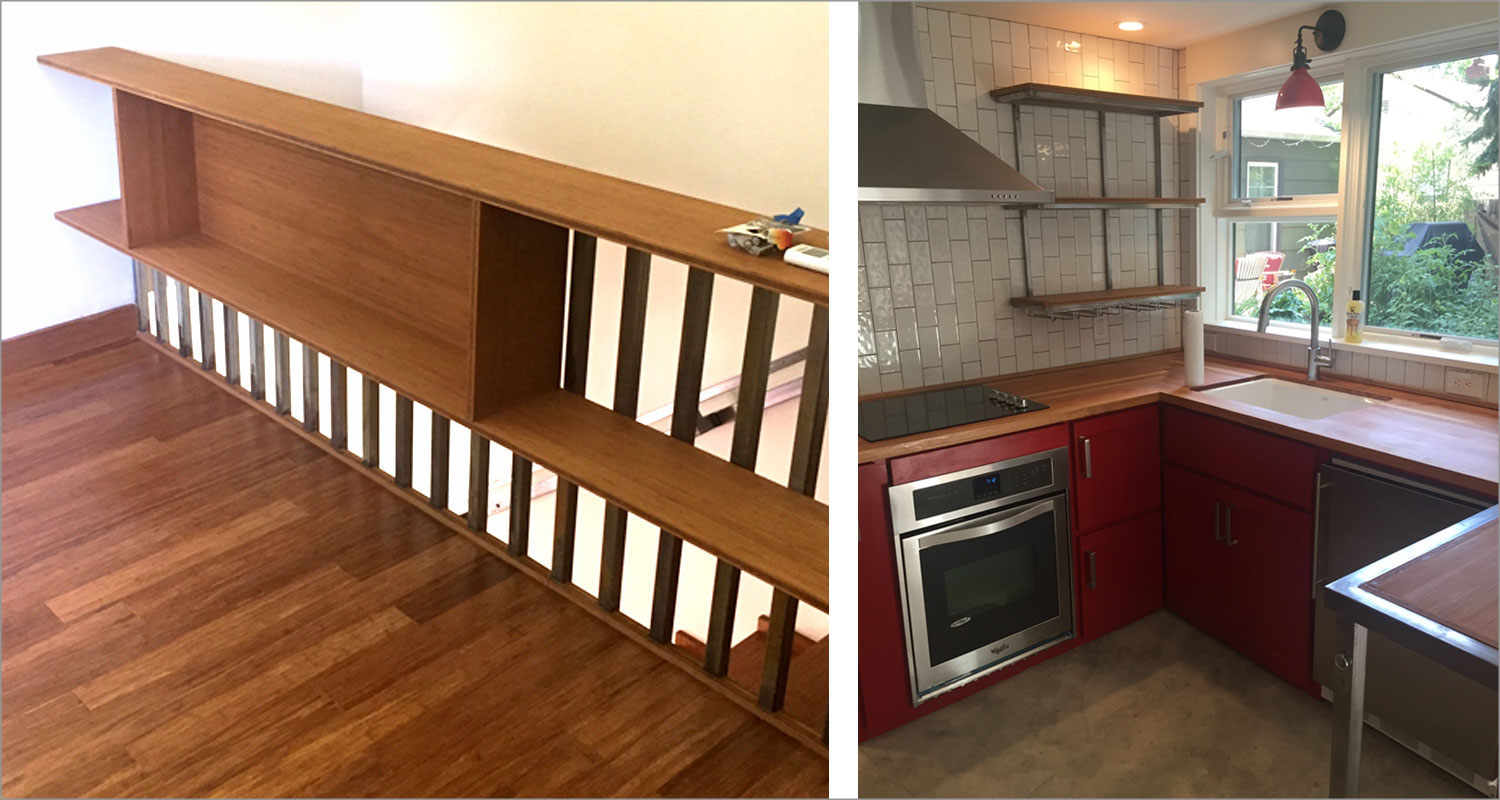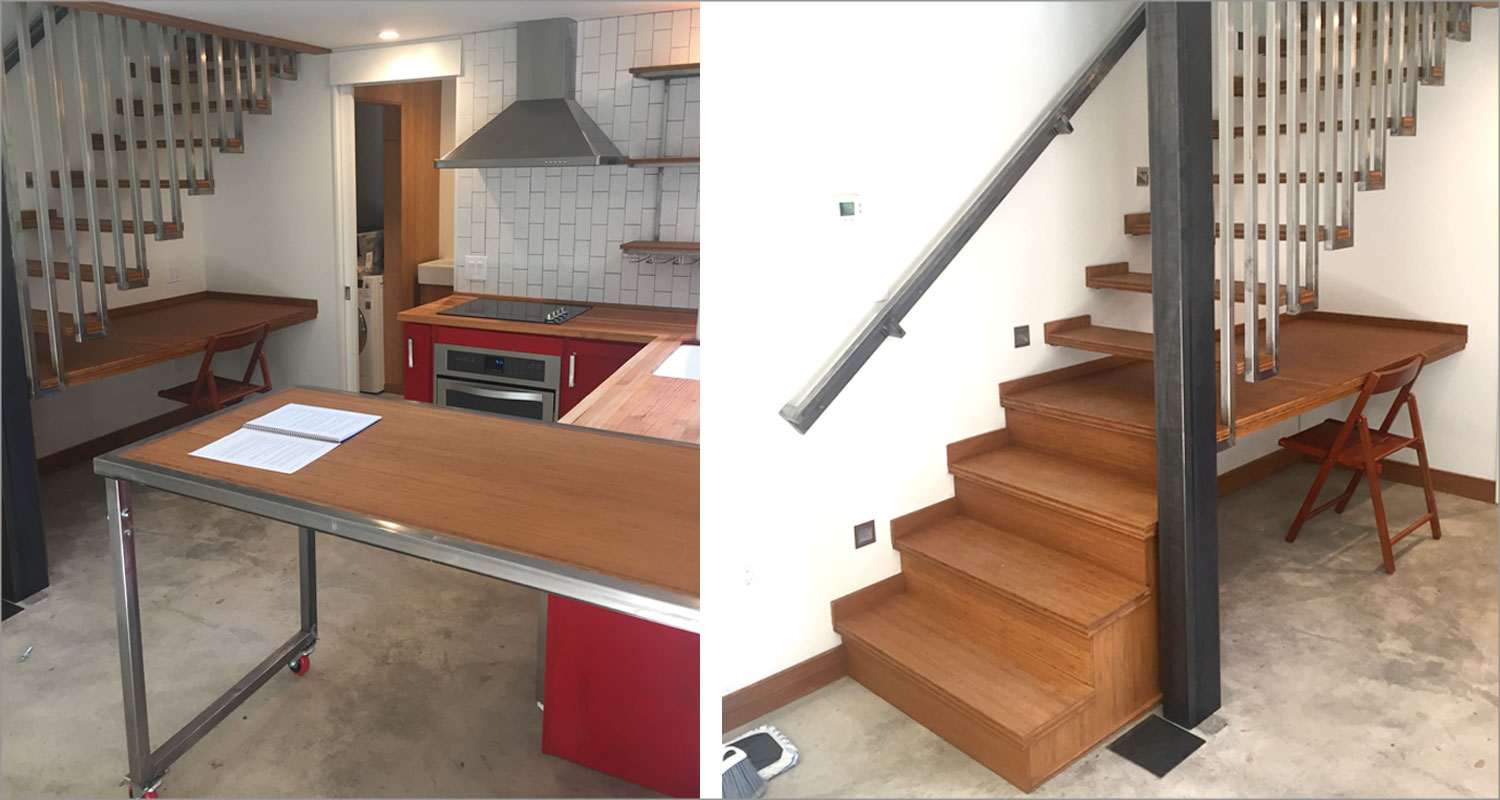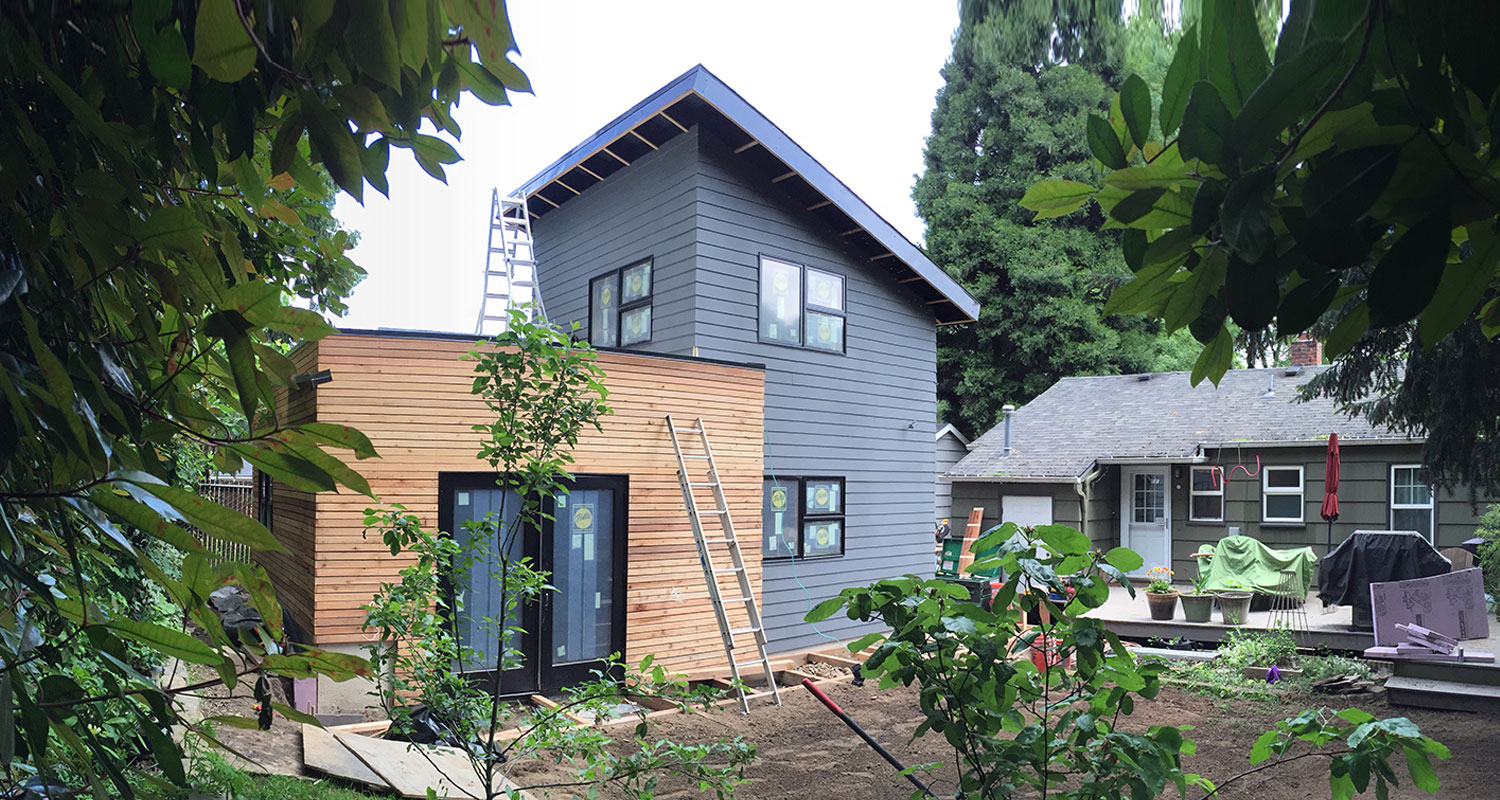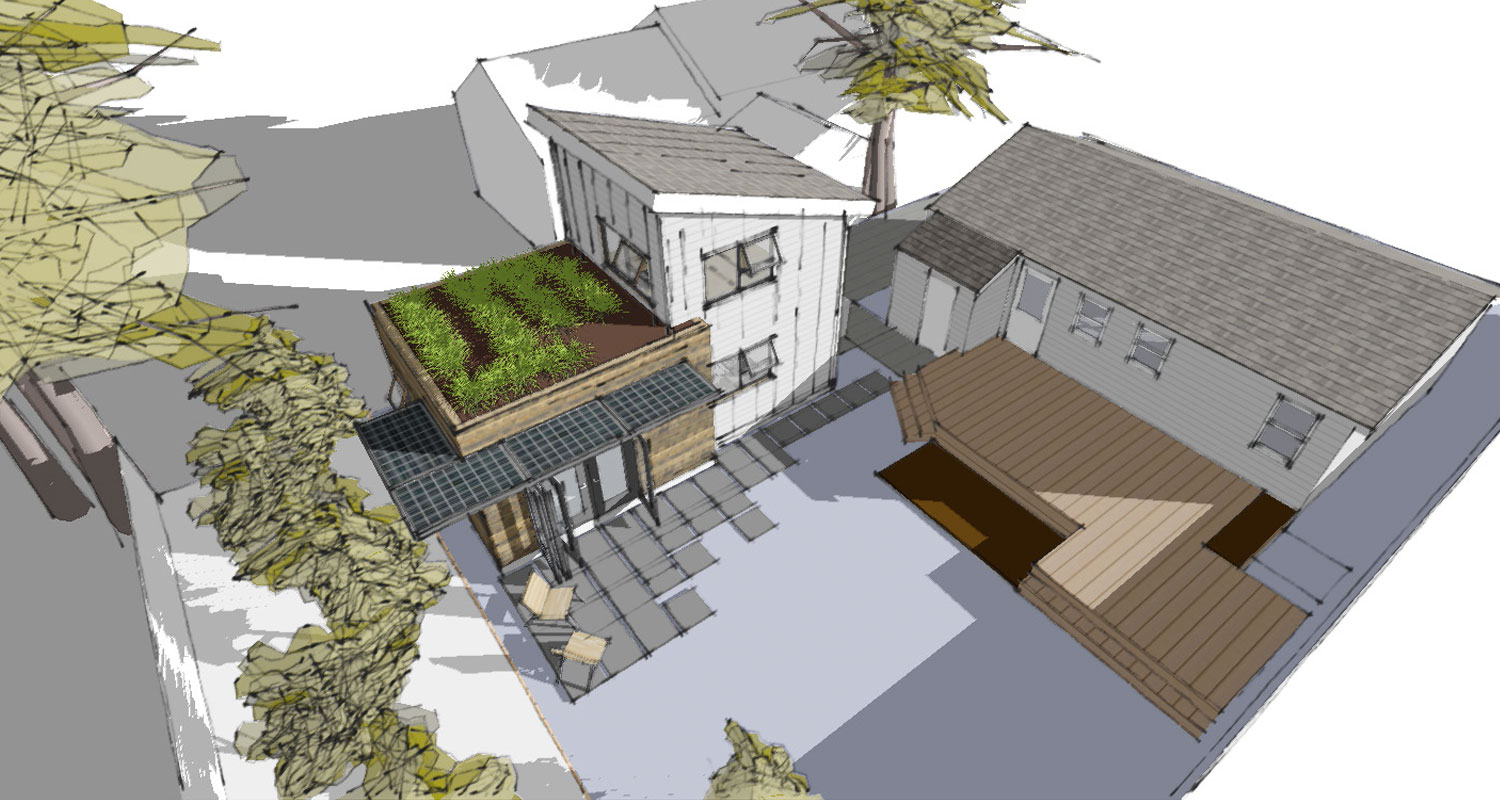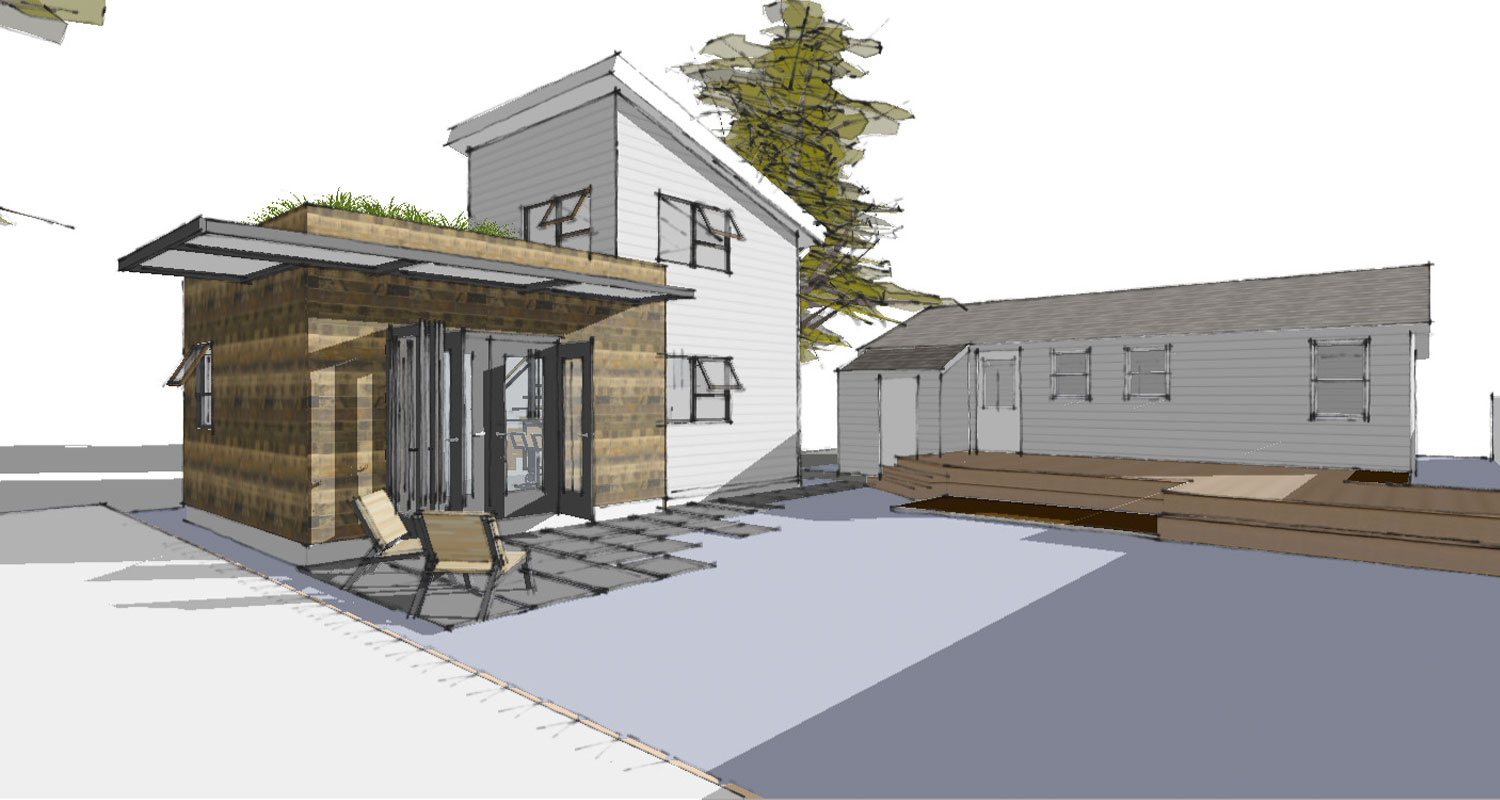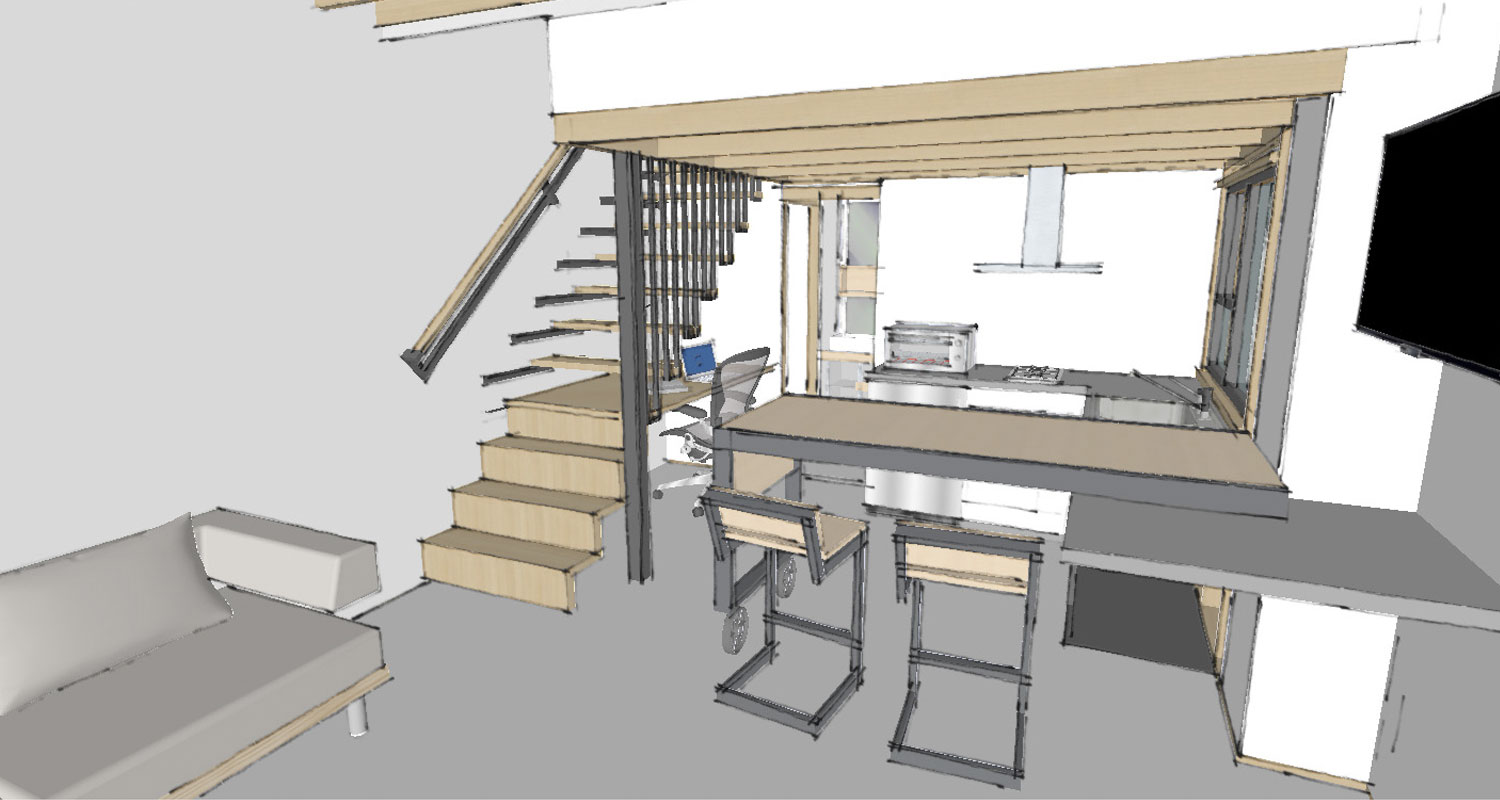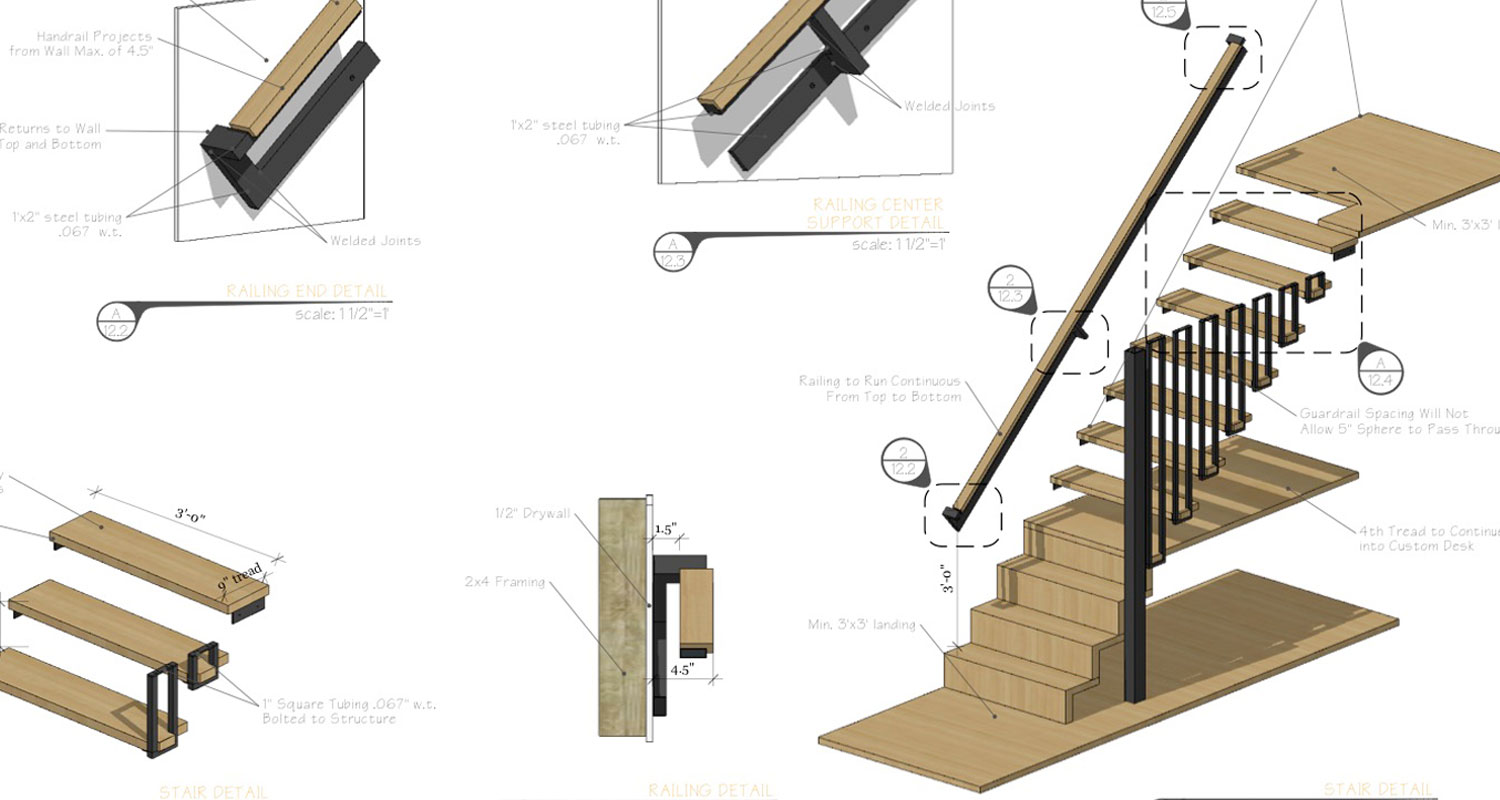 Eco adu
project cost: 180k
460 sqft
This client came to us looking for an ADU rental to help offset their mortgage and could be used to entertain visiting family and friends.

They hoped we could design an ADU without taking up the entire open space within their small backyard, and with an interest in green design. Initial hopes were to incorporate a living roof, solar panels and an industrial modern style.
The result is a roughly 460sqft ADU with an open plan and living space, gas fireplace, steel pergola with solar panels over a cornerless folding door system and custom bamboo/steel interior.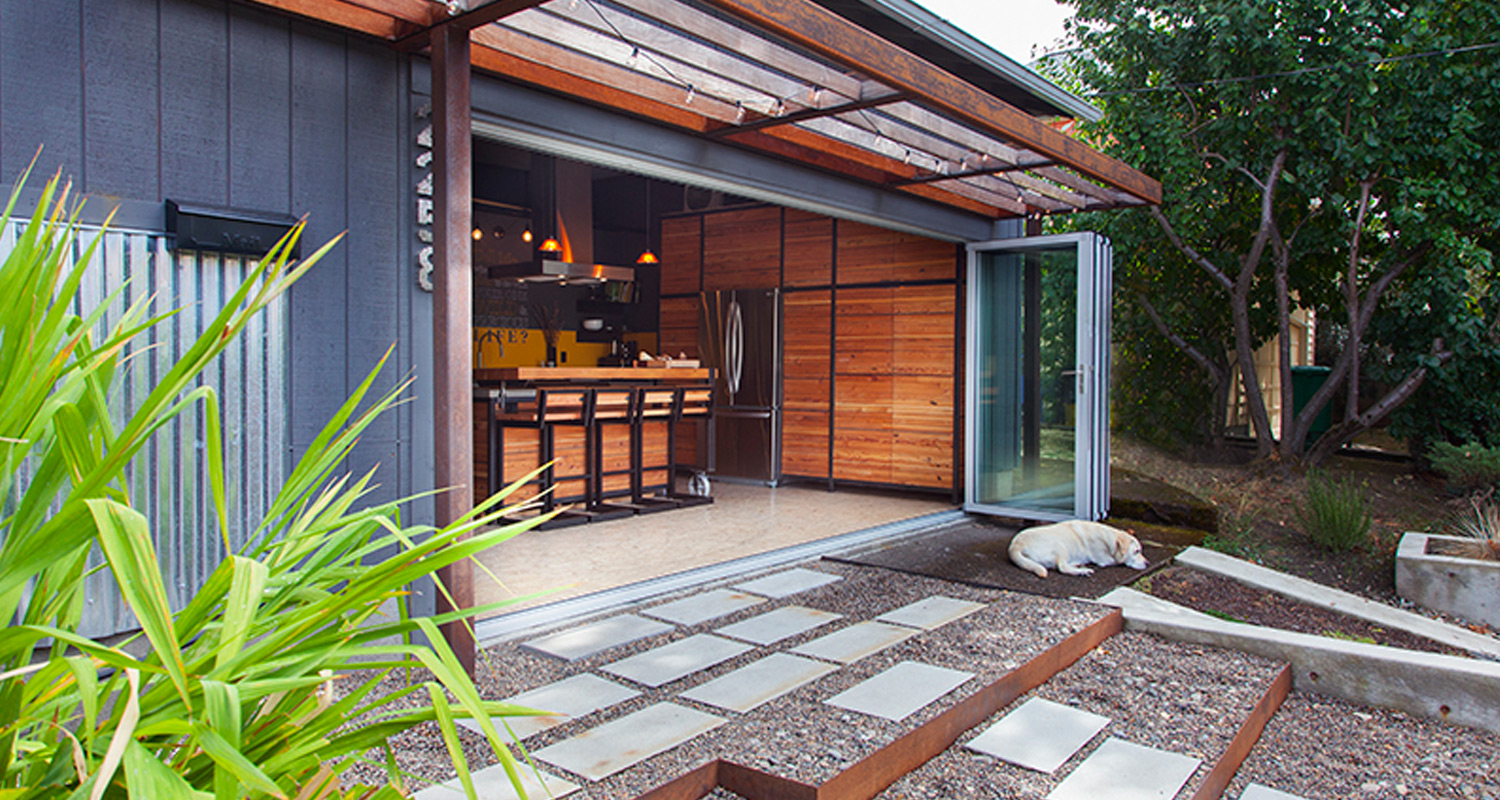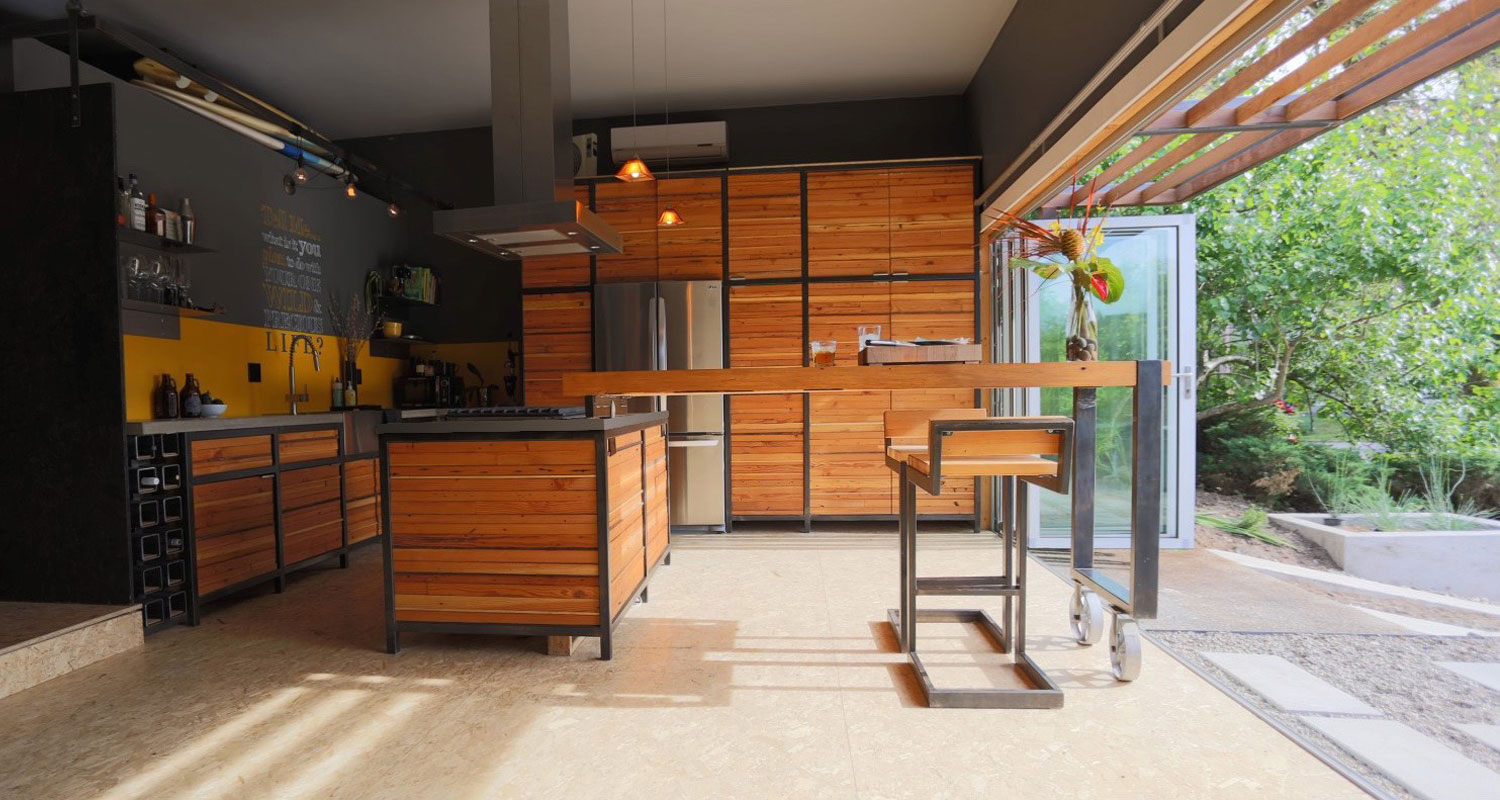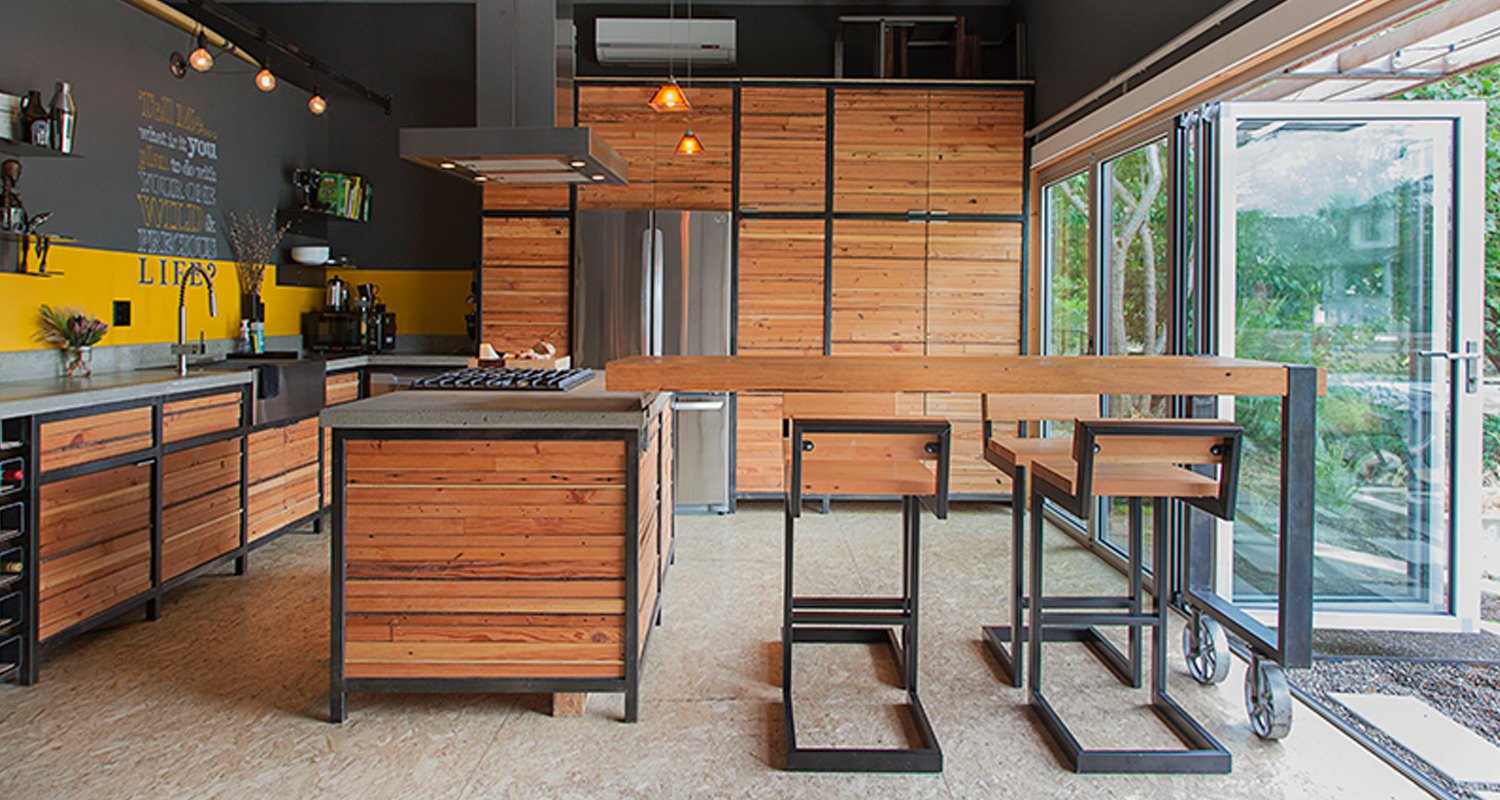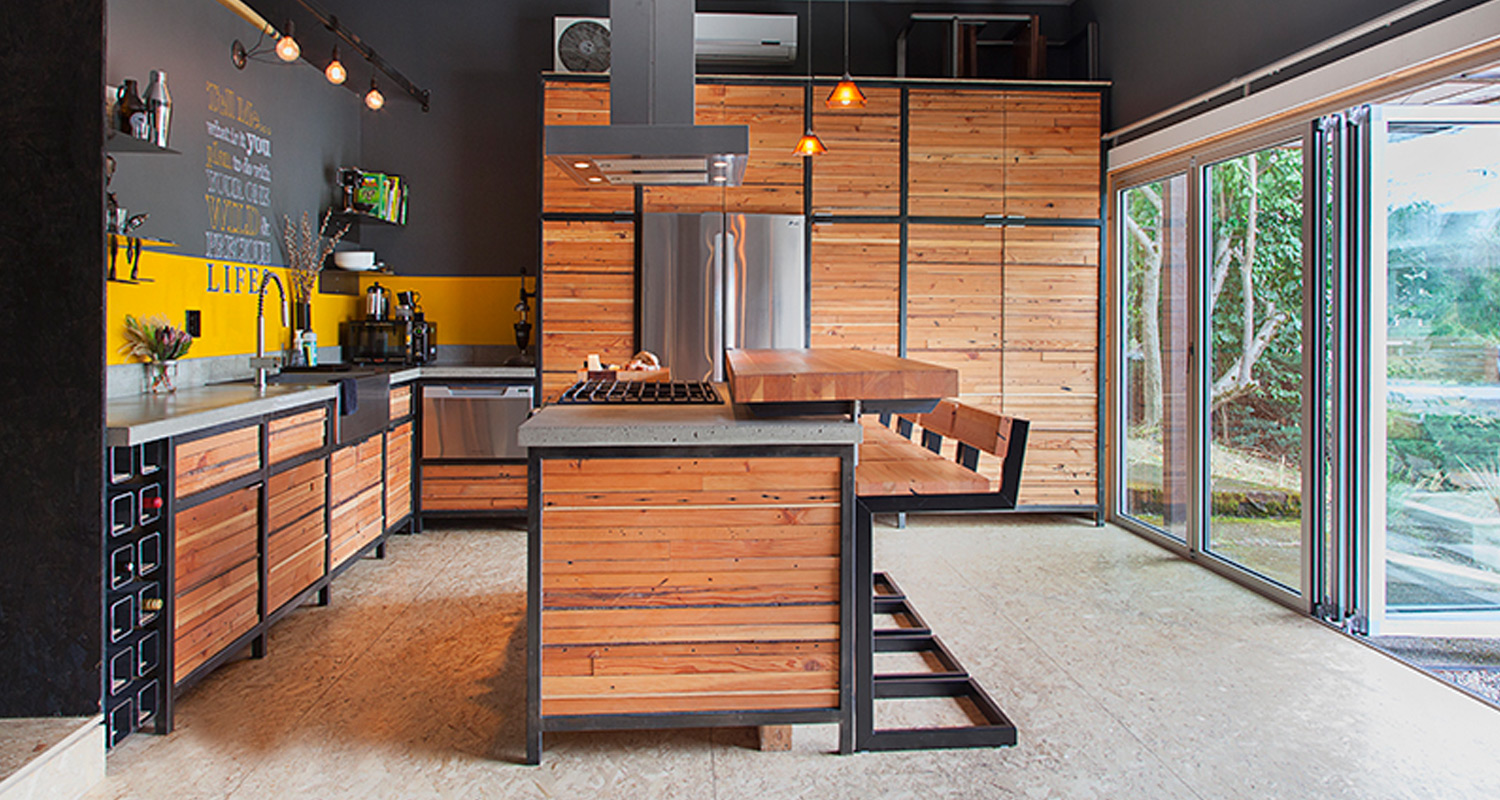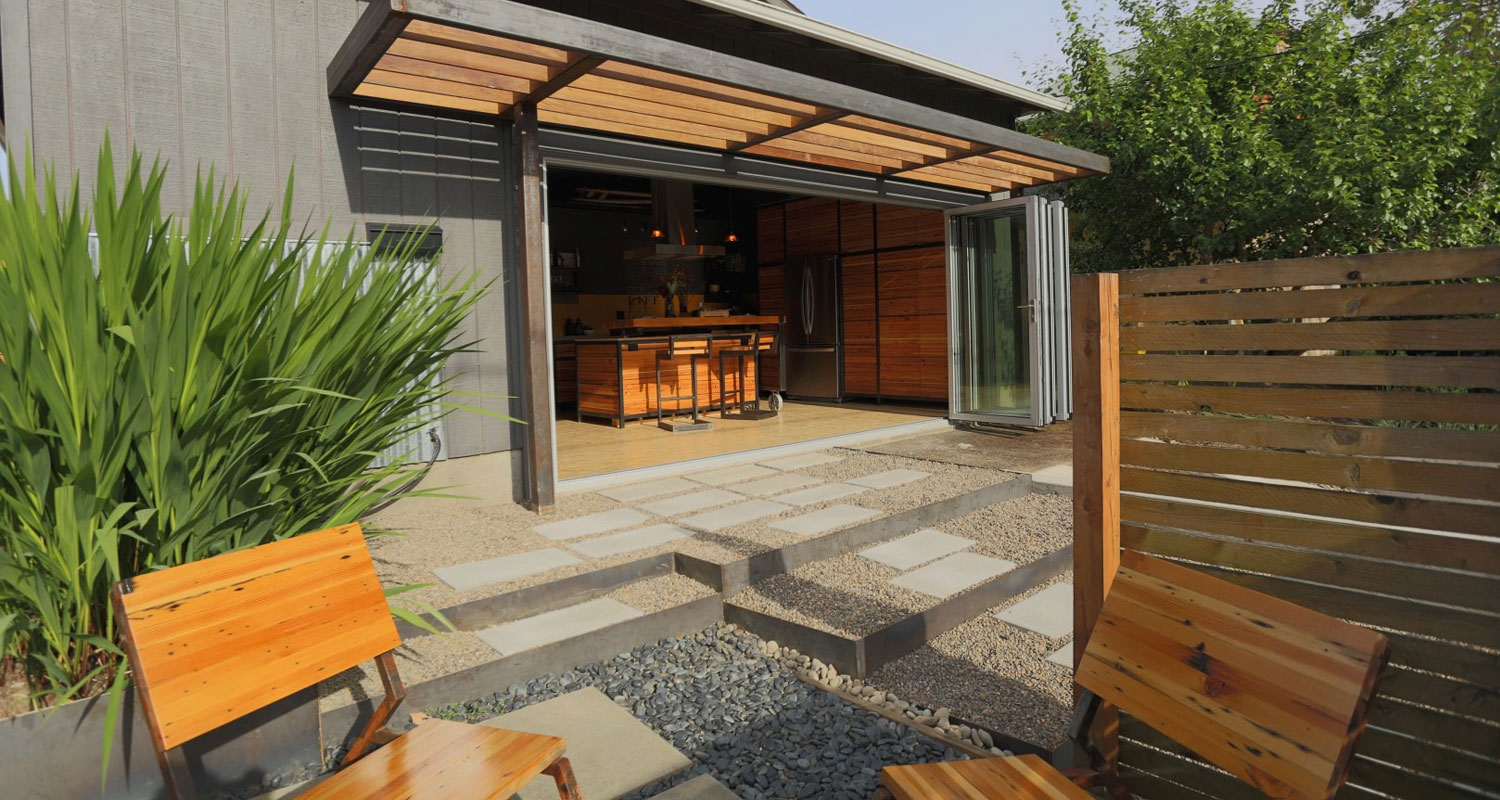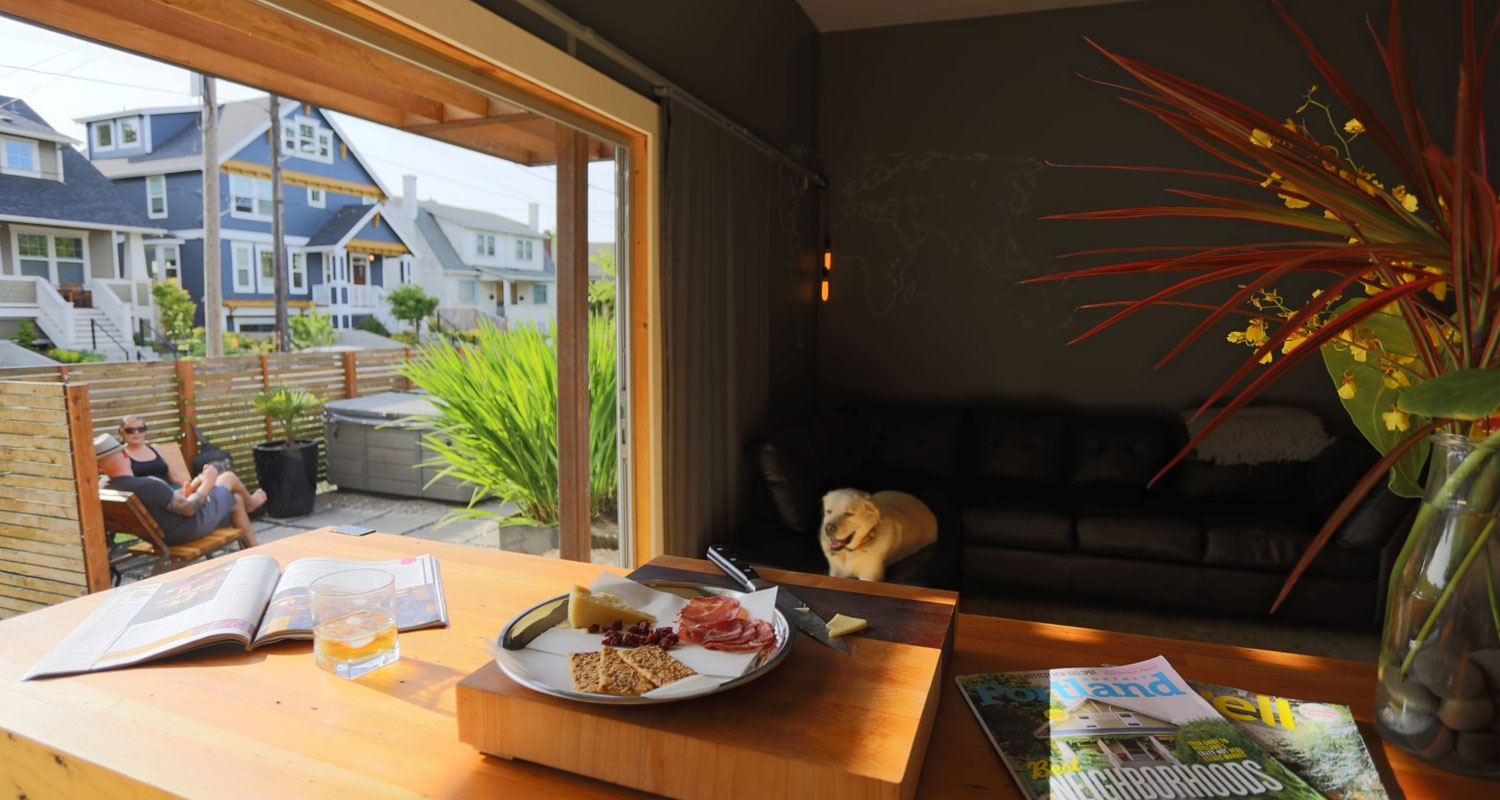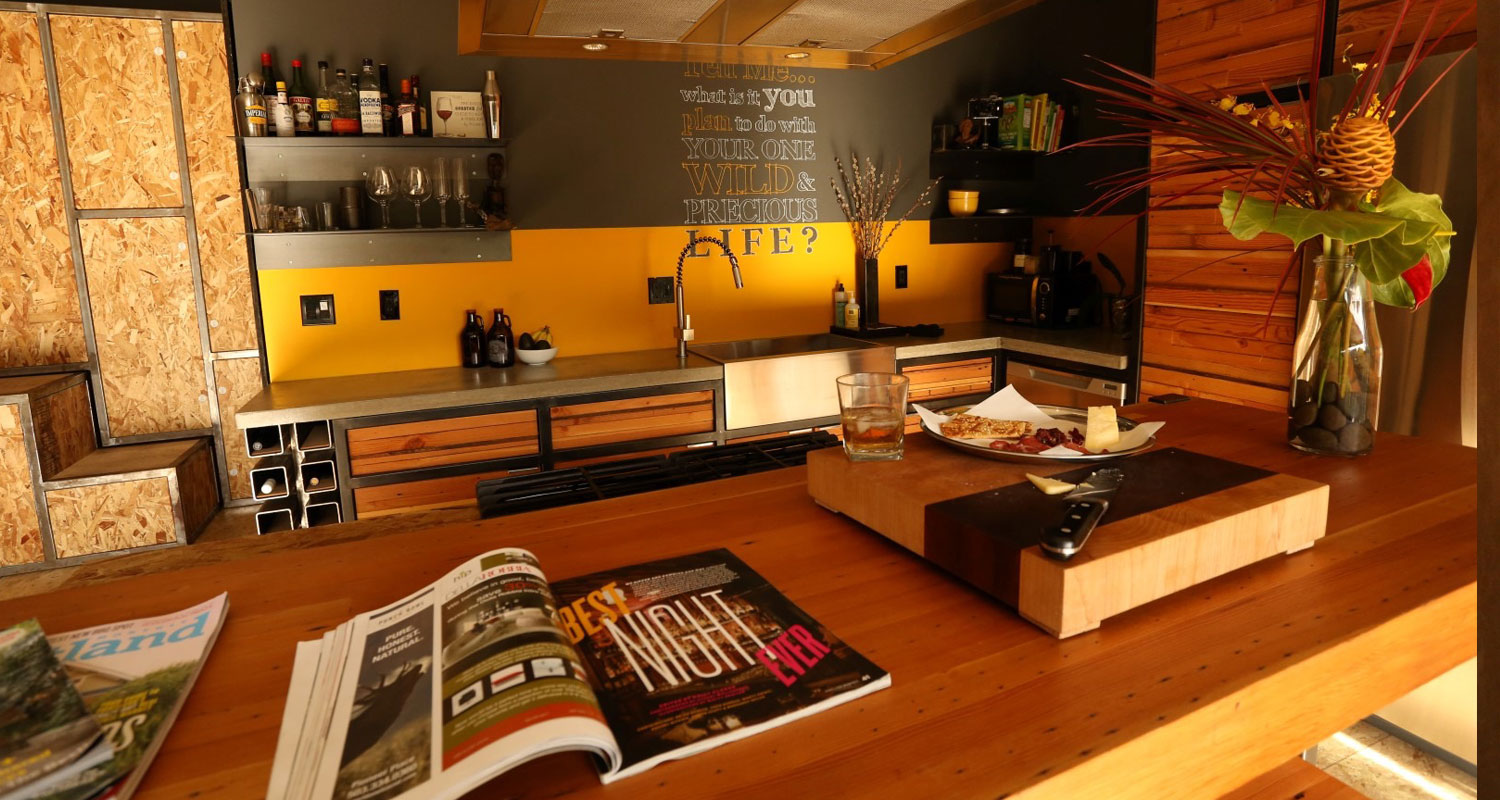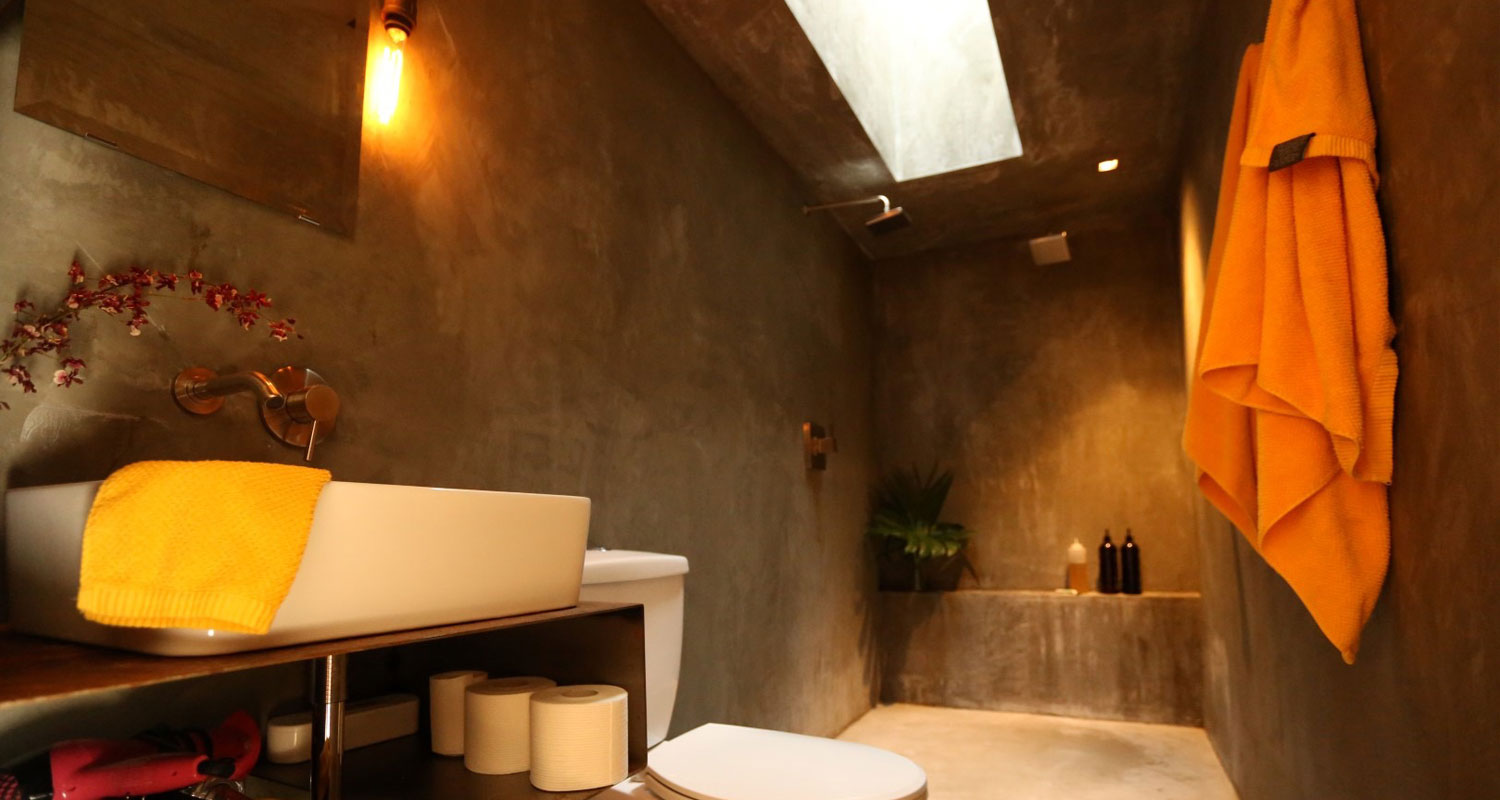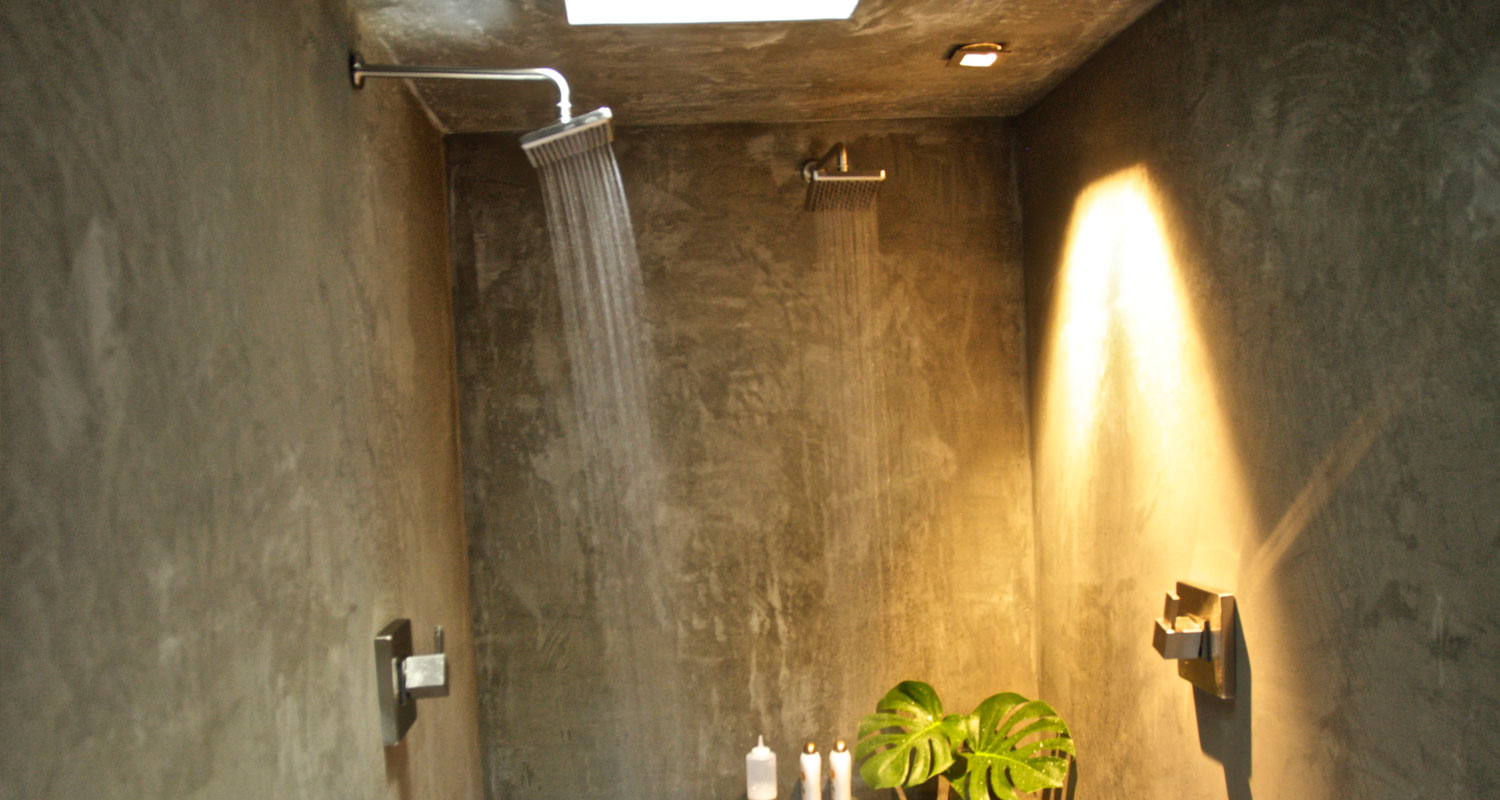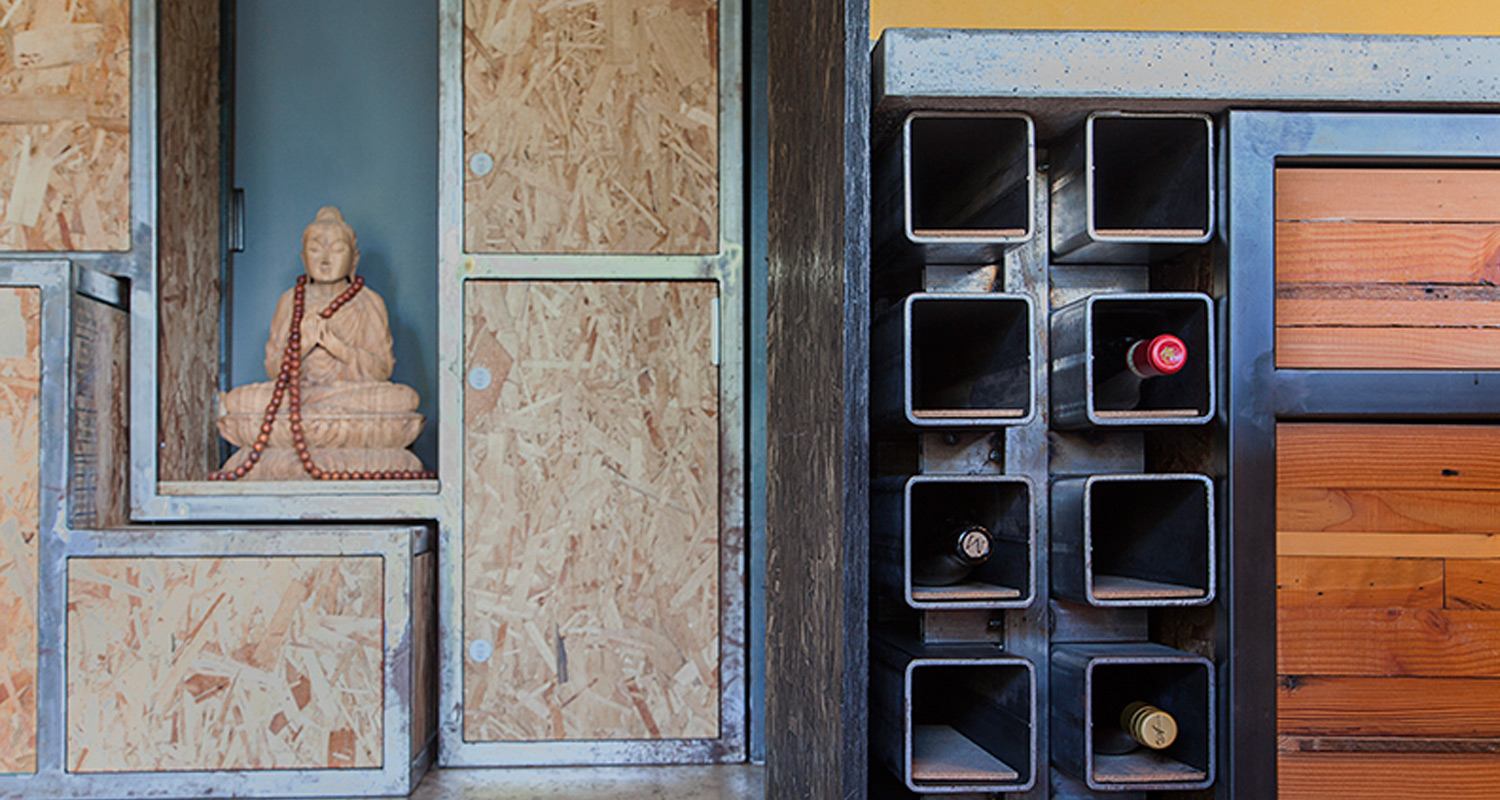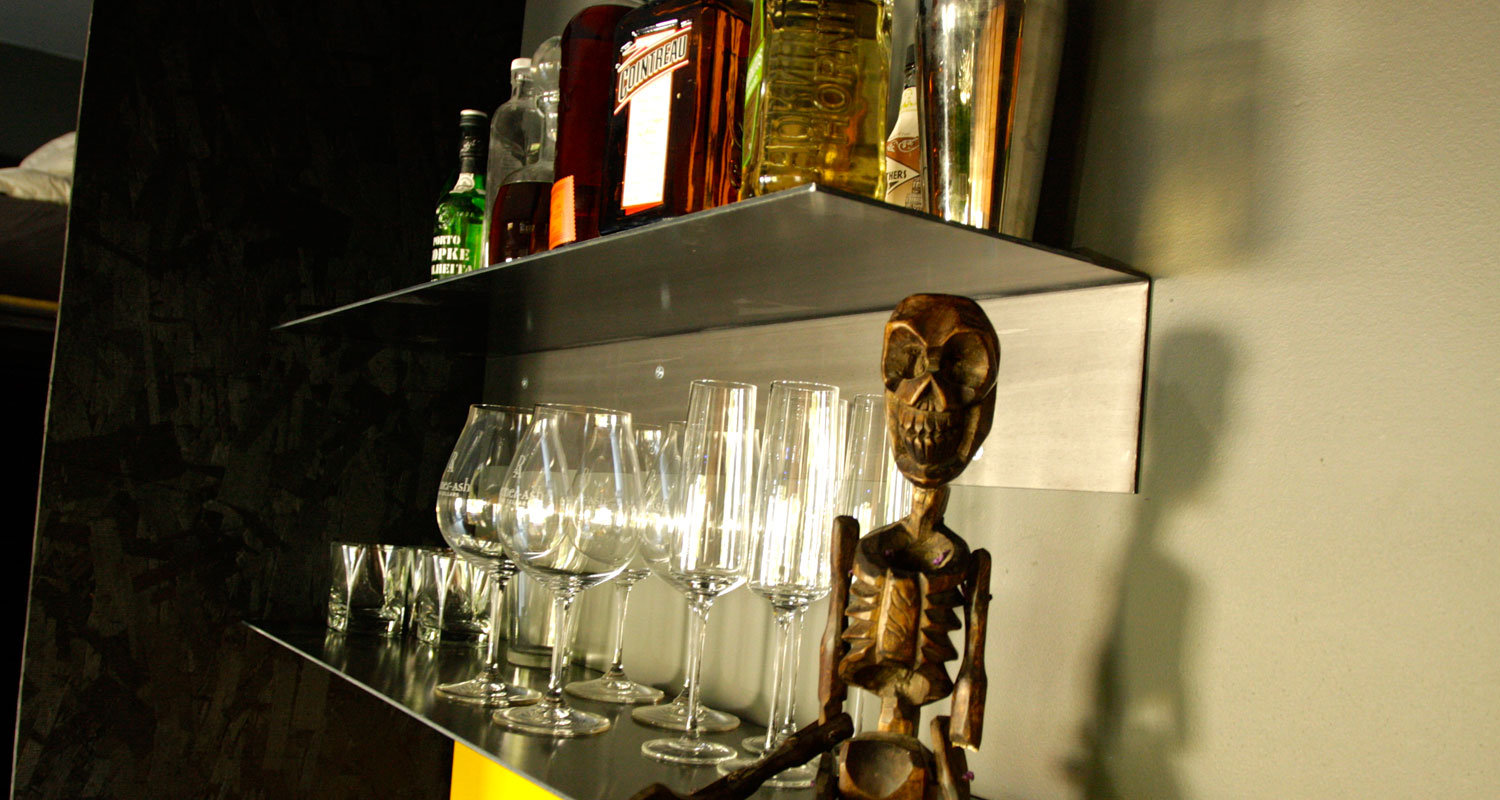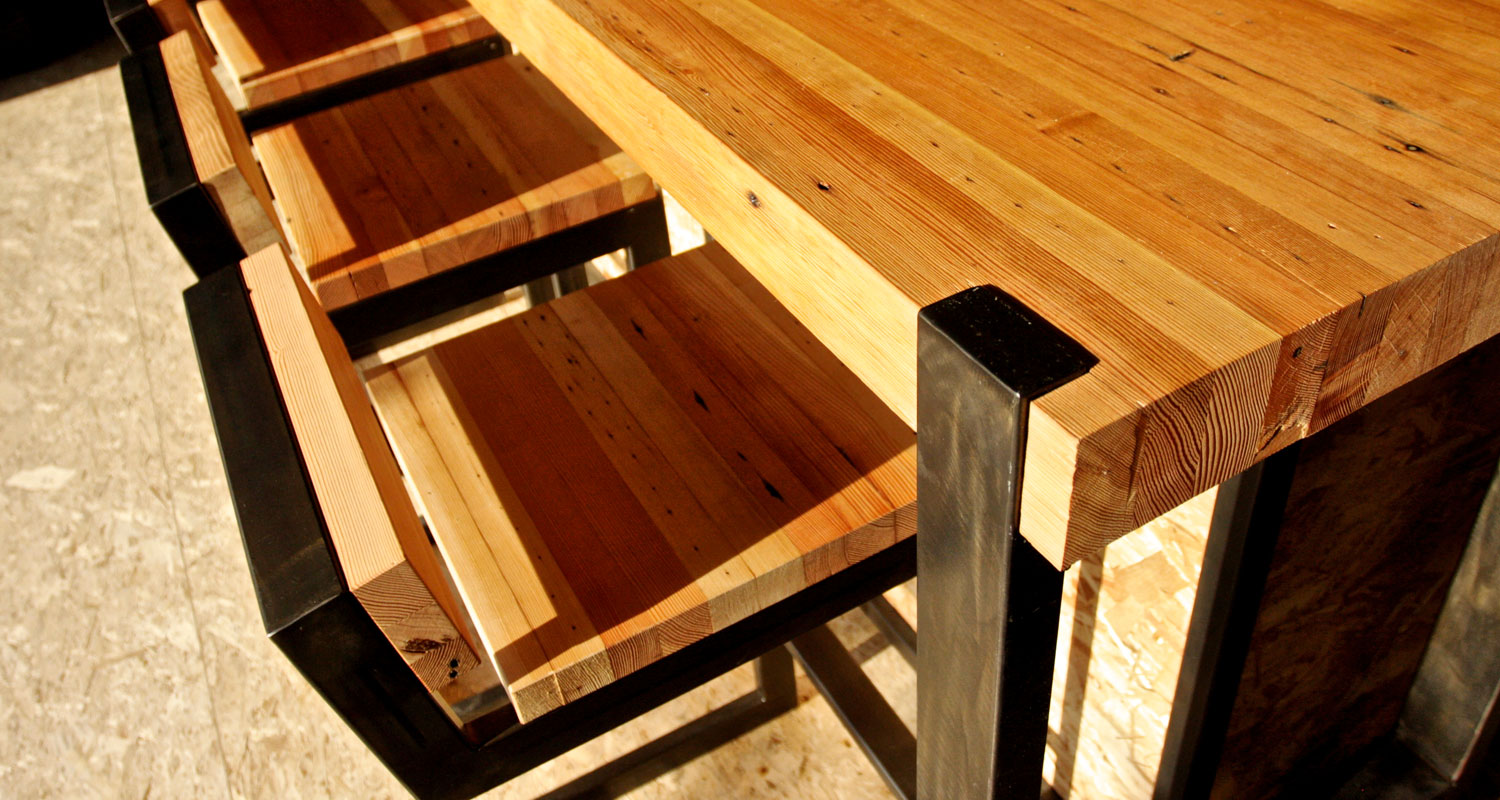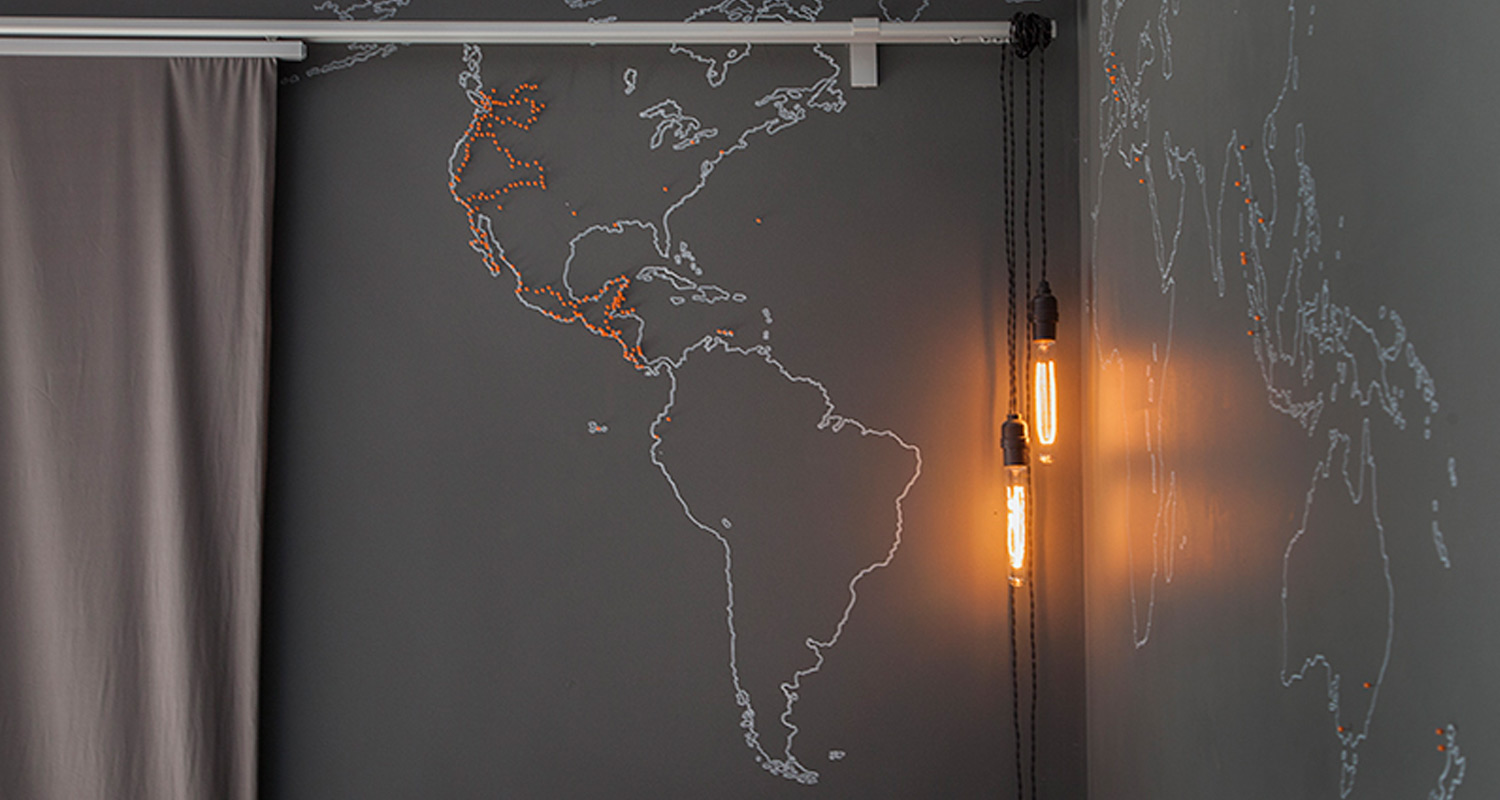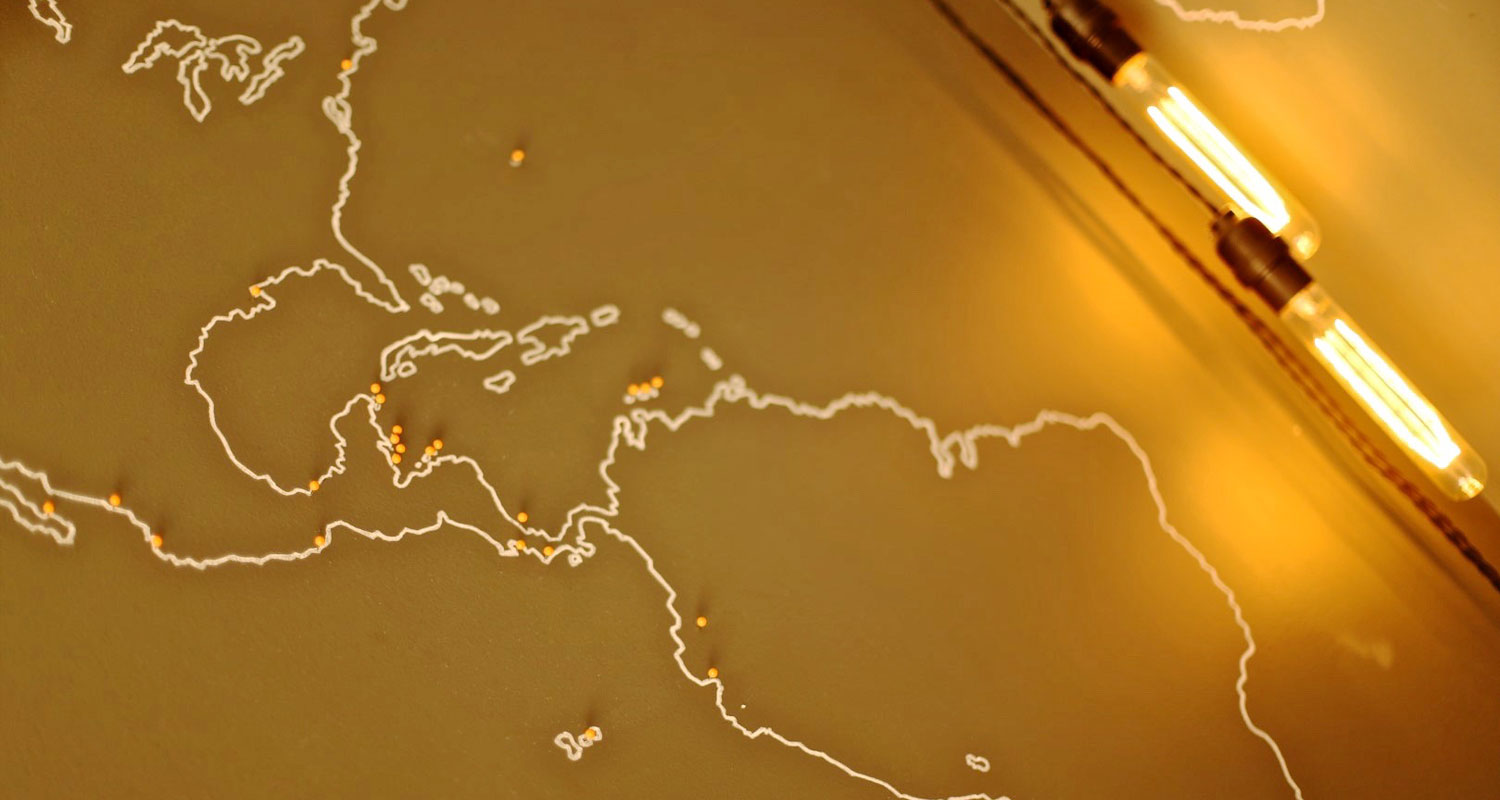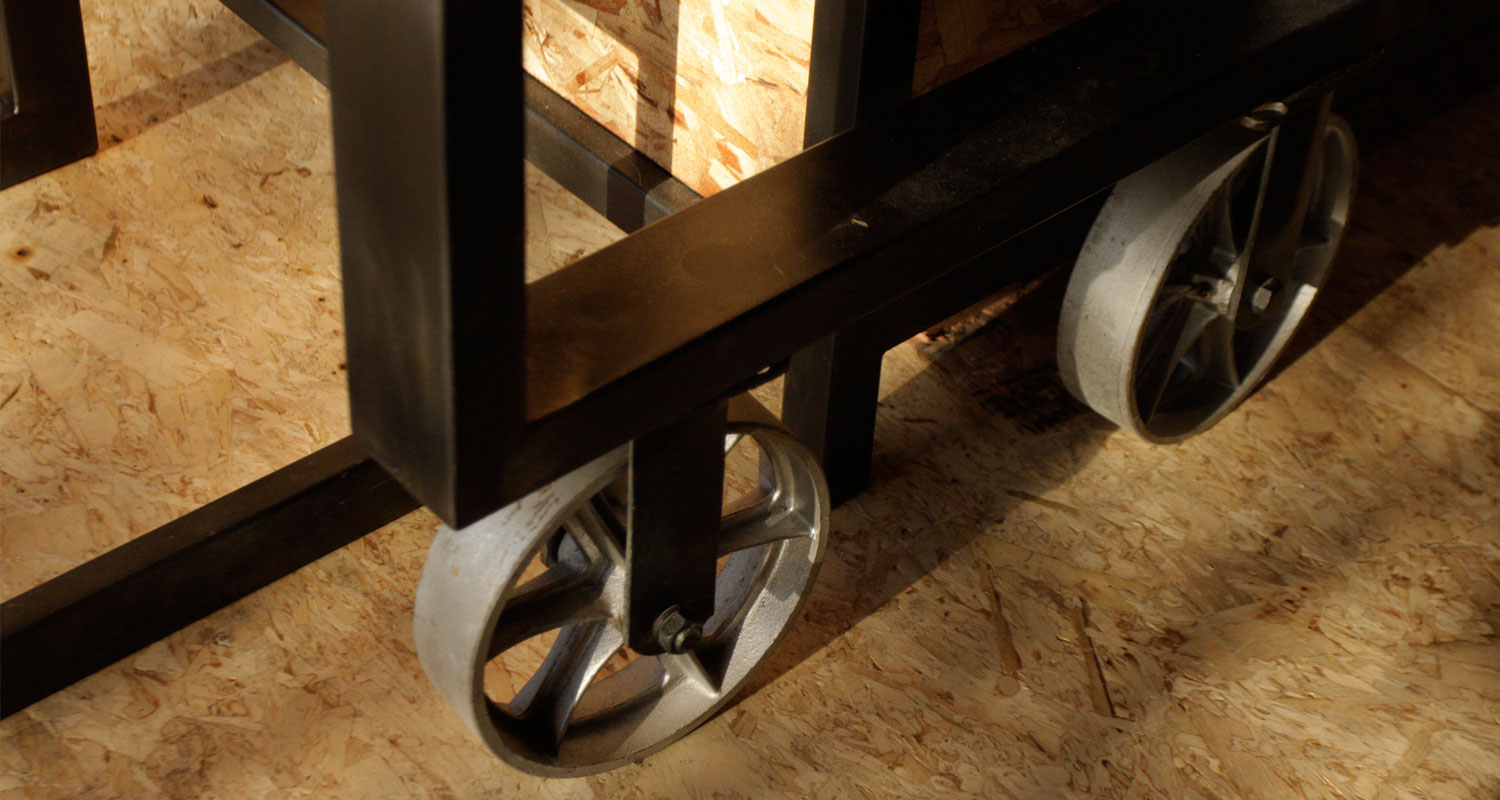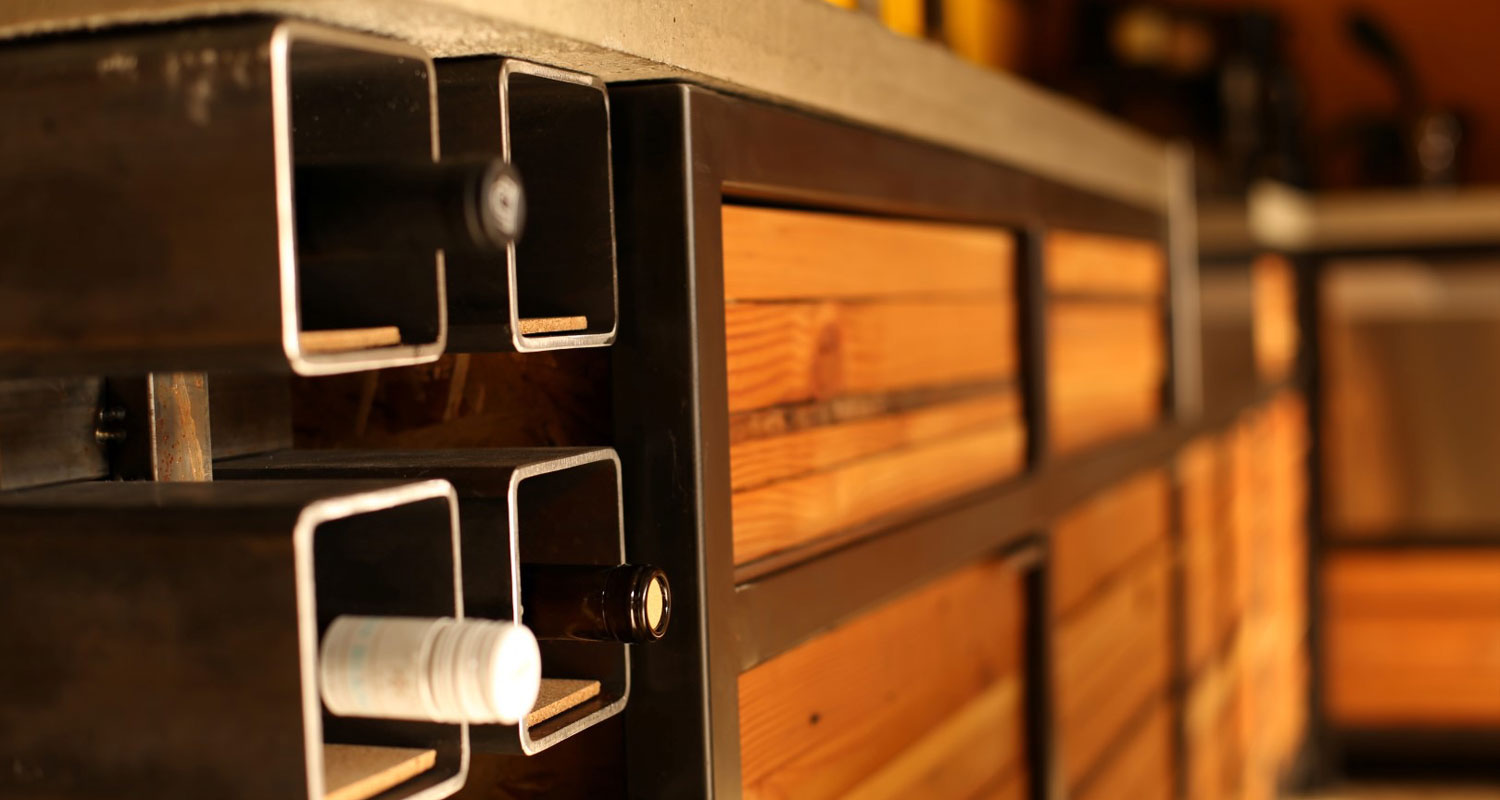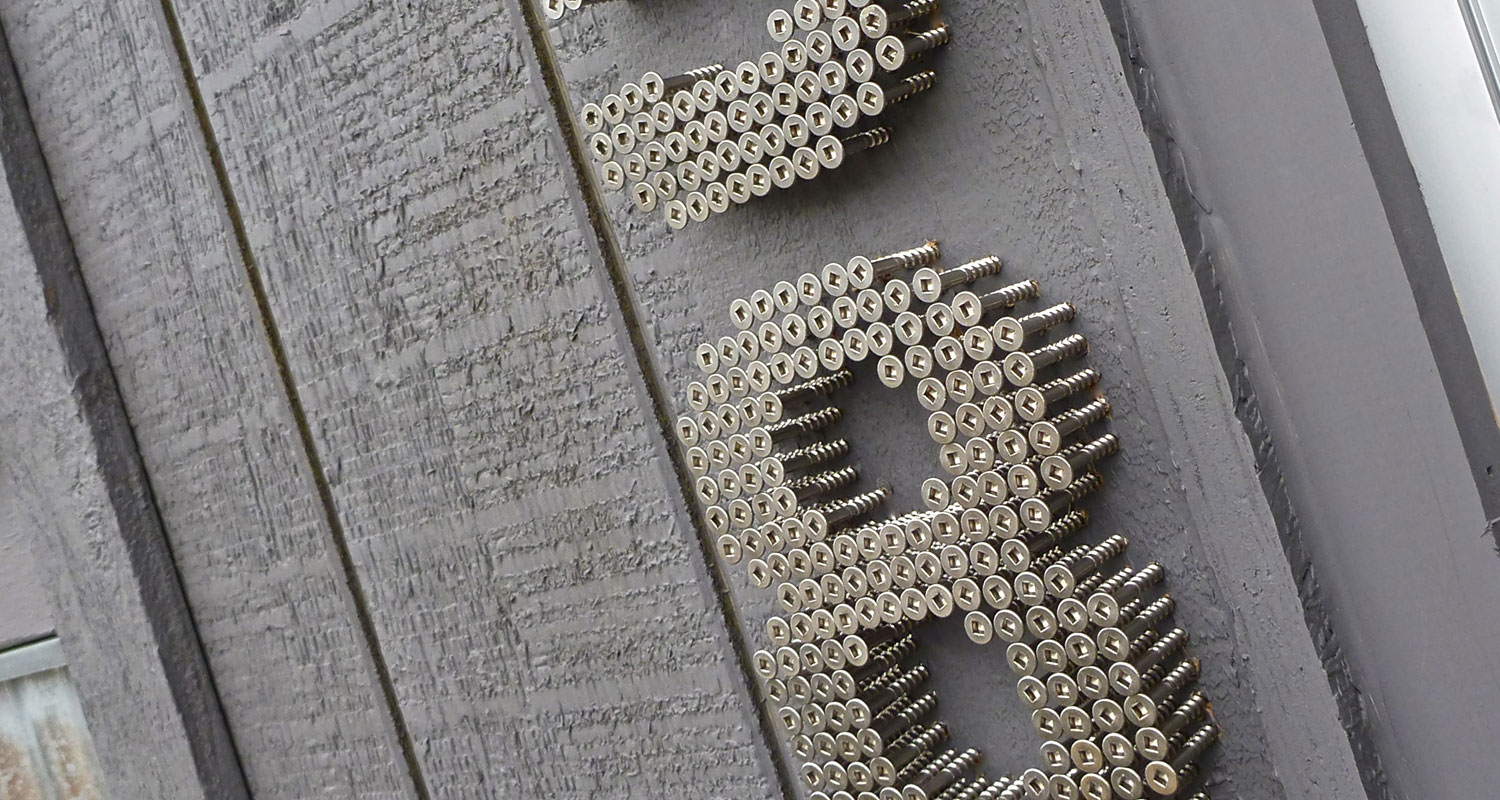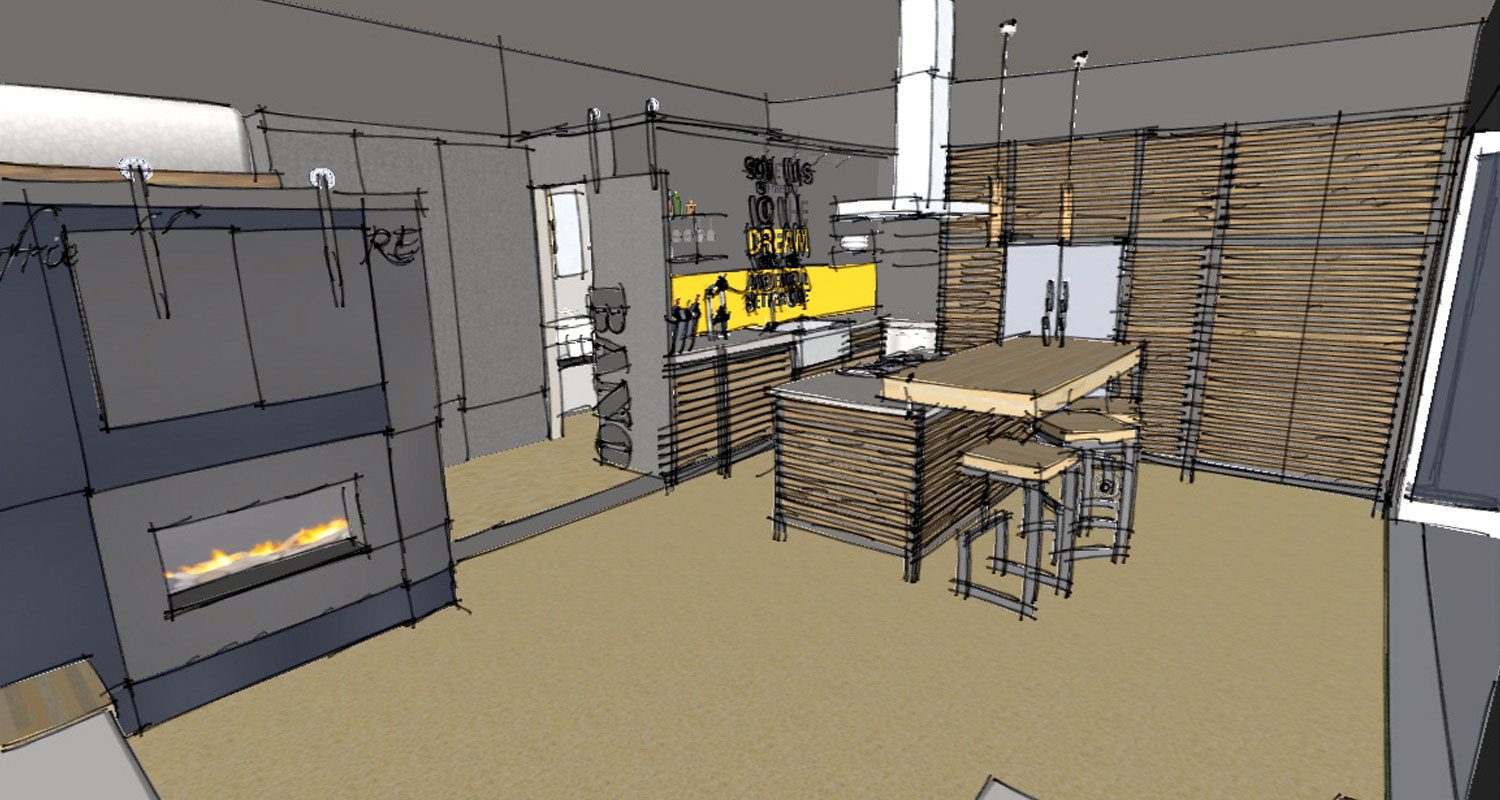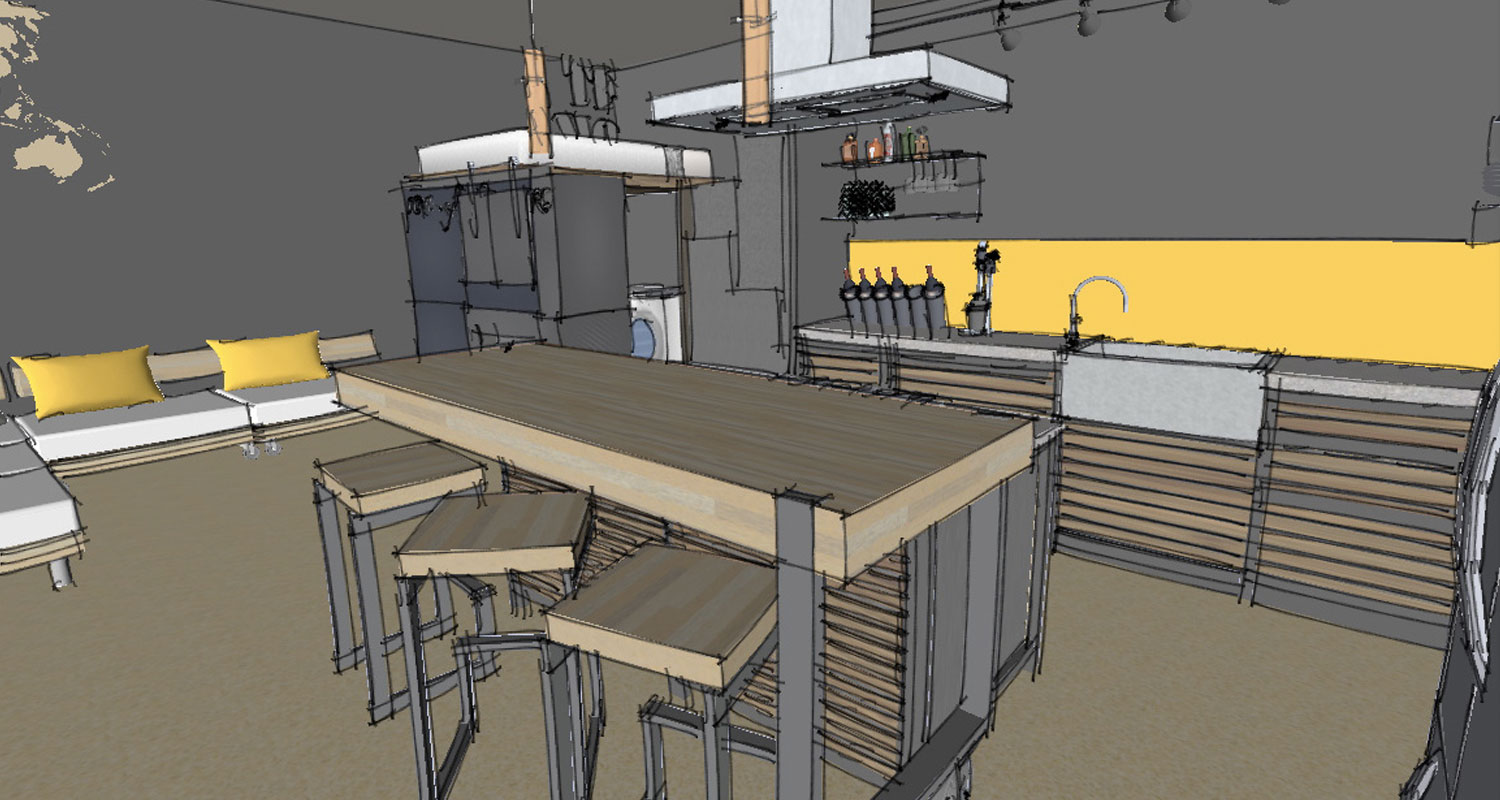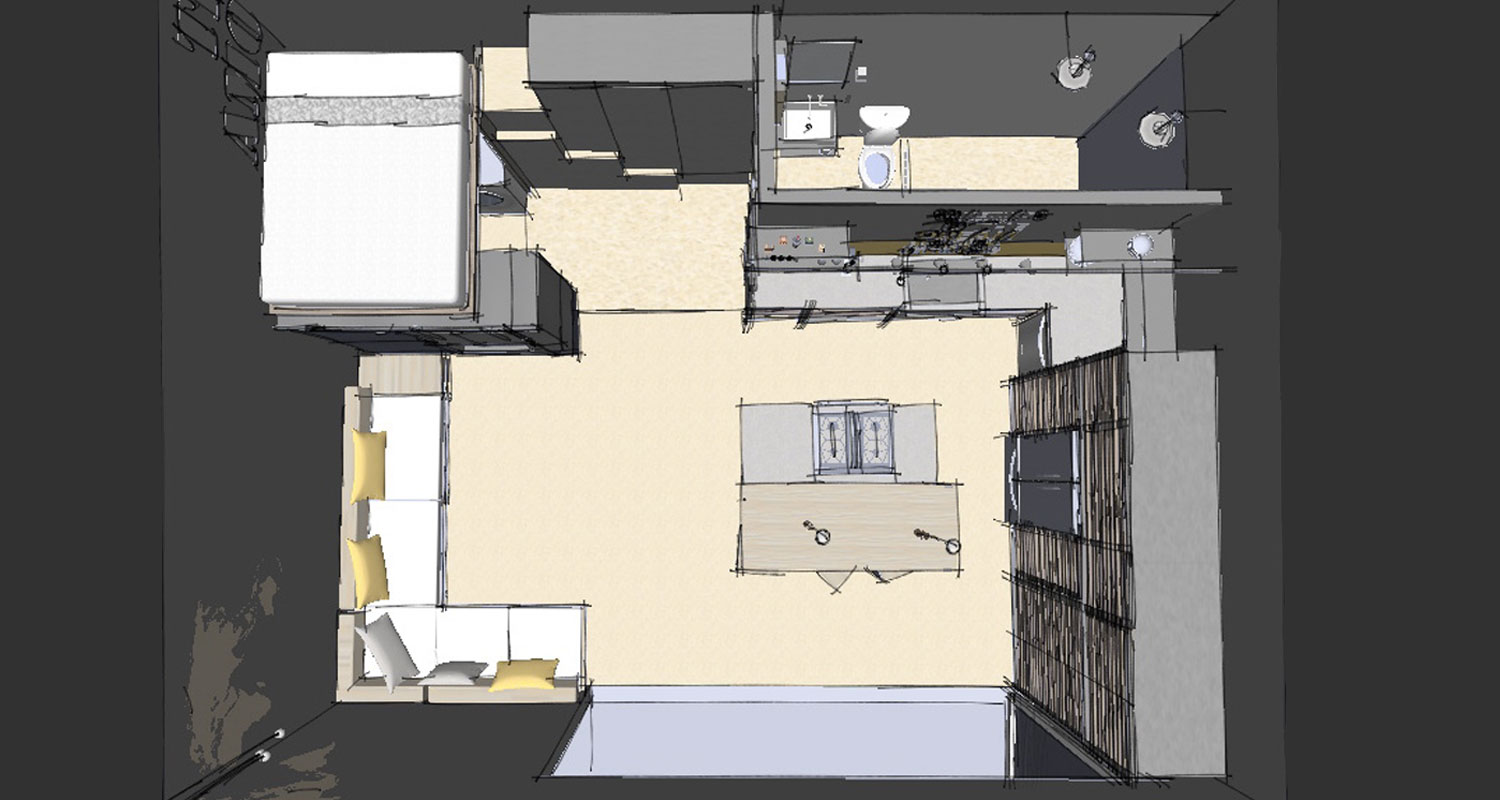 zen loft
project cost: 70k (+sweat equity)
460 sqft
This Portland ADU Project began as a simple 2 car garage but translated into a modern industrial loft space of about 480sqft. The current plan is to rent out the primary residence to cover the mortgage and live in the ADU full time (mortgage/rent free).
The primary design focus was working to eliminate the barrier between inside and outside and to make the most usable space out of a small footprint. A large accordion door system ensures that the front wall of the space can be completely opened up to the outdoors, connecting inside and outside. The space was laid out to take maximum use of limited space and built in cabinets allow for ample storage and complete flexibility.
Despite being a fairly small footprint, the space was designed as an open plan that allows both comfortable living and ample entertaining space. A custom island bar swings out on industrial casters to create a table seating six. A lofted bed sits above a laundry/utility space and the stairs leading to it slide away into a built in closet when not in use.
zenbox was responsible for all phases from initial design and permitting through managing construction. We crafted almost everything in the space by hand including the steel and wood built-in cabinets and furniture, down to lighting fixtures and custom house numbers.
To read more about this space, and its impact on the residents/neighborhood read the "Garage Sweet Home" article on the accessorydwellings.org site. This project was also featured in the NY Times article "Grandma Never Had it so Good" as well as several design blogs and websites.
This ADU can be toured at any point with some upfront notice.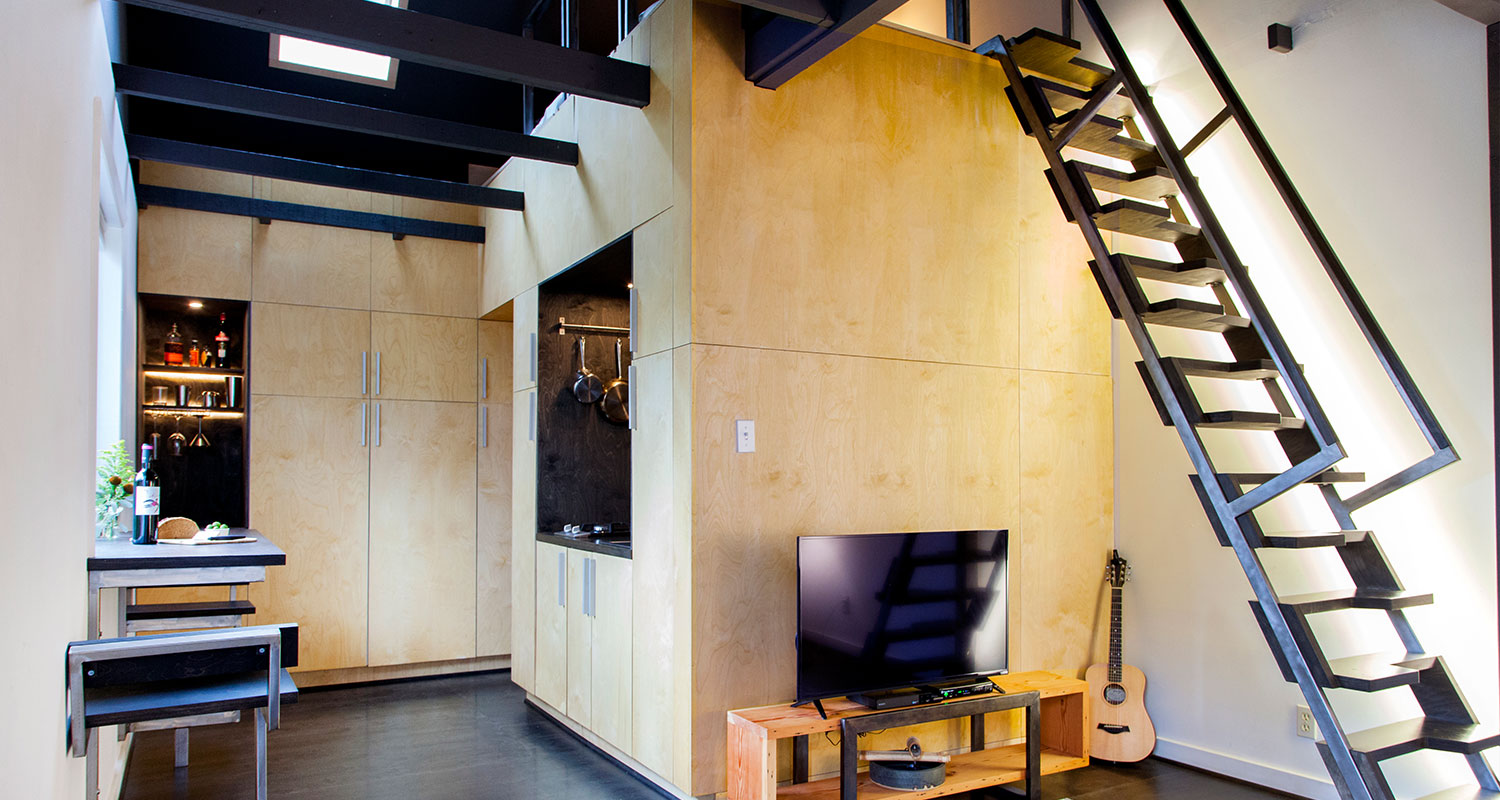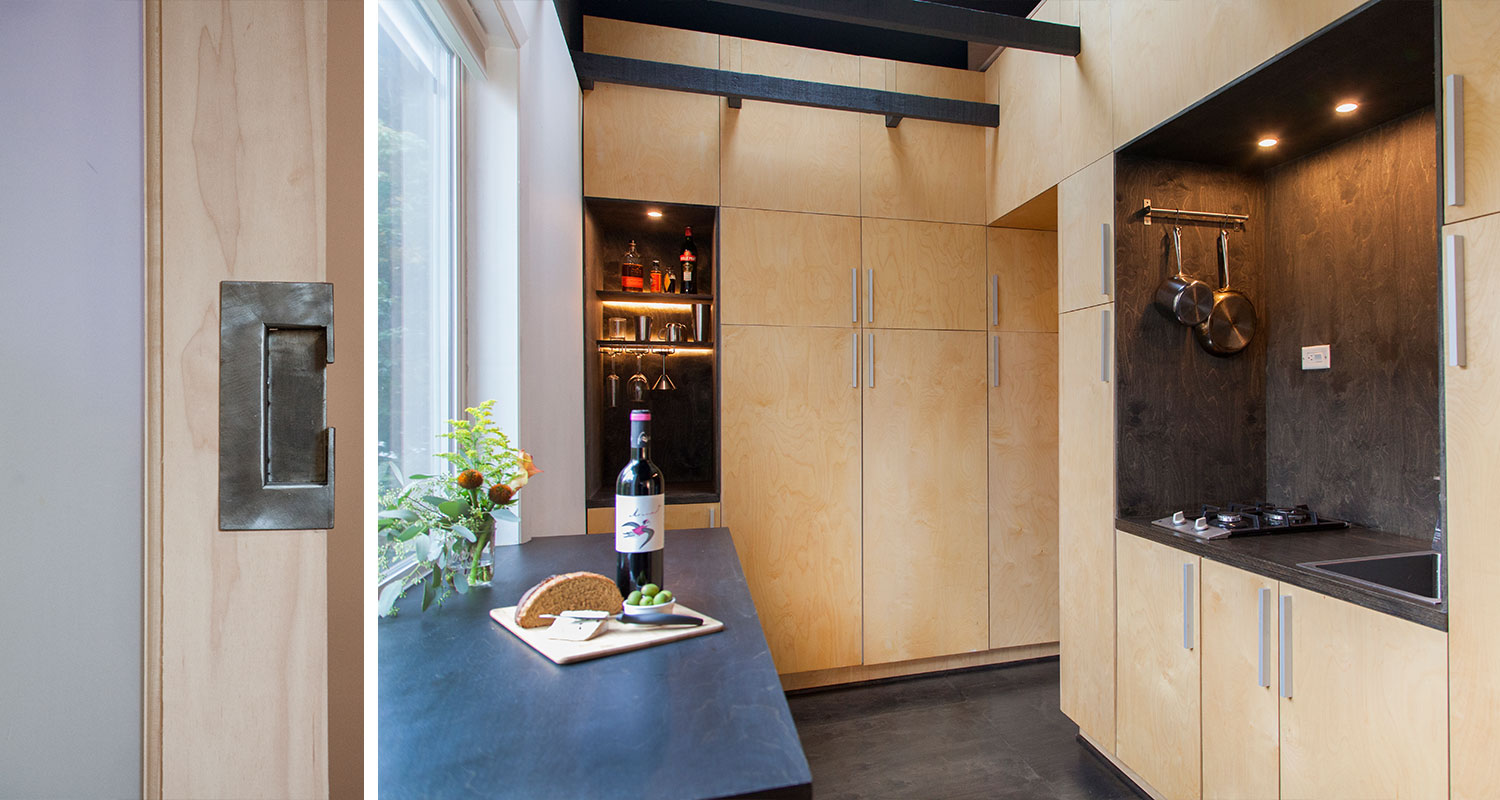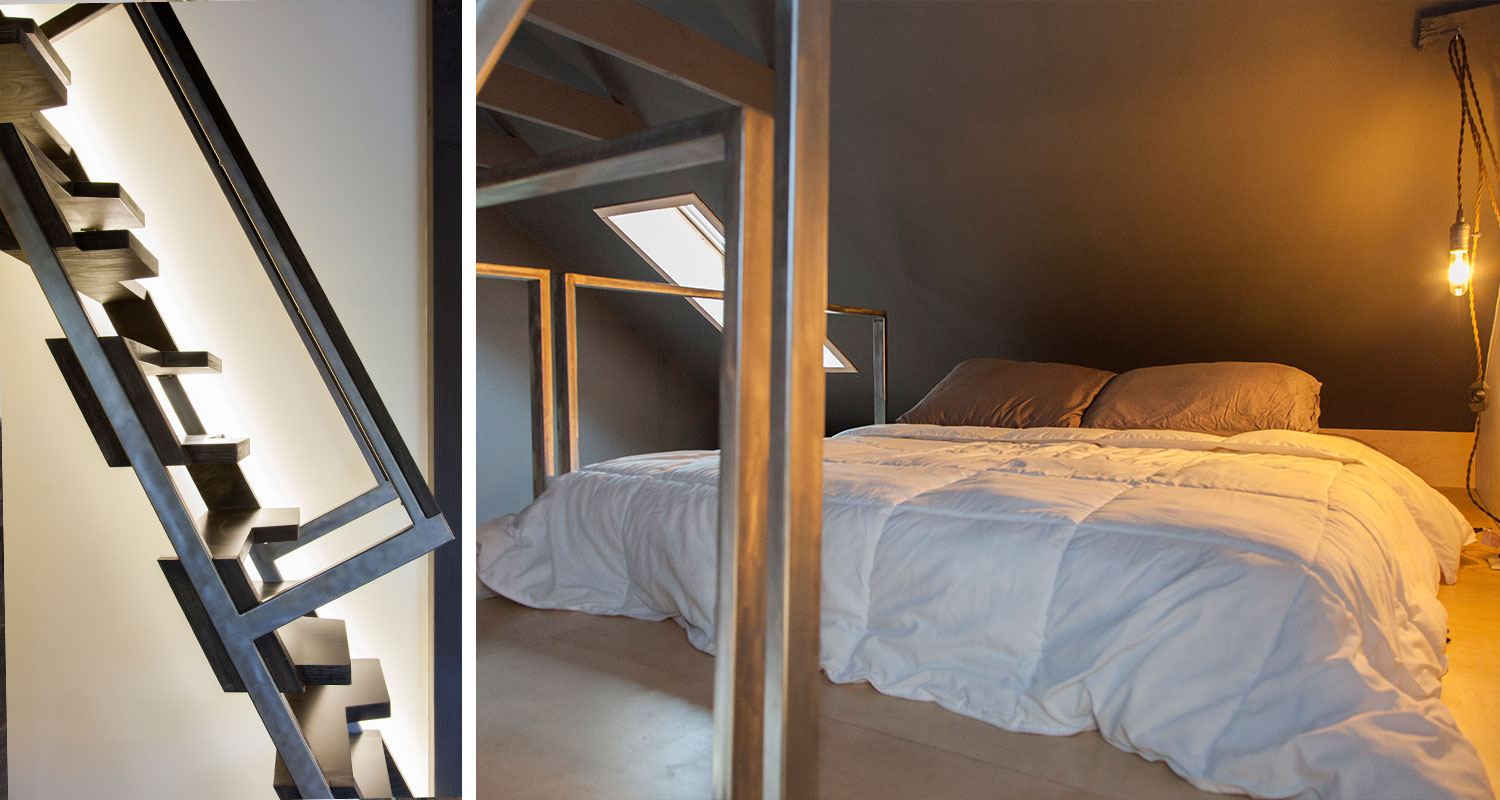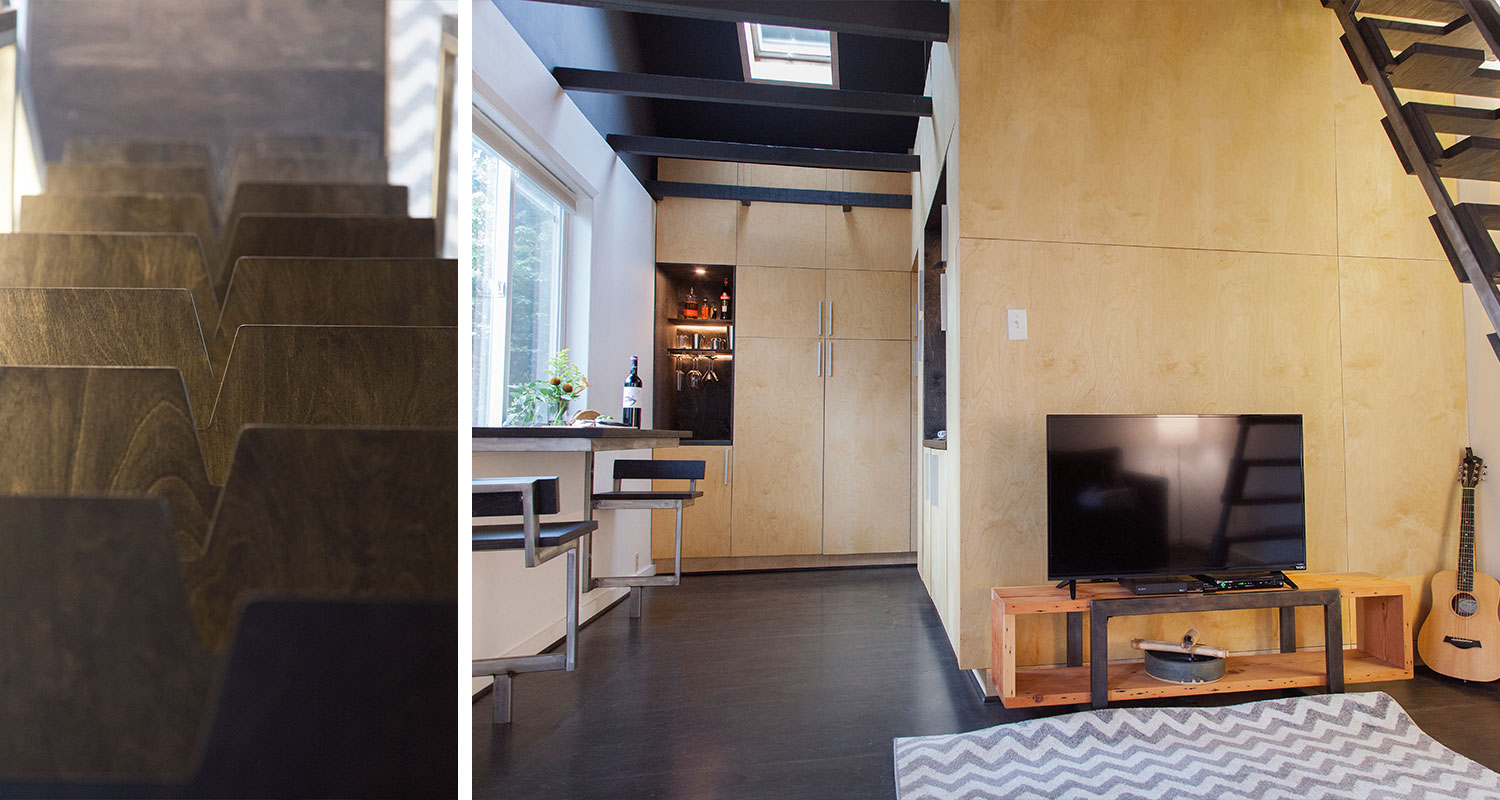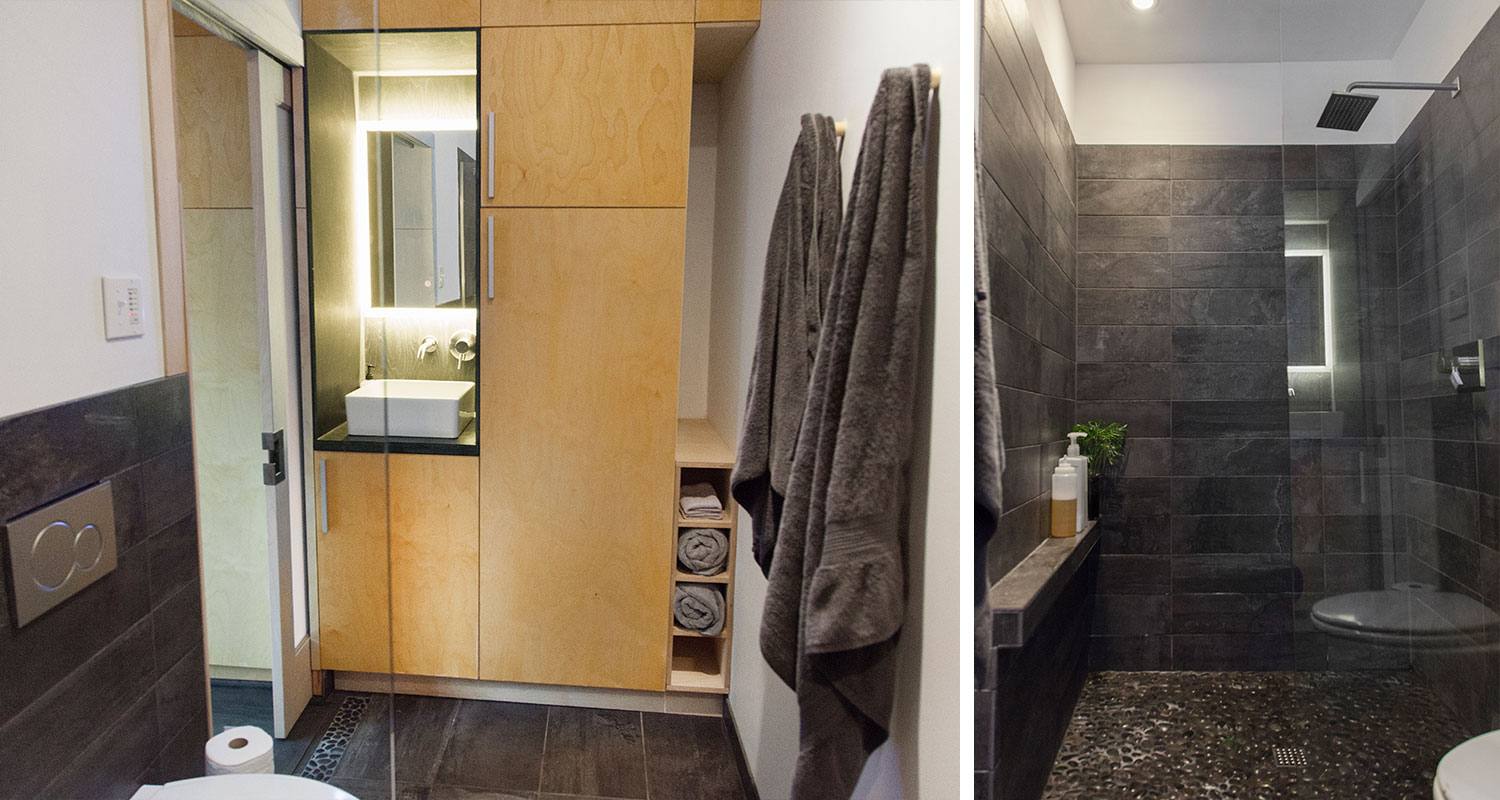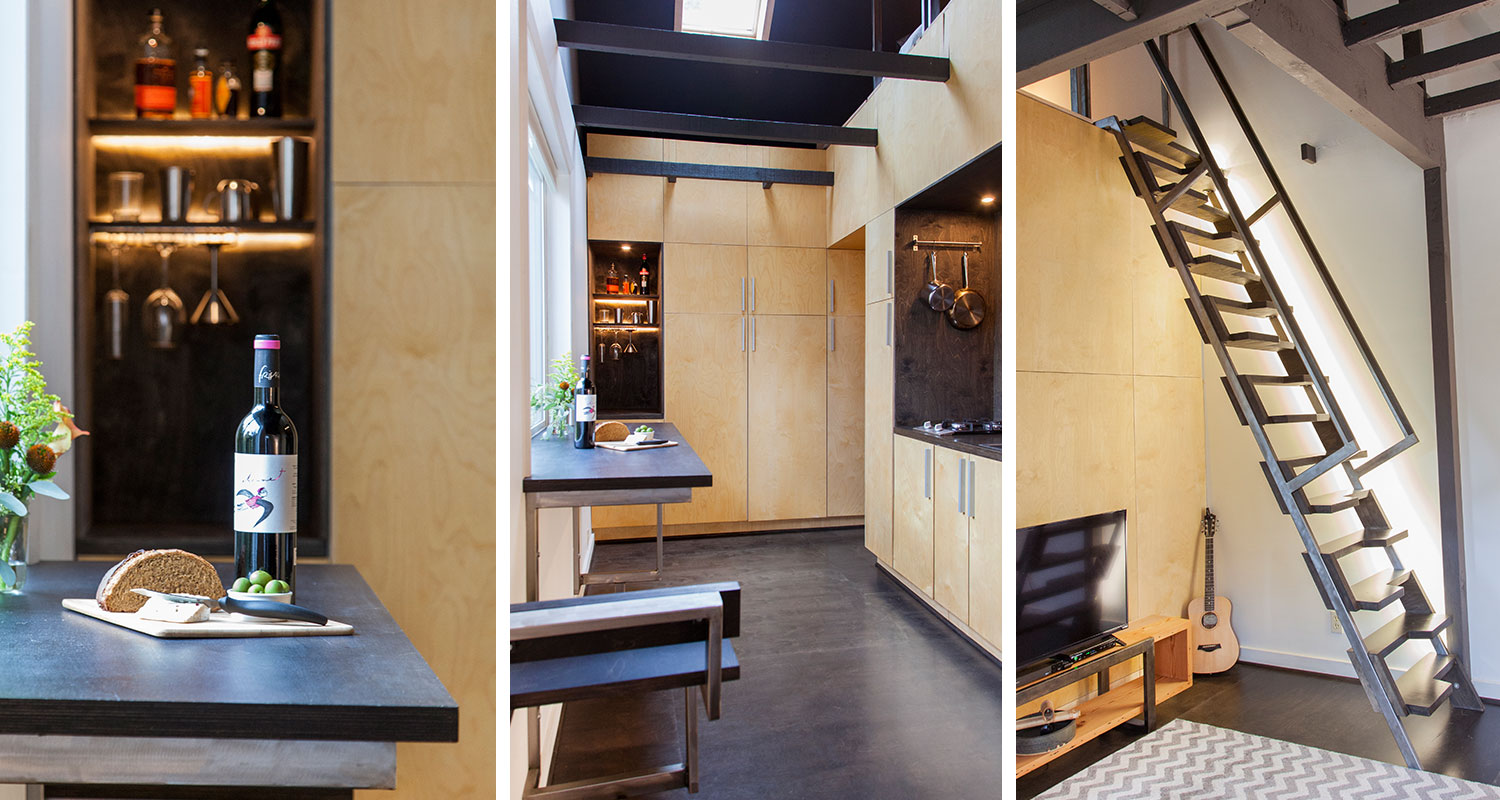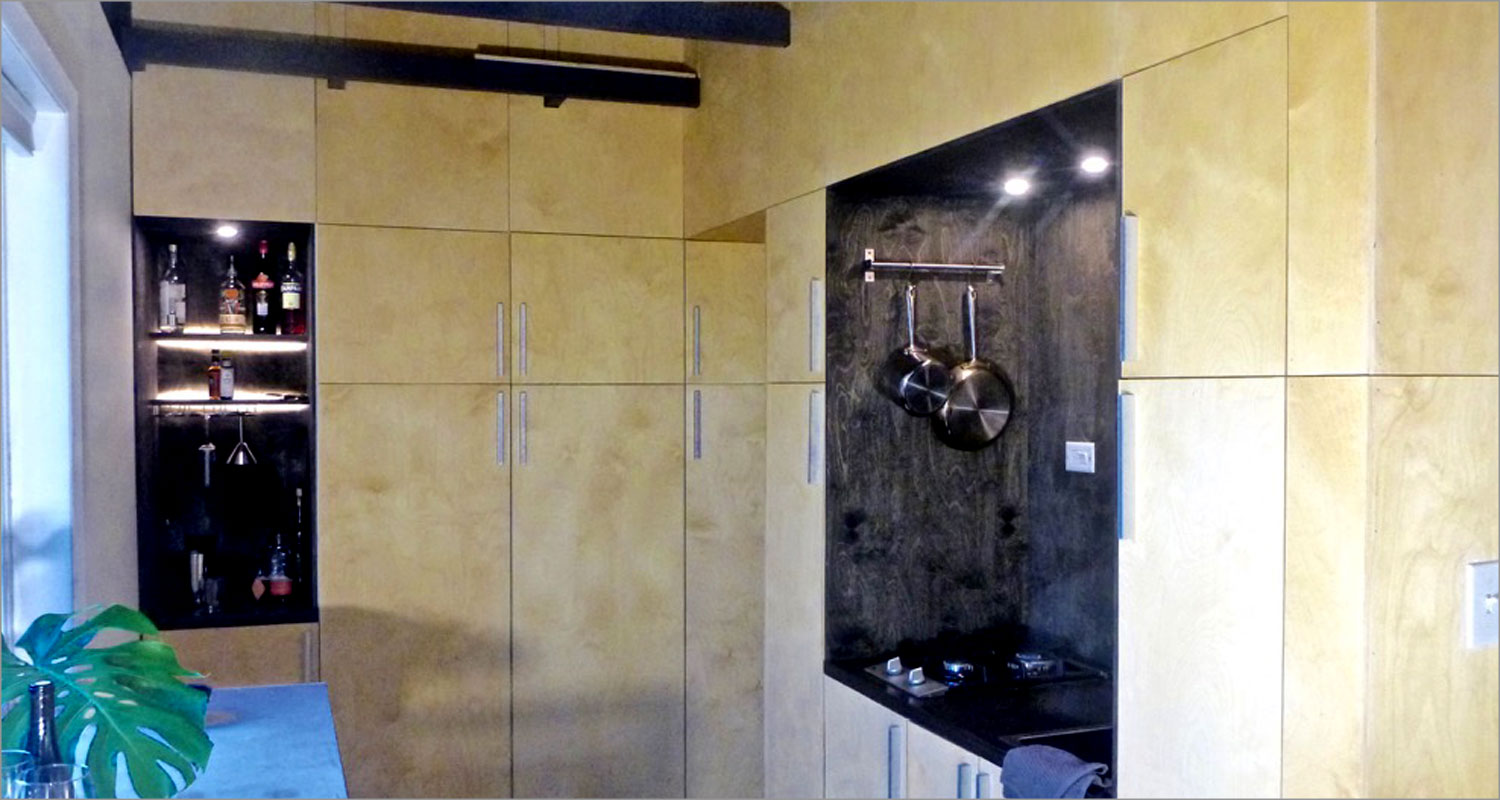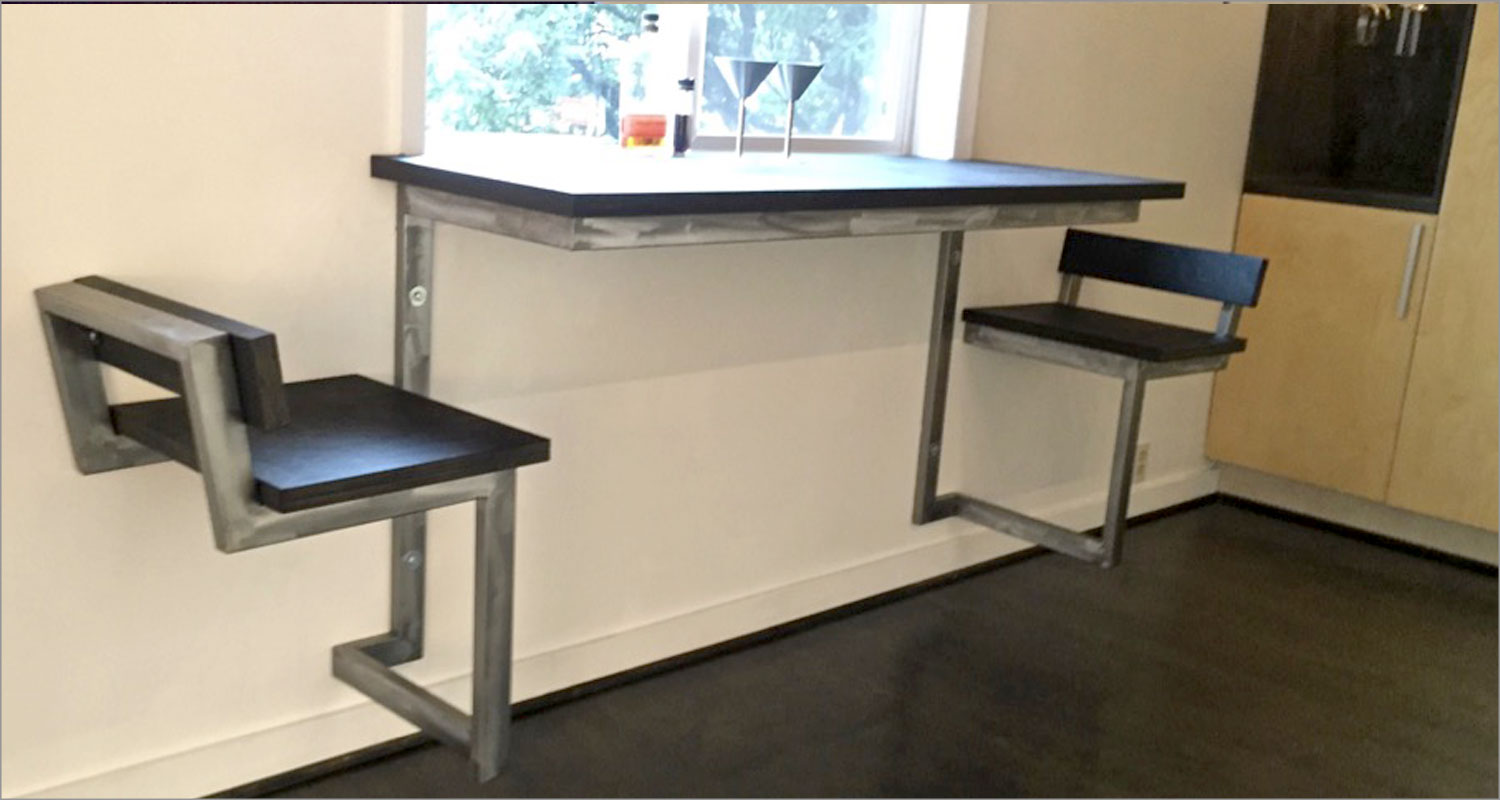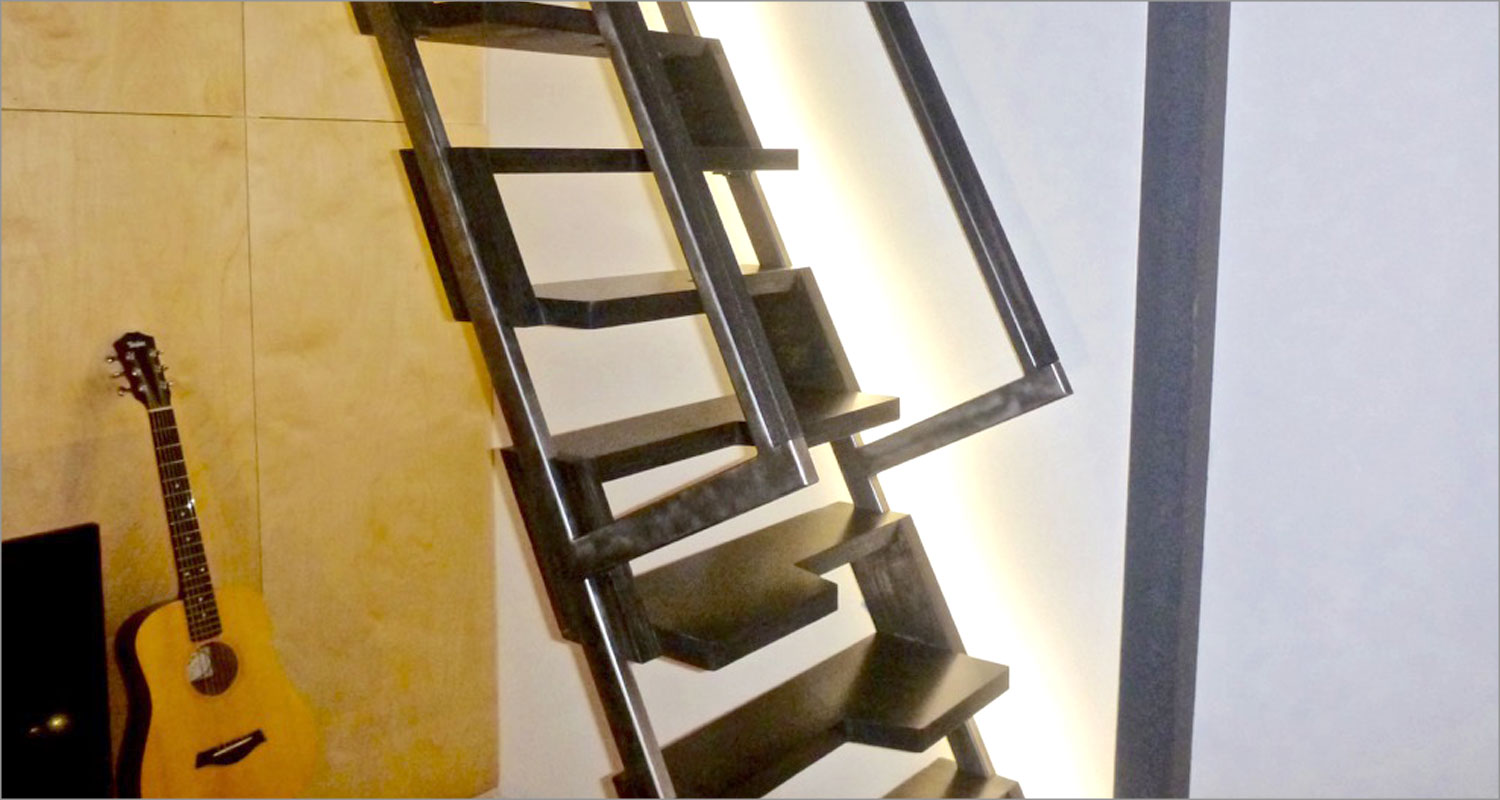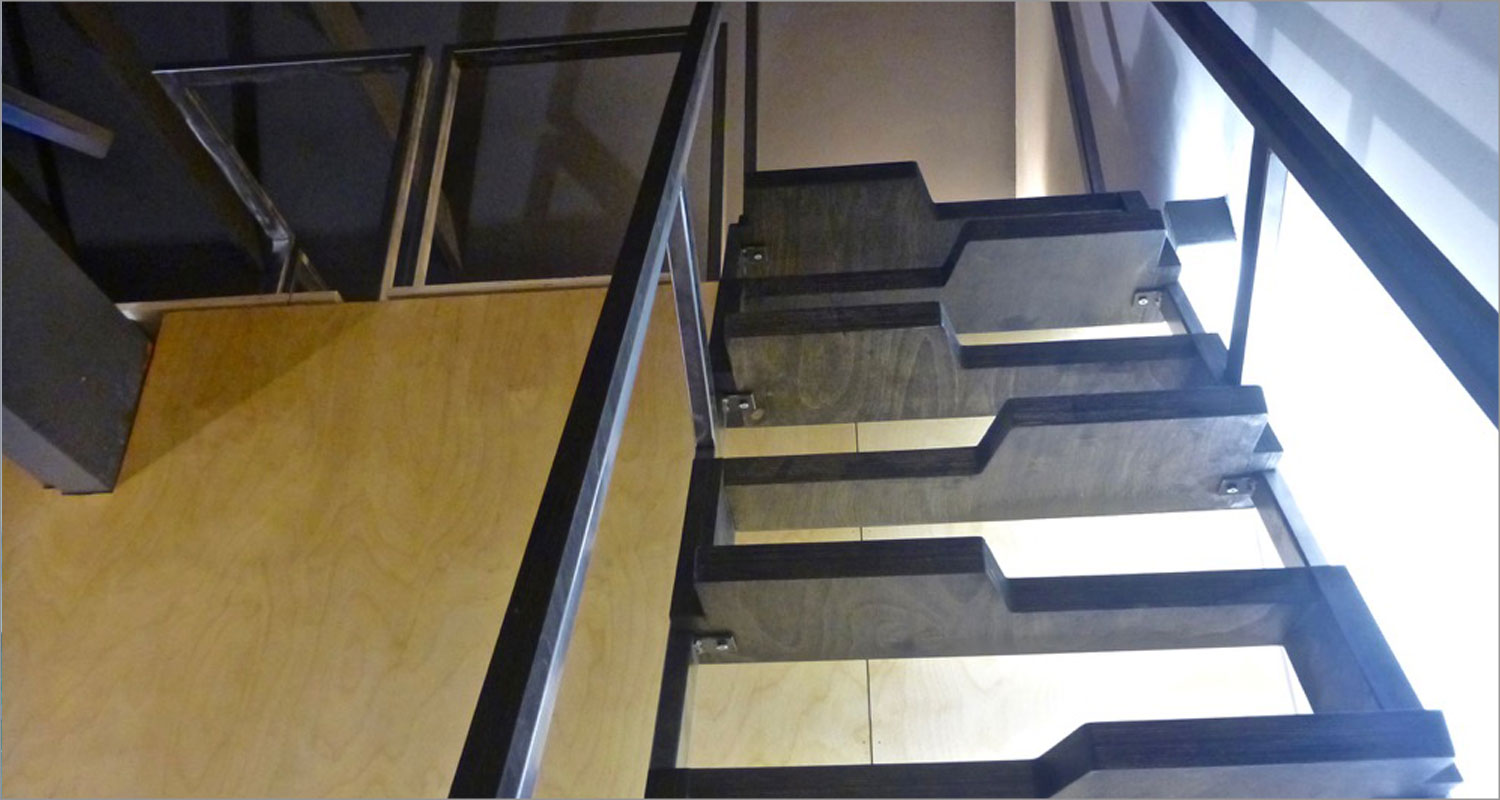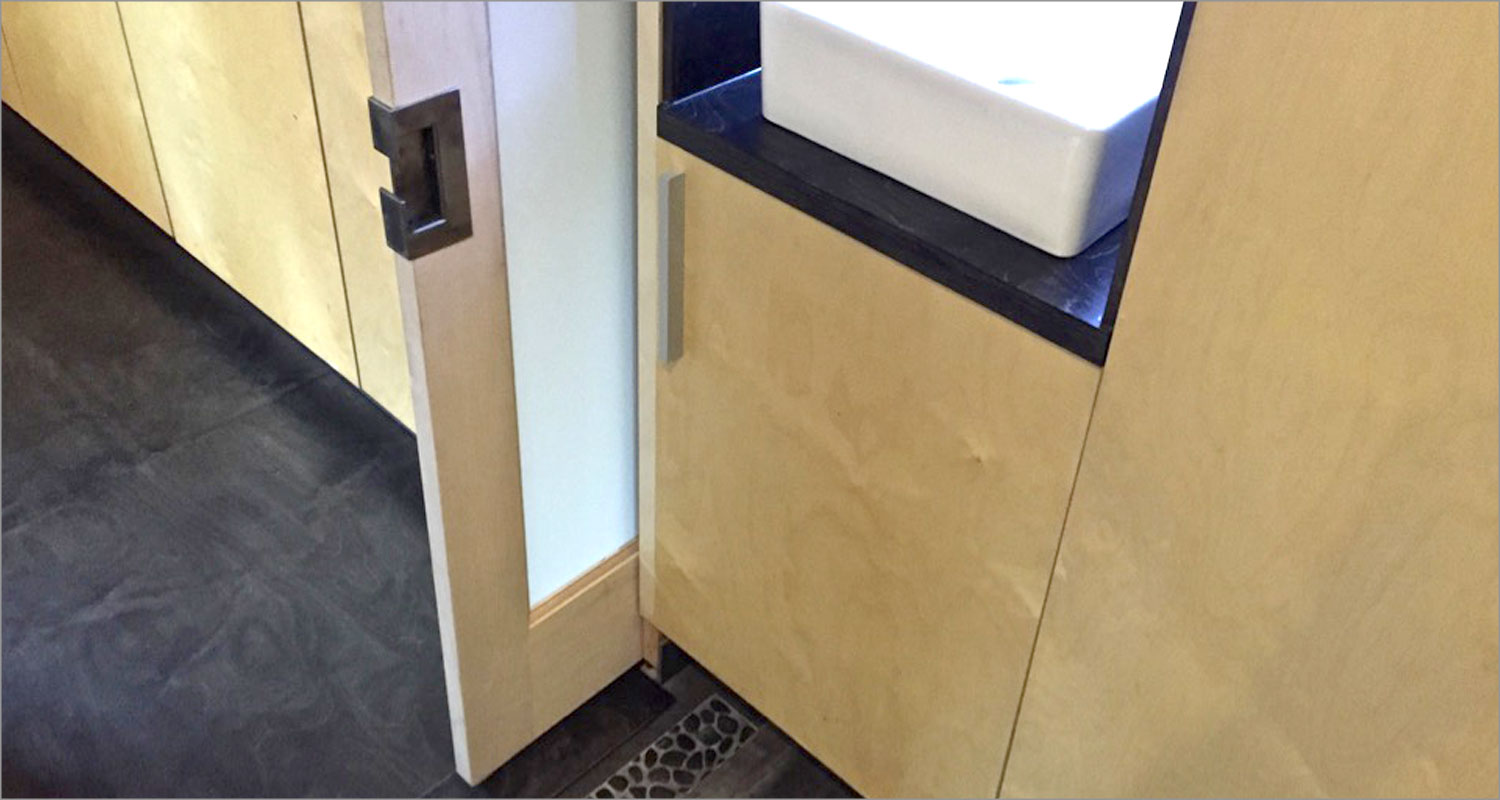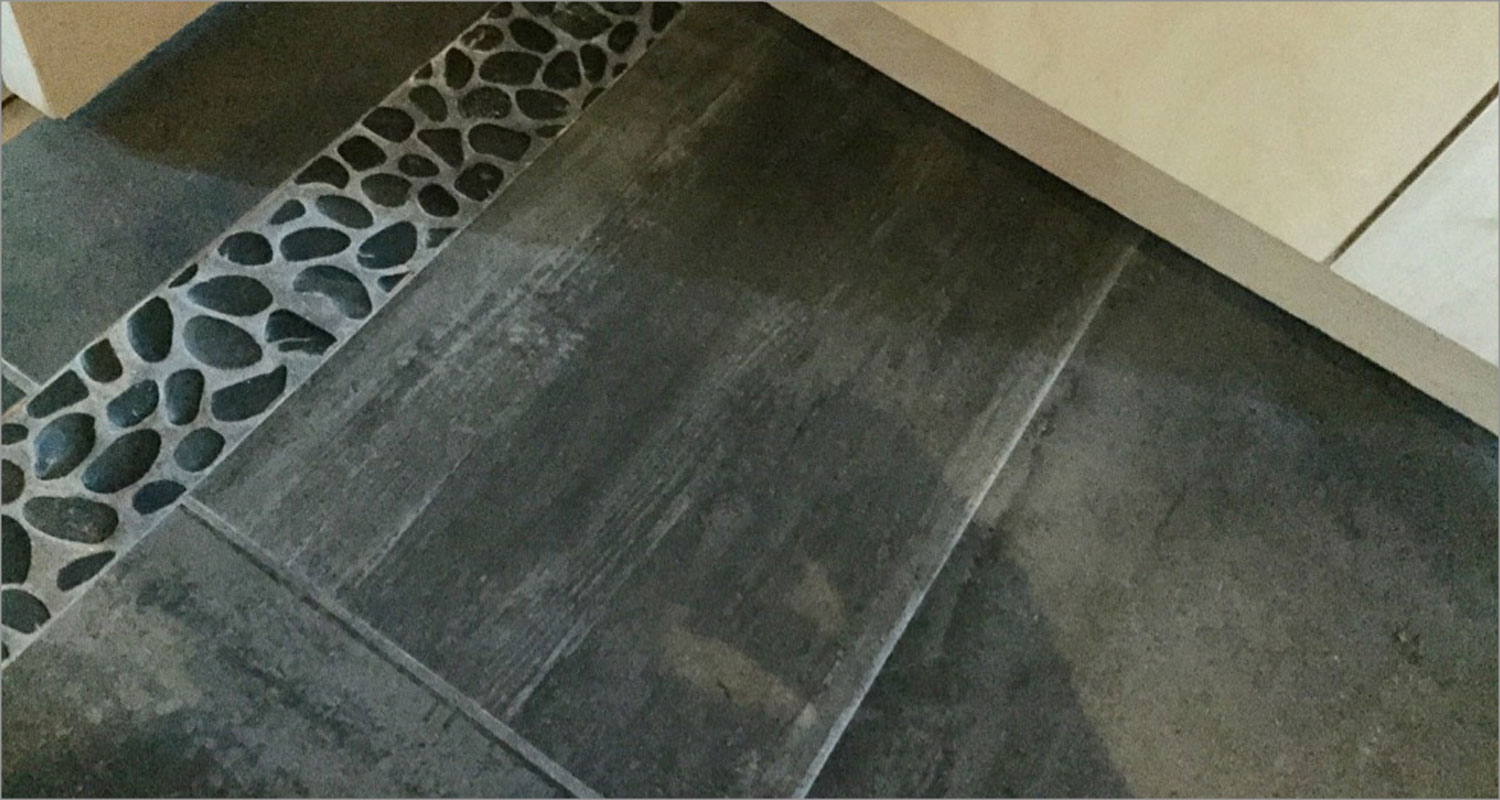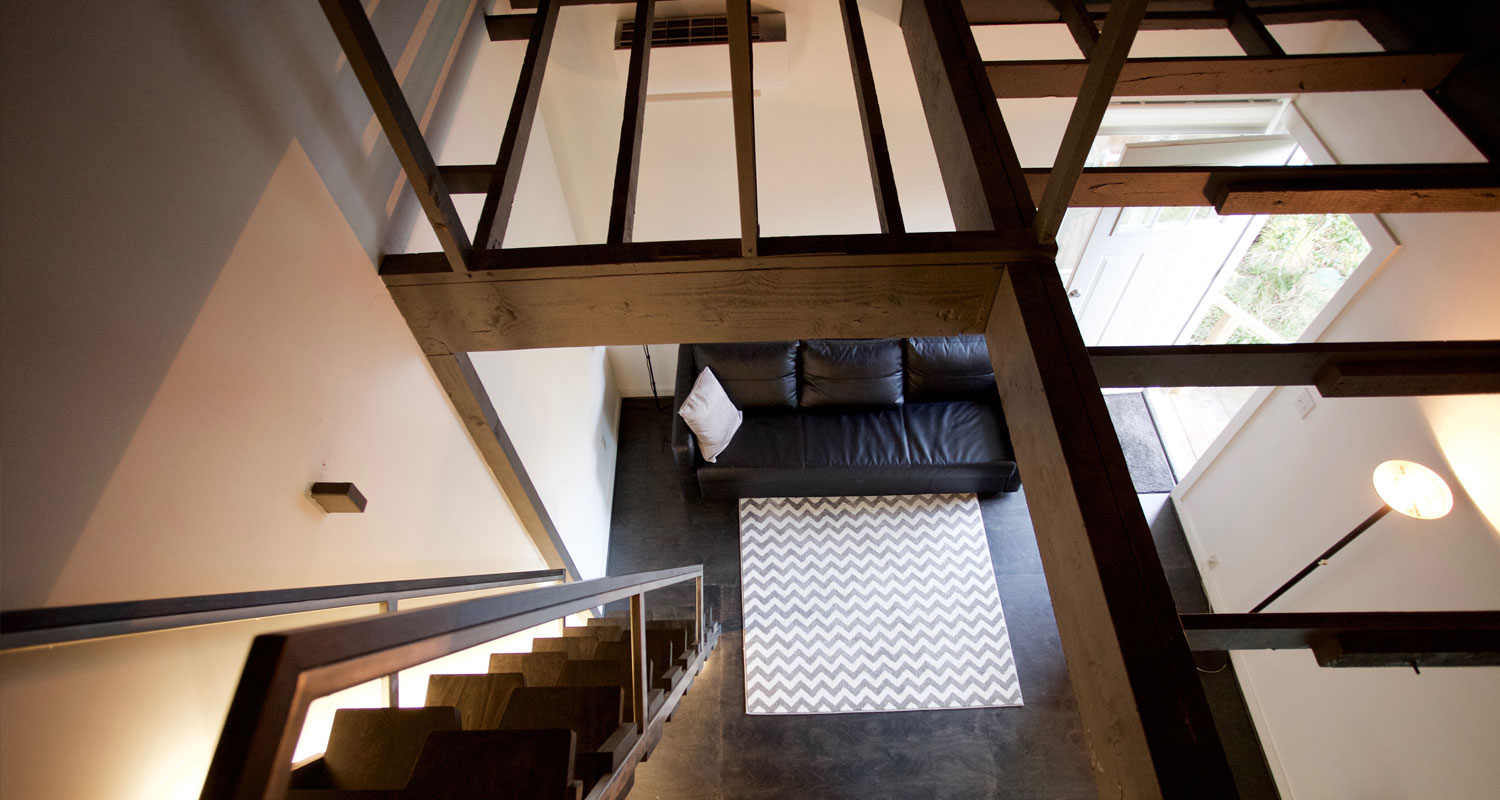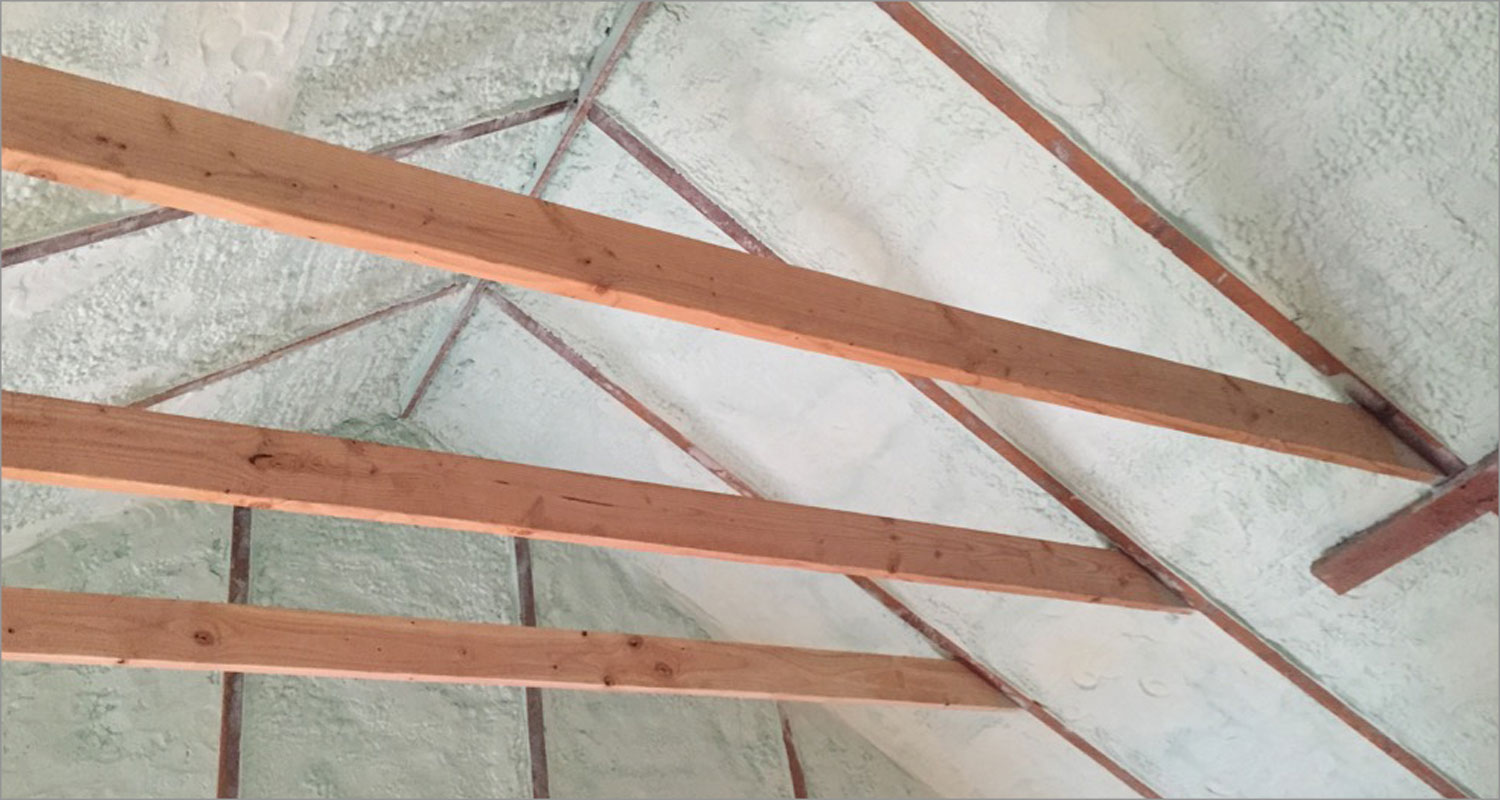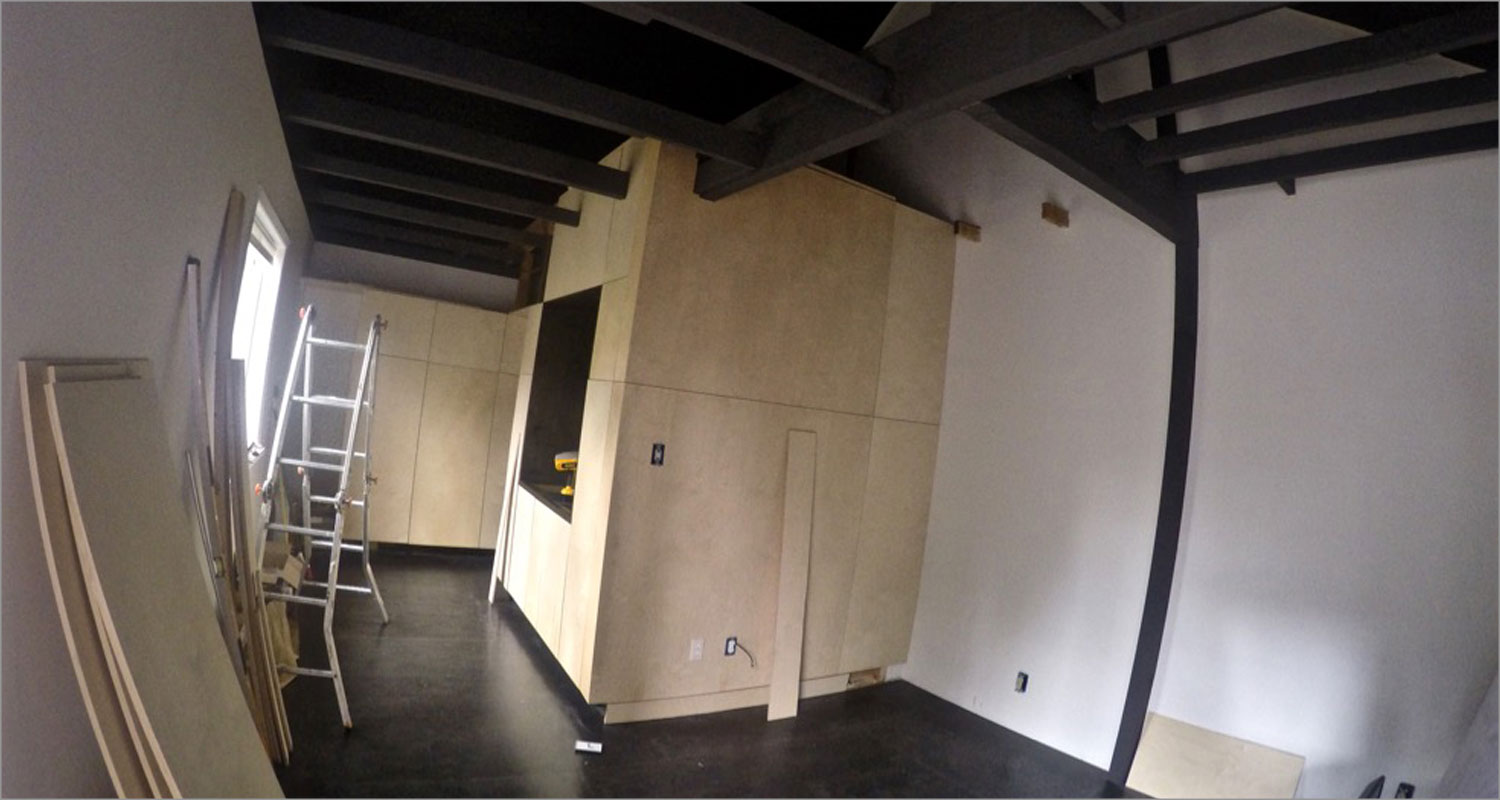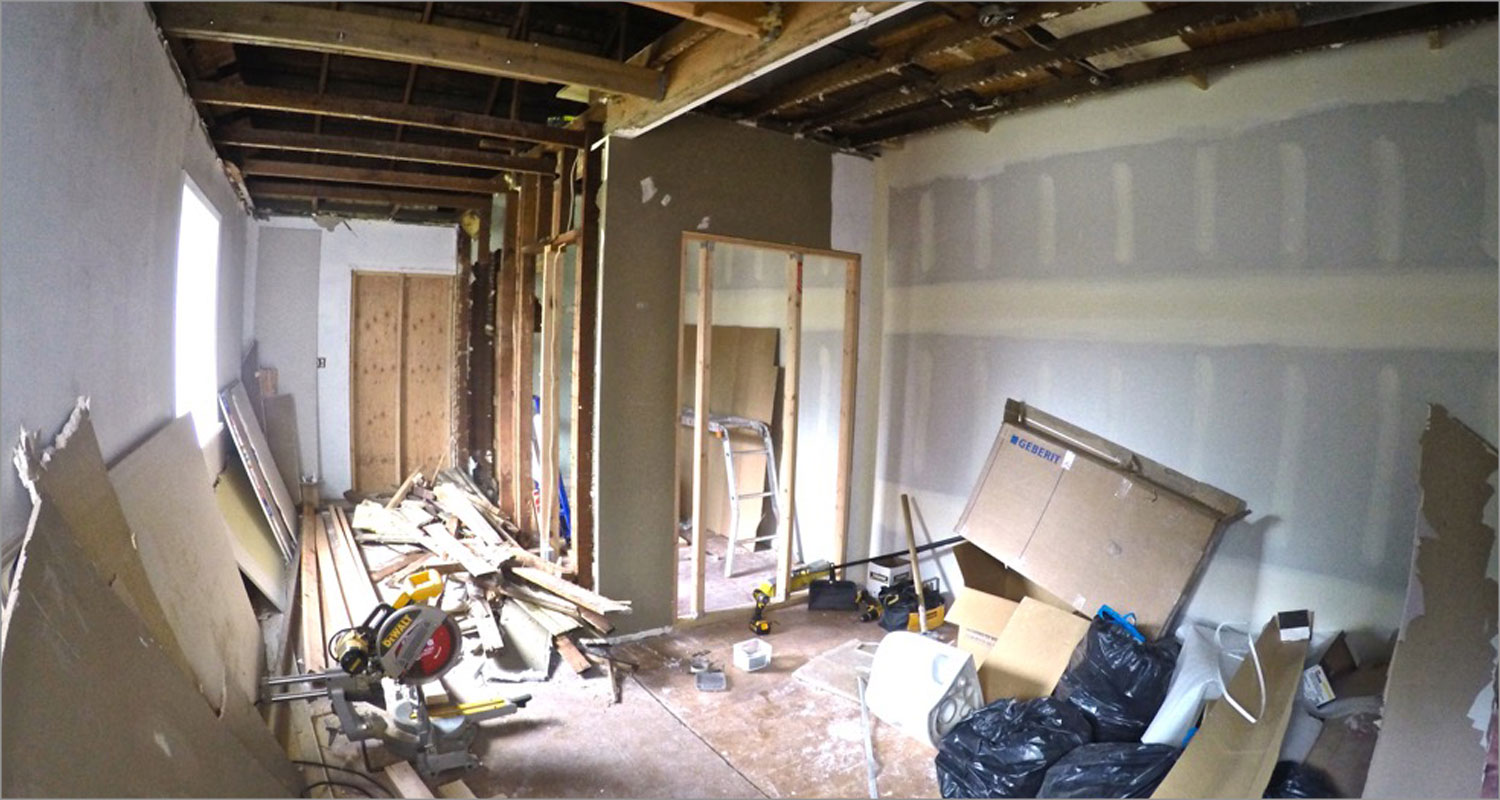 carve out ADU
project cost: 60k (+sweat equity)
250 sqft
The goal was to divide a SE Portland home into a house plus ADU to help offset the mortgage for the owners. Due to the limited budget, the plan was set to "carve out" existing space in the house rather than breaking ground for new construction.
The original house had an awkwardly oversized living room and an undersized and underutilized nook that sat beside it. The challenge in the project lied in making a comfortable, easily rentable and beautiful new unit while maintaining the livability of the remaining home. A true study in deriving maximum flexibility and value without new construction, without consuming green space and on the smallest of budgets.
Our response was to compress the plan of the original house and use the leftover square footage for a small 250sqft studio unit with lofted bed. The unit is small in size but high in design aesthetic and would be great for short or long term rentals. A small but efficient kitchen space combined with a comfortable washroom make up the only enclosed area while the remainder of the unit takes advantage of opening up the existing attic space for high ceilings and exposed structure.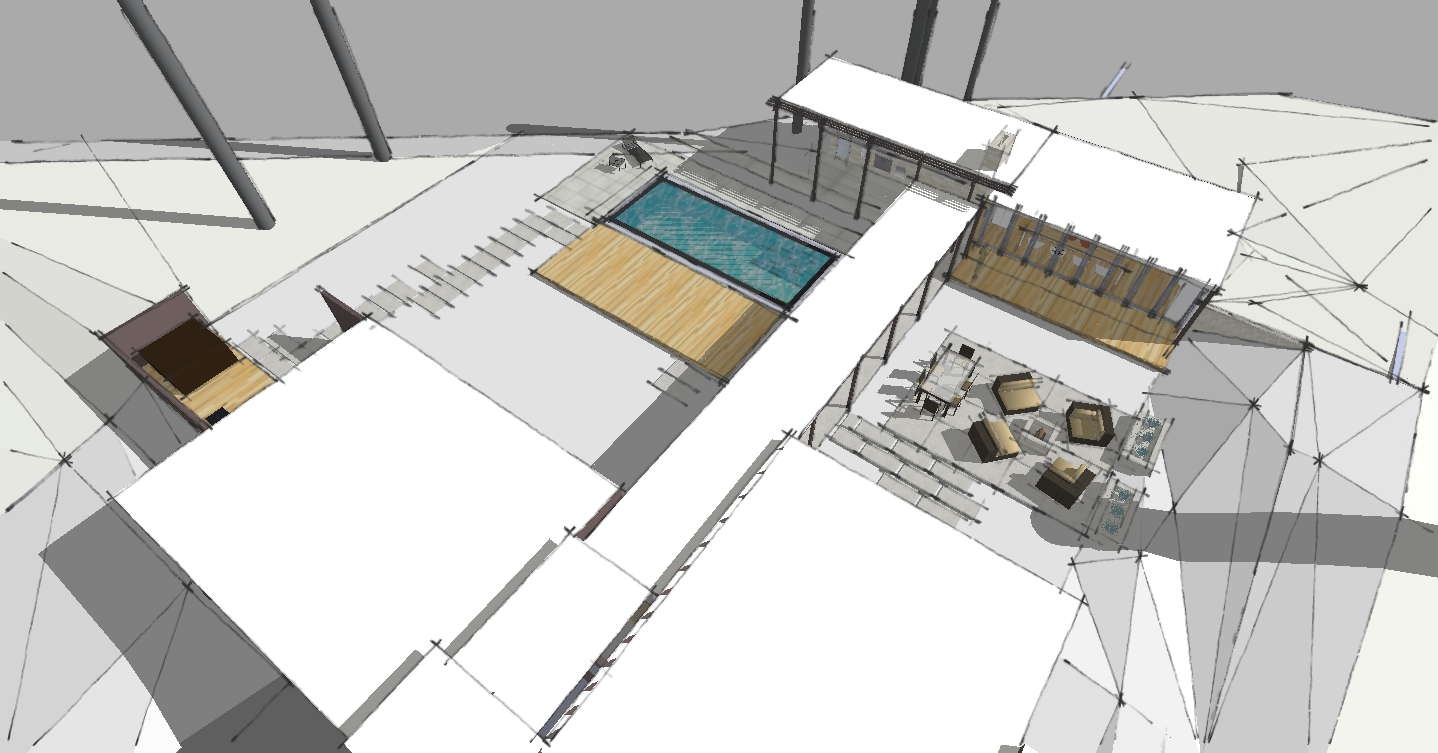 dunthorpe modern (permitting)
Our clients approached us looking to design several facets of their home.

The midcentury modern home sits nestled in a forested hillside and a renovation is underway to bring out the luster of the home and its surrounds.
Our first pass was at a "detached bedroom" connected to the house with a covered walkway. This room will serve many needs for the family from guest room to children's playspace to outdoor dining room. This all around flex space will "grow out of" the hillside and provide ample space for a growing family.

Surrounding this space will be phases of more detailed design and construction including an outdoor kitchen, pool and pergola and renovating/remodeling portions of the exiting house and grounds.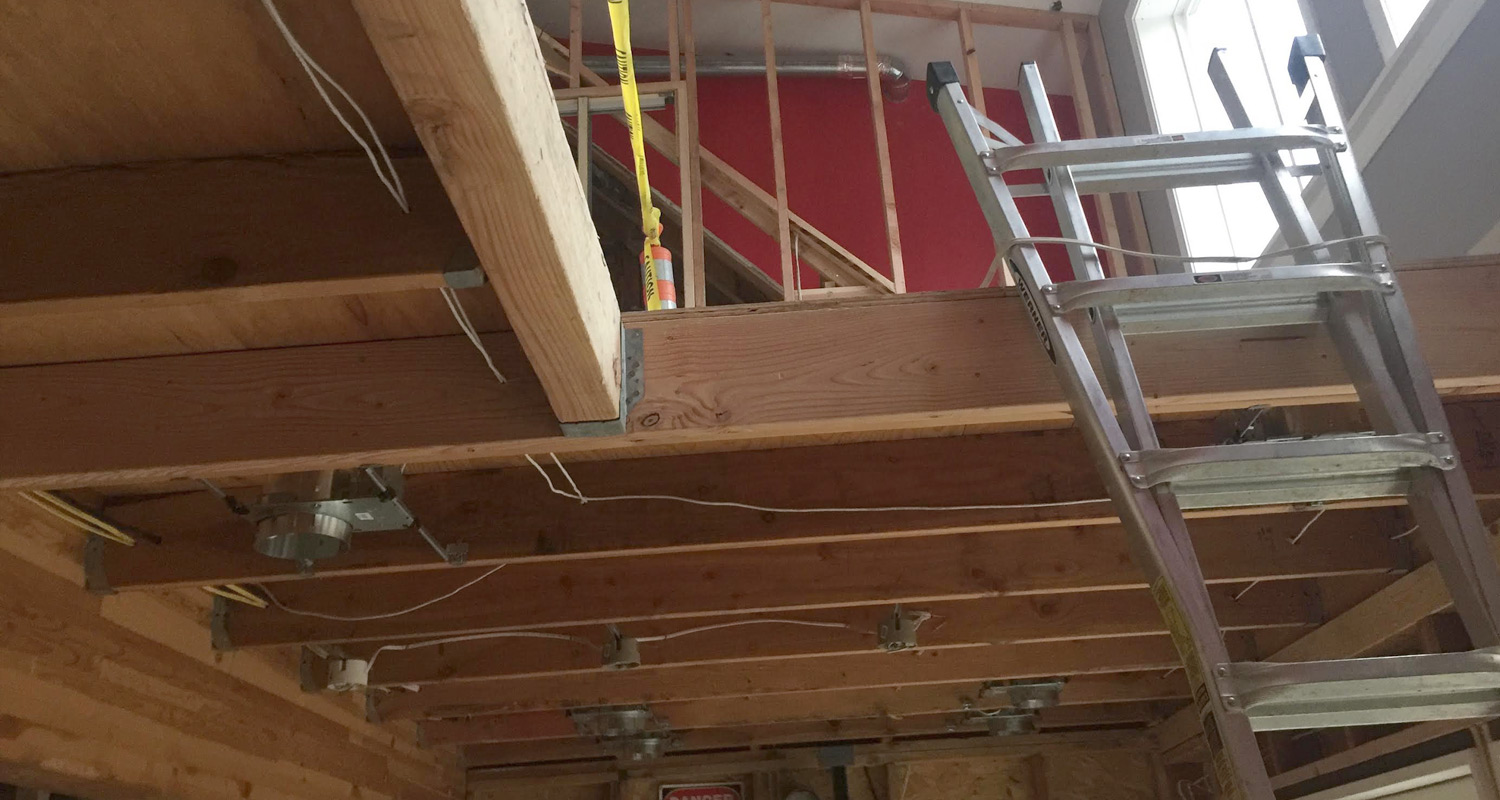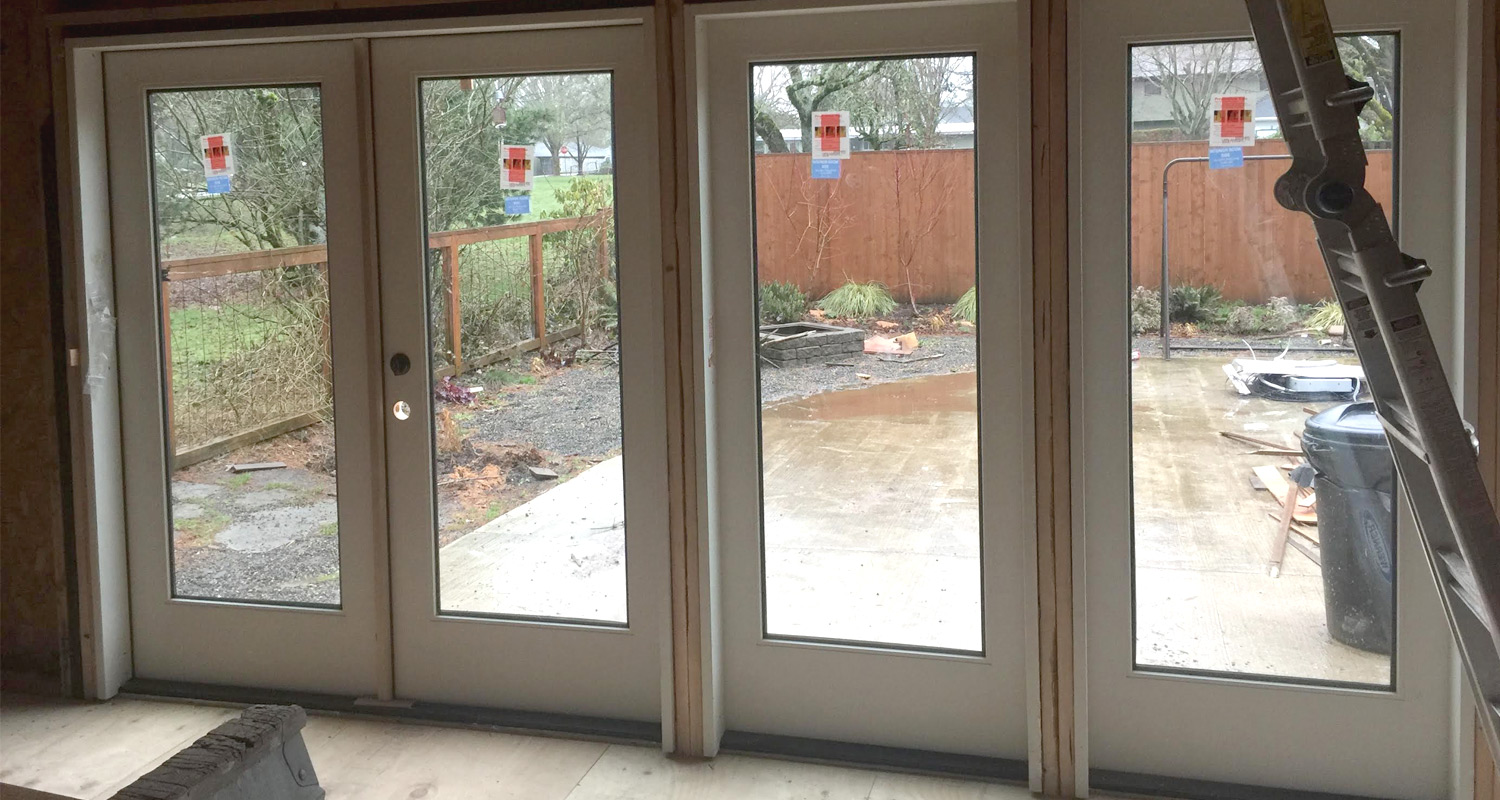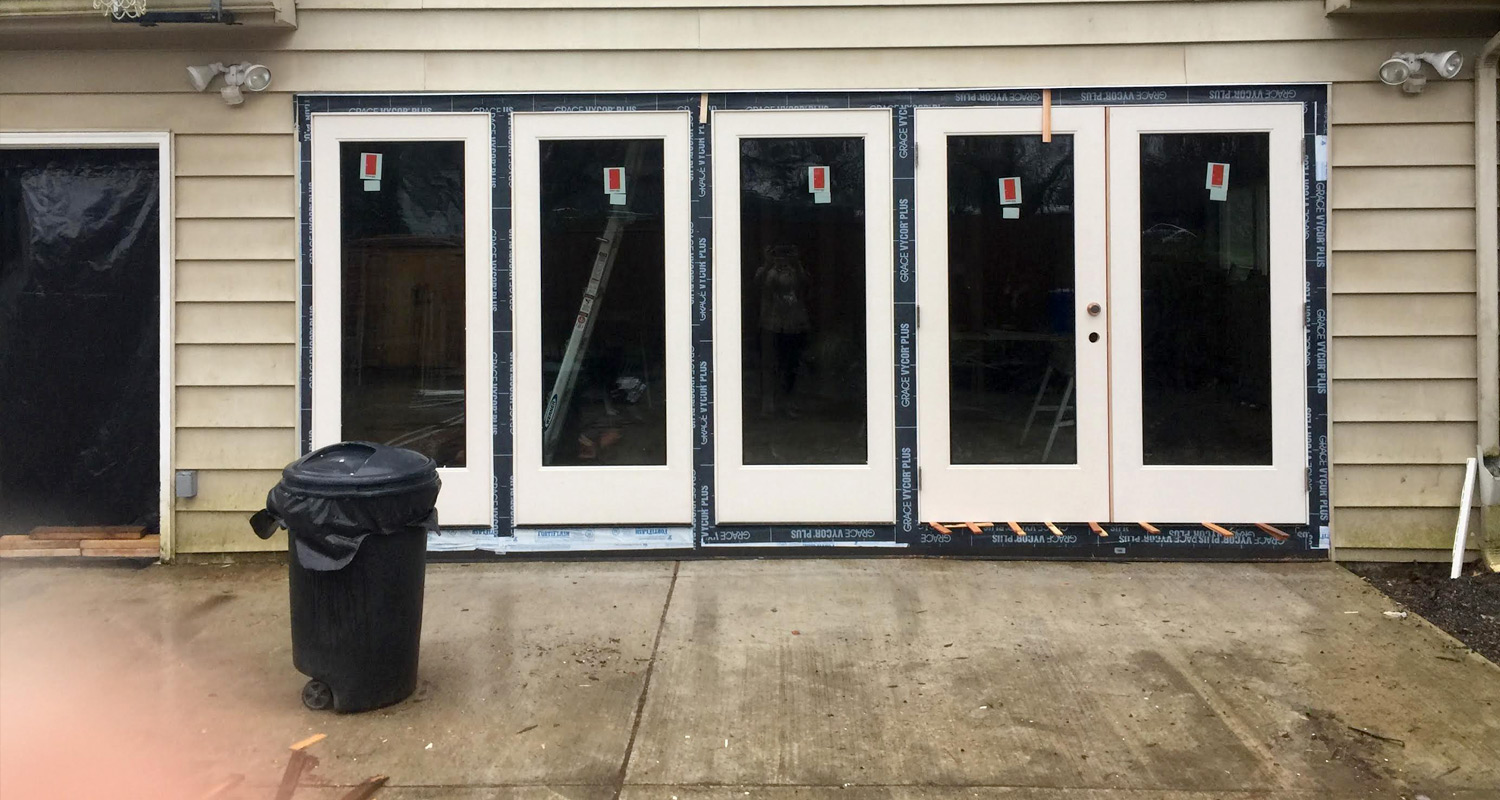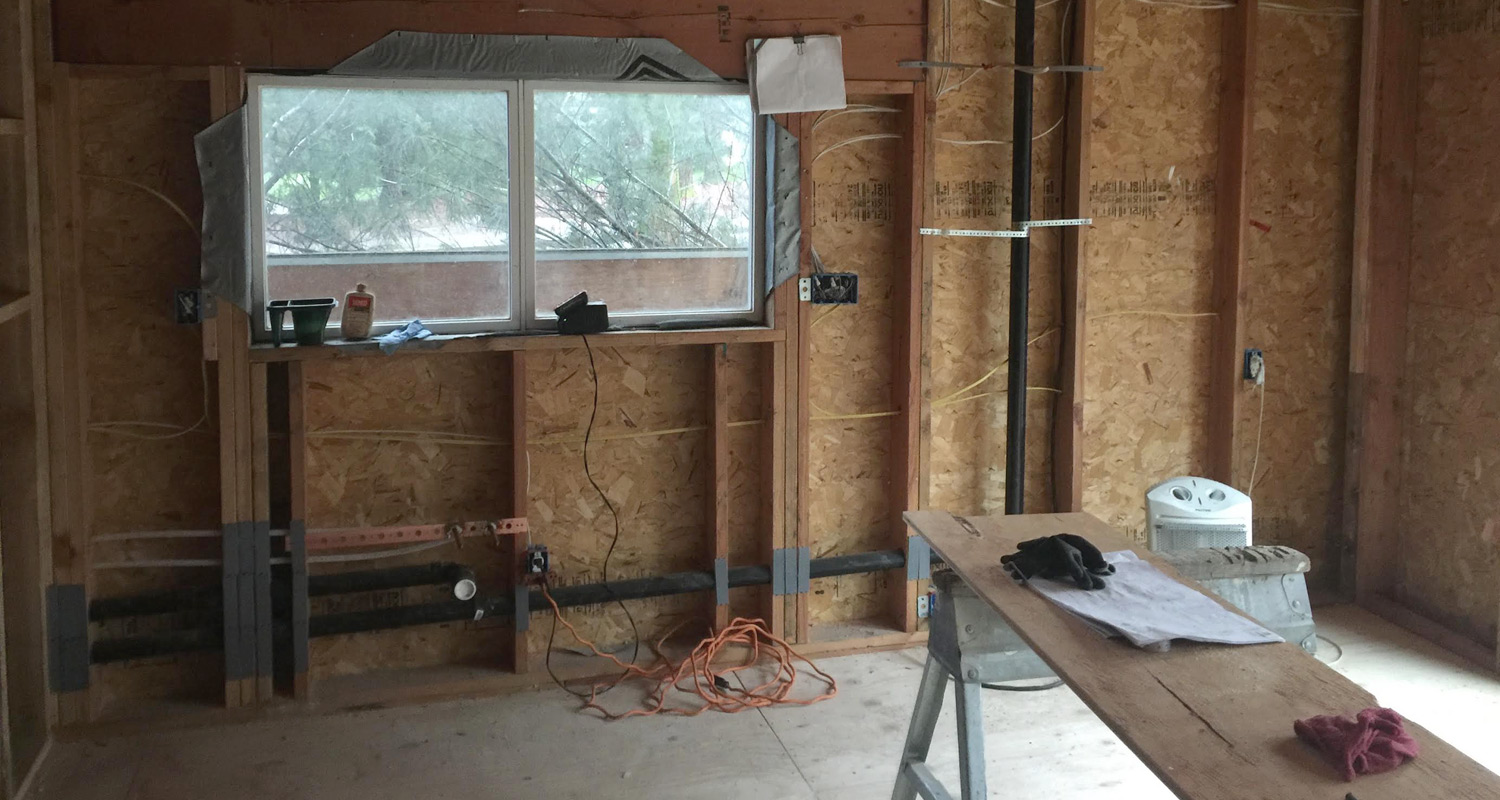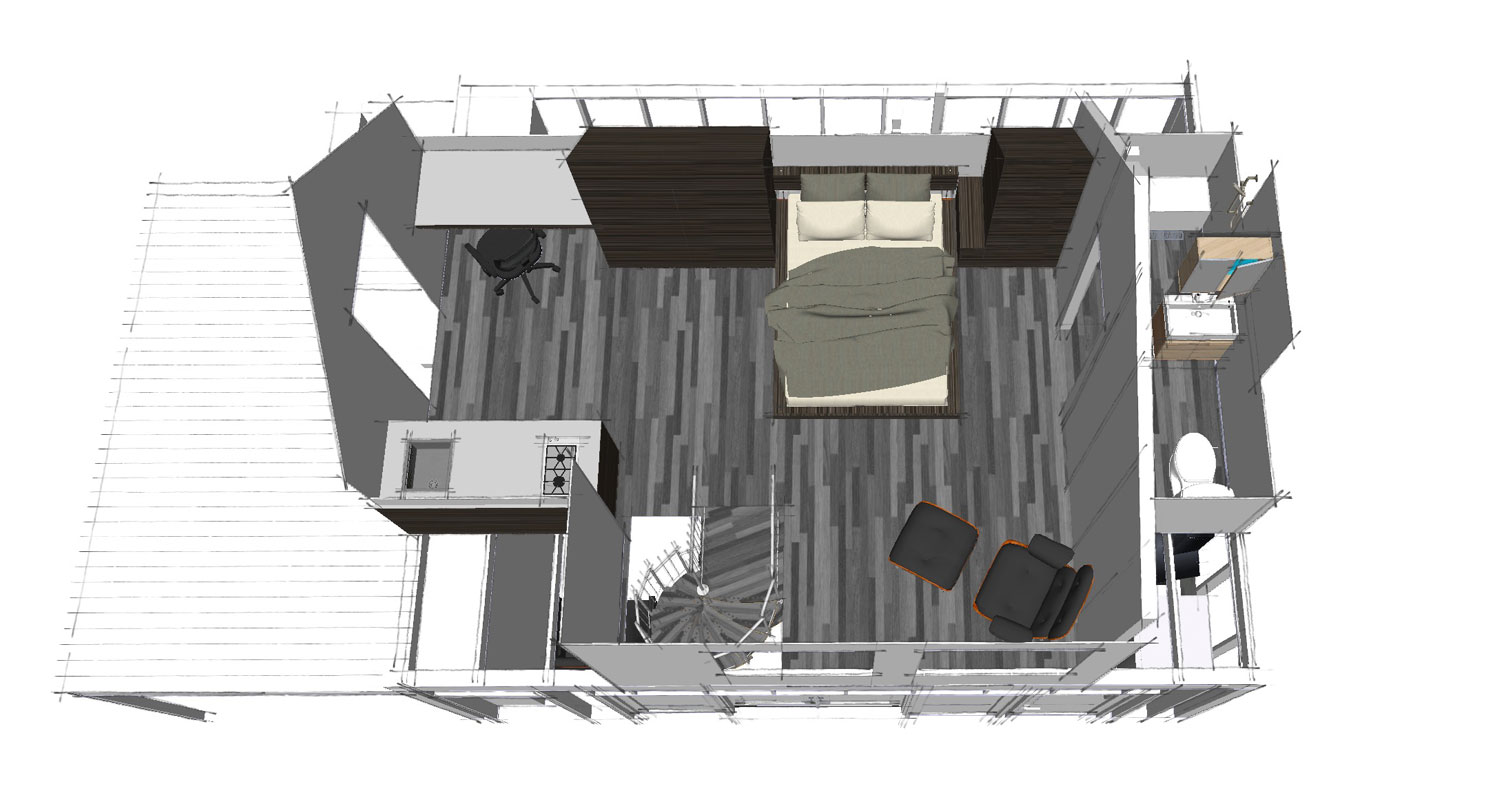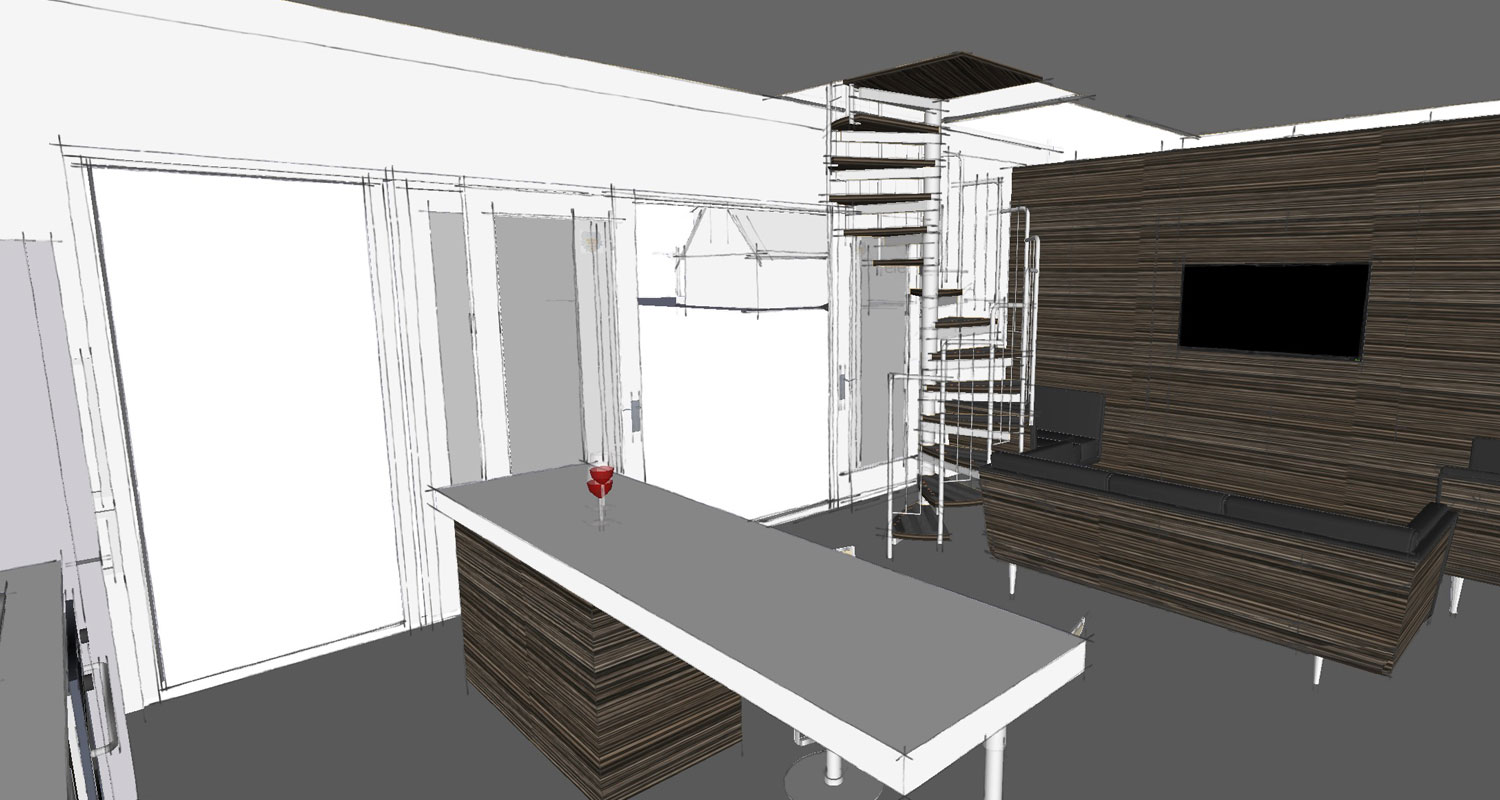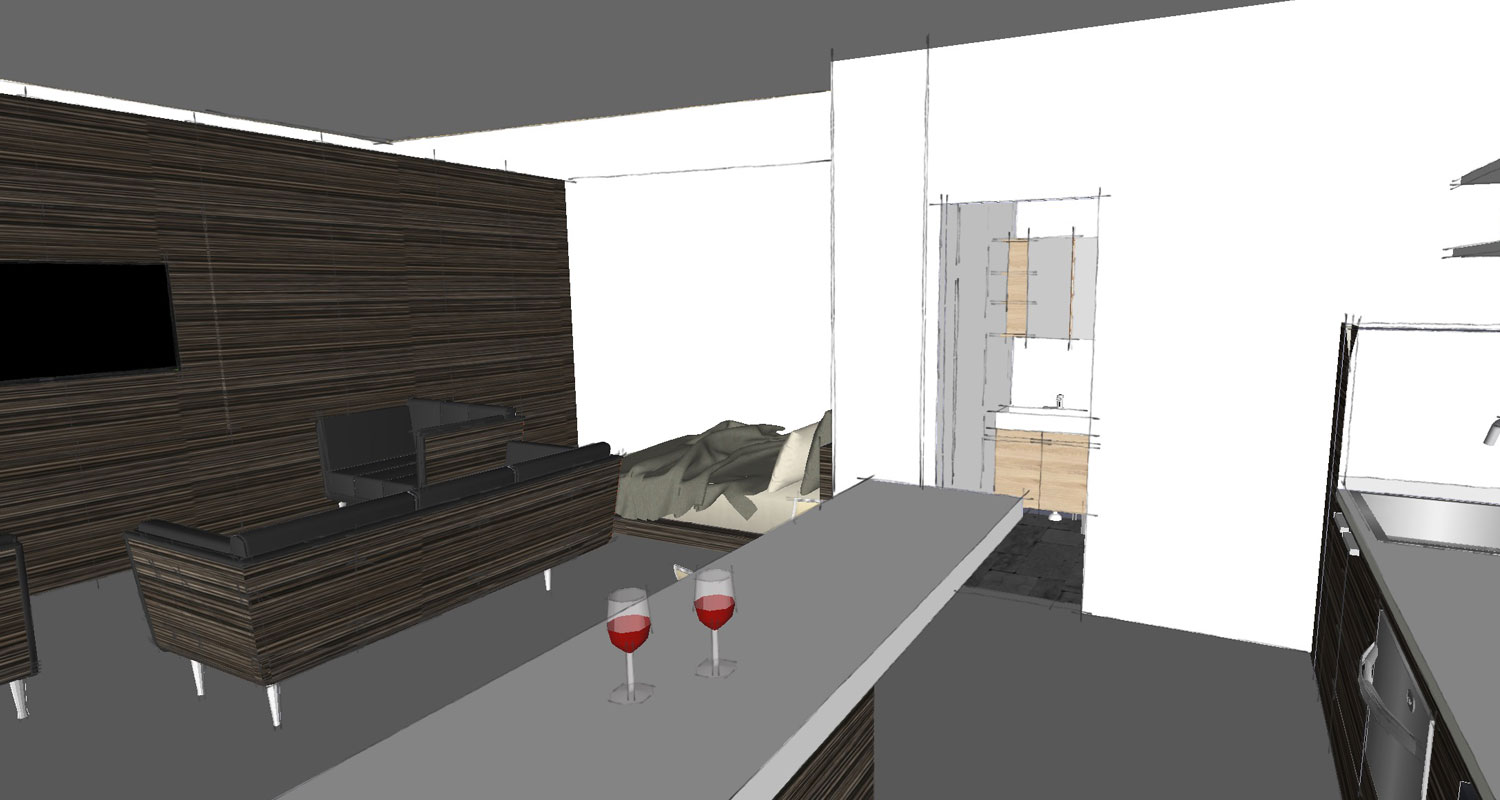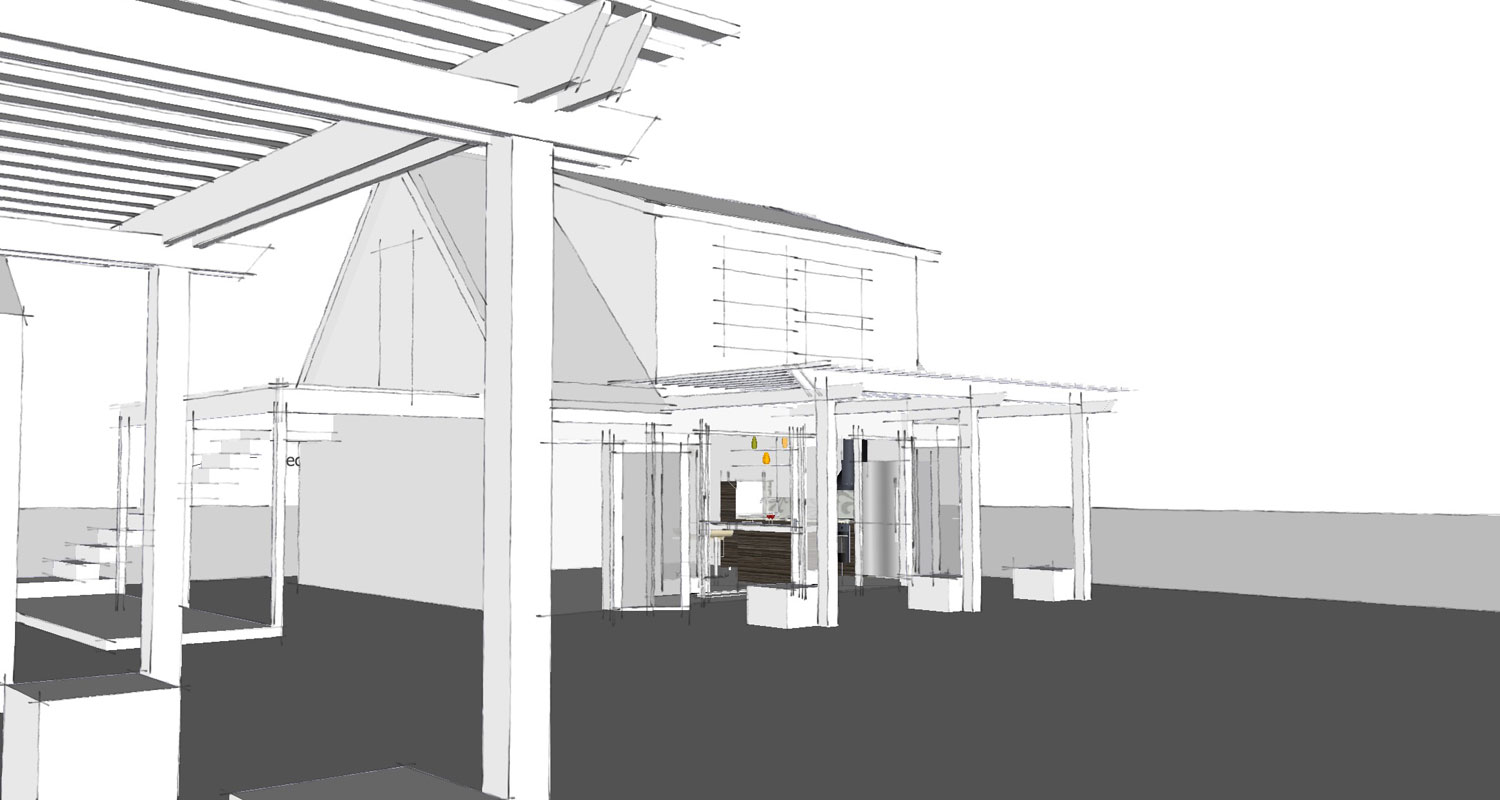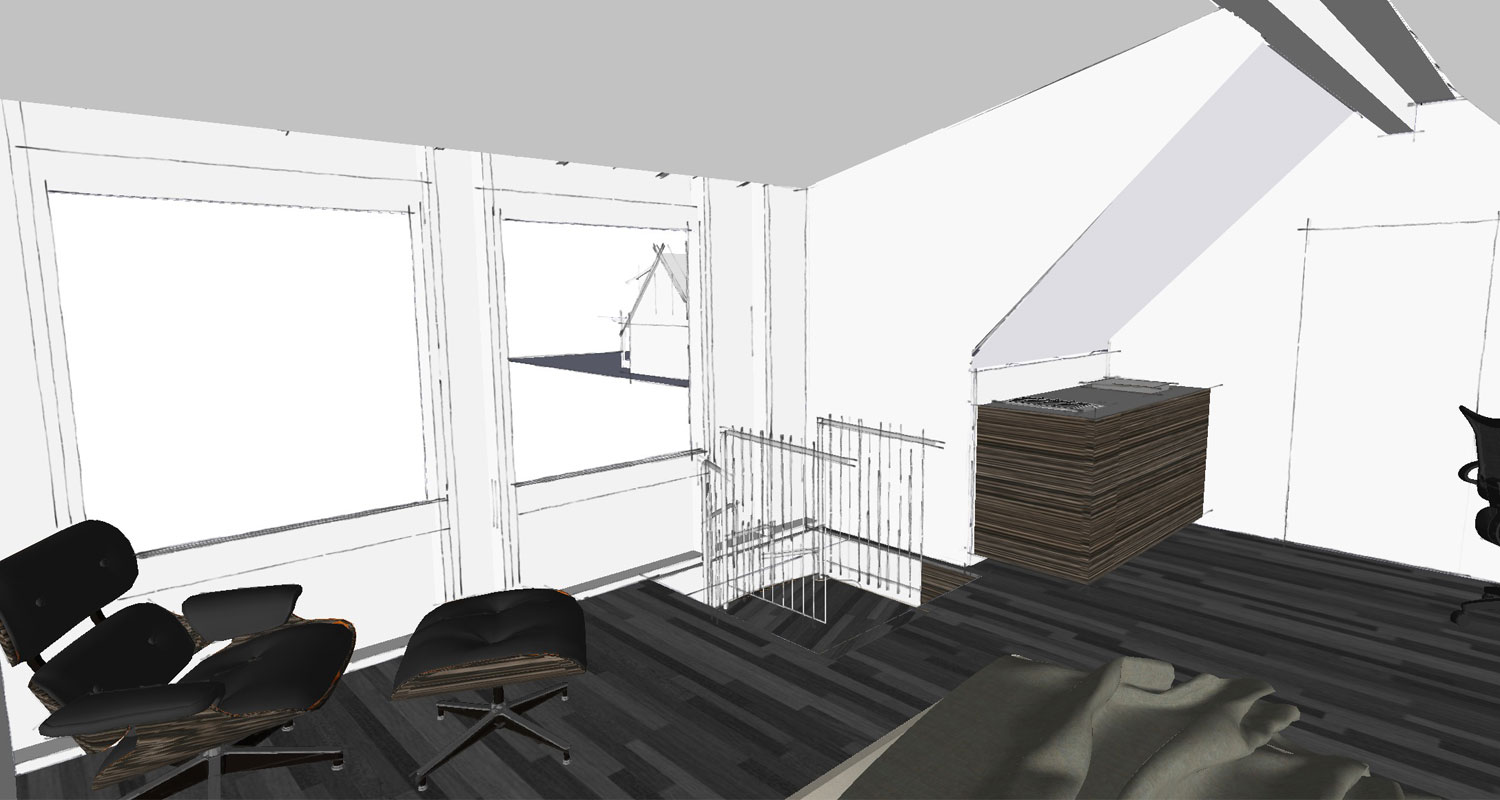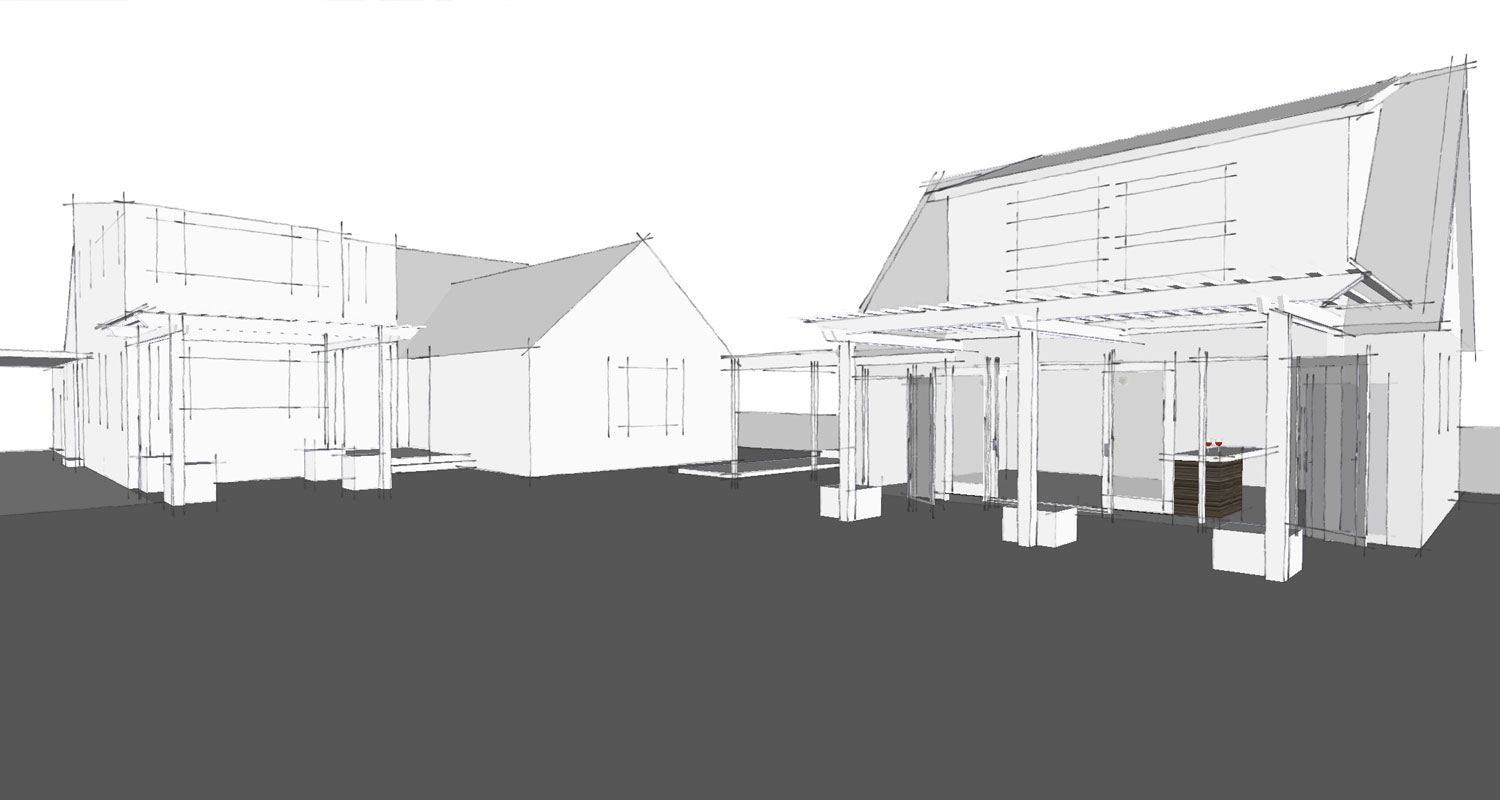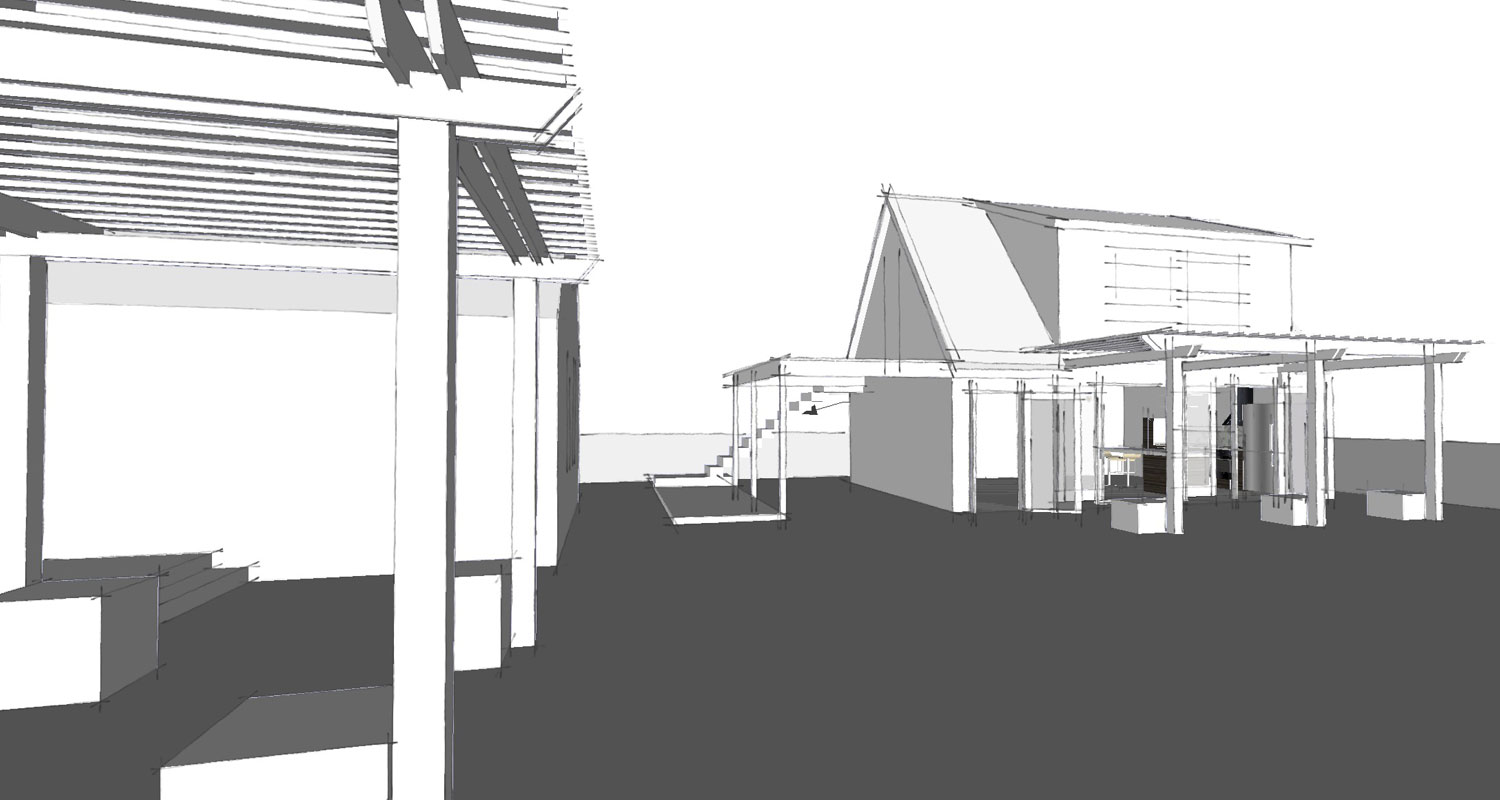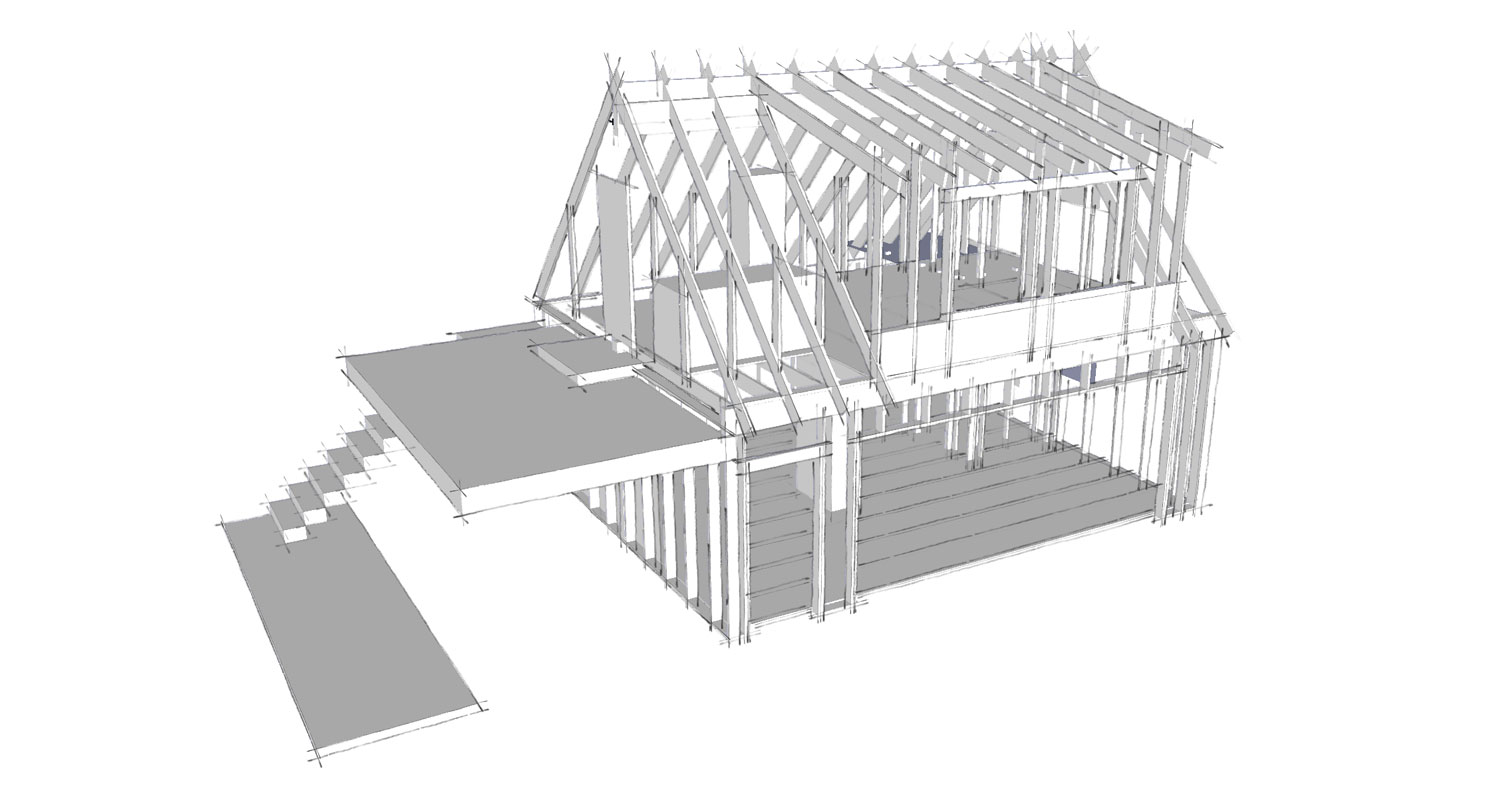 FROG ADU garage conversion
project cost: 140k
800 sqft
Our clients came to us looking to convert an existing garage and FROG (furnished room over garage) into a legal ADU with long term flexibility. Their hope is to design a Portland ADU that would allow them to rent short term, create a space for extended family to stay while in town and eventually for them to live in once the kids are away in college.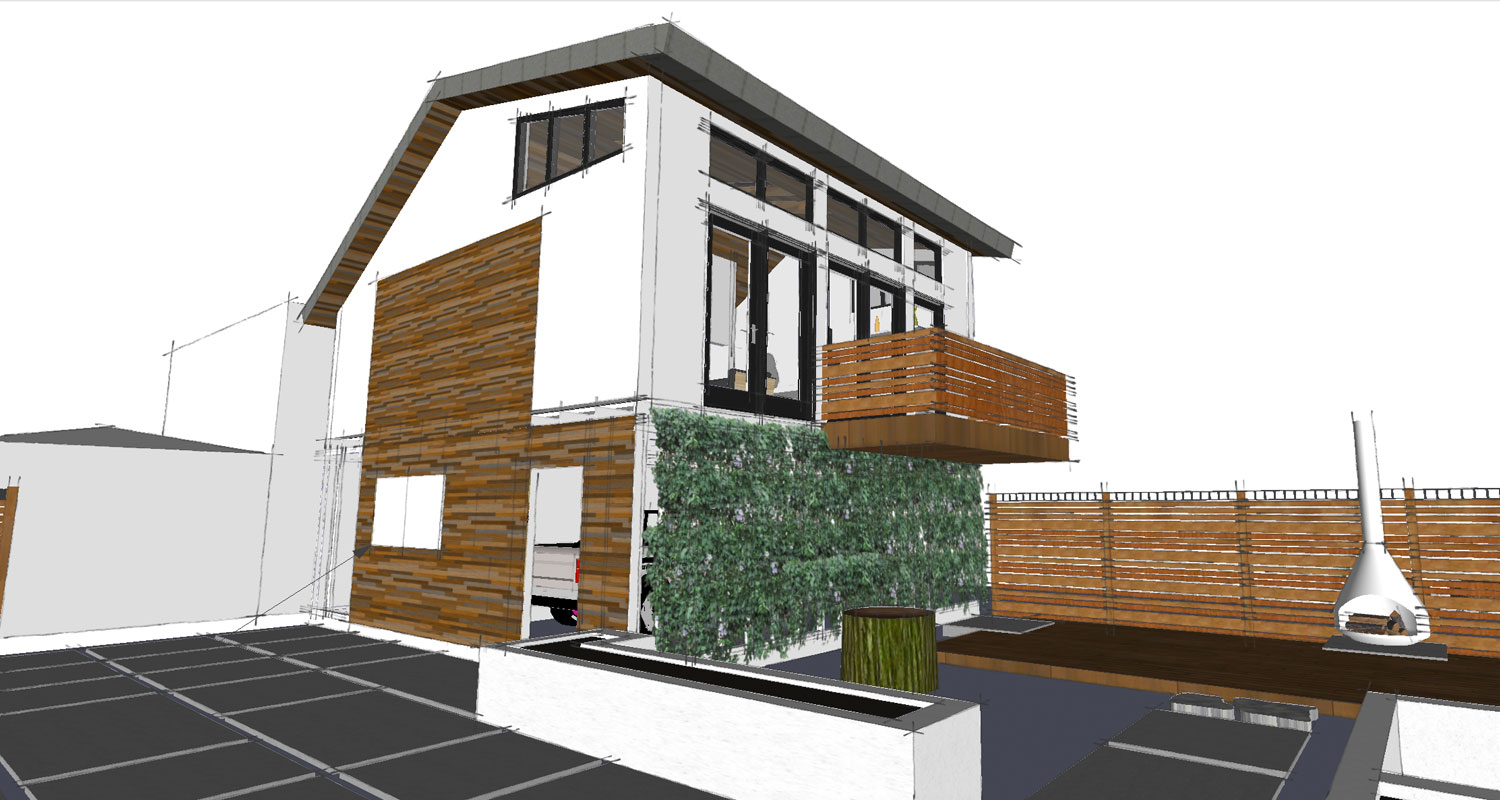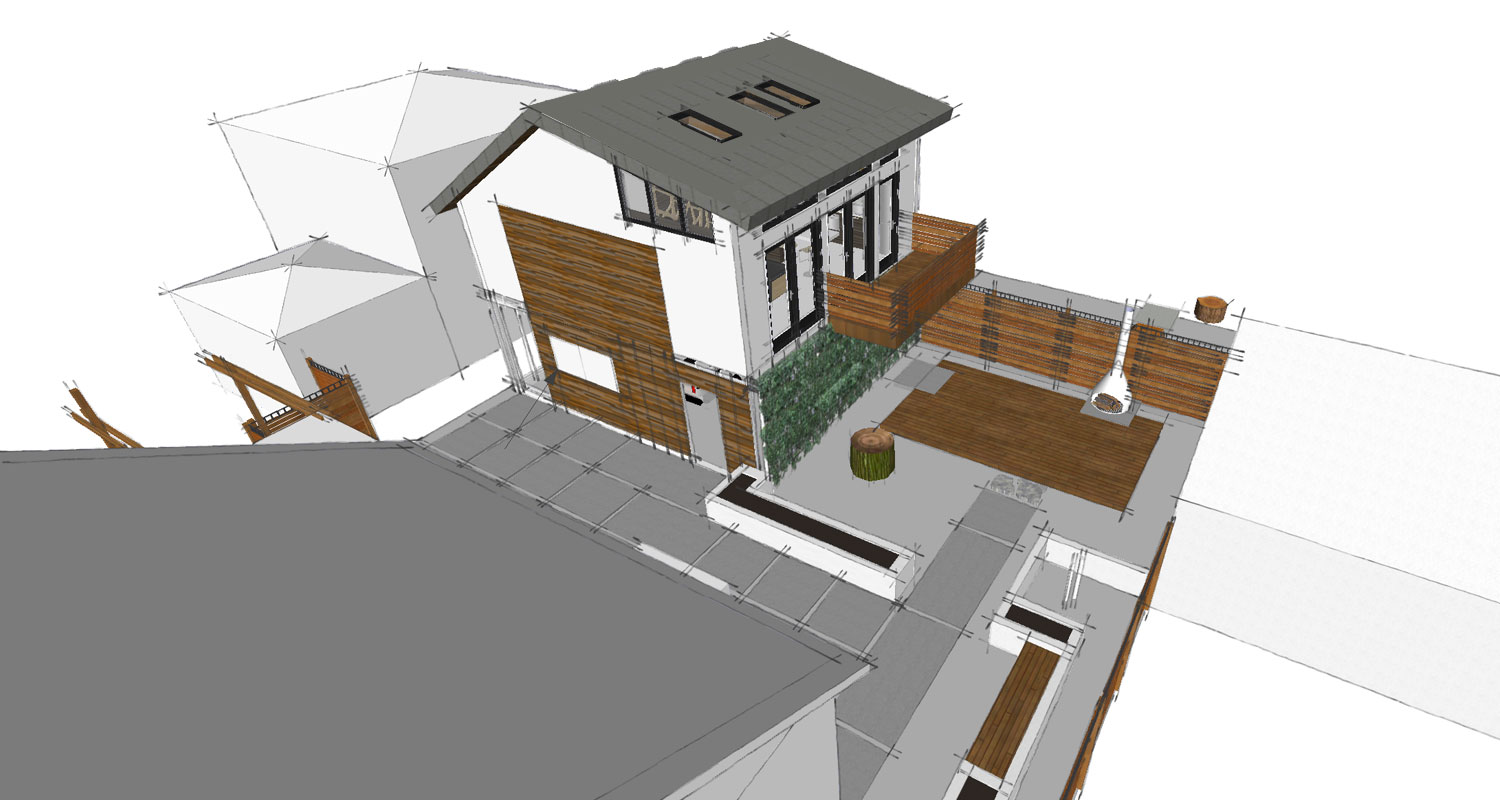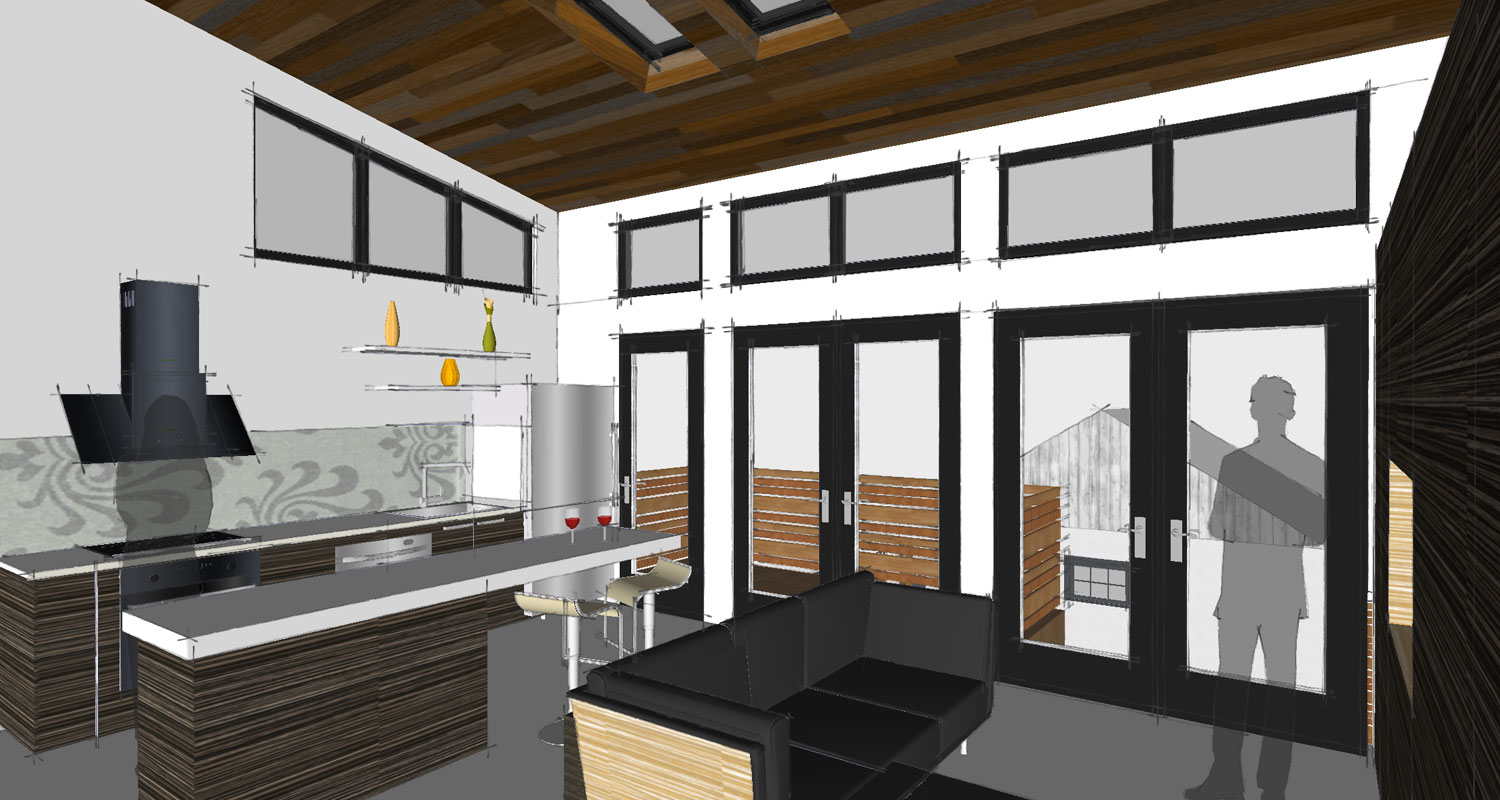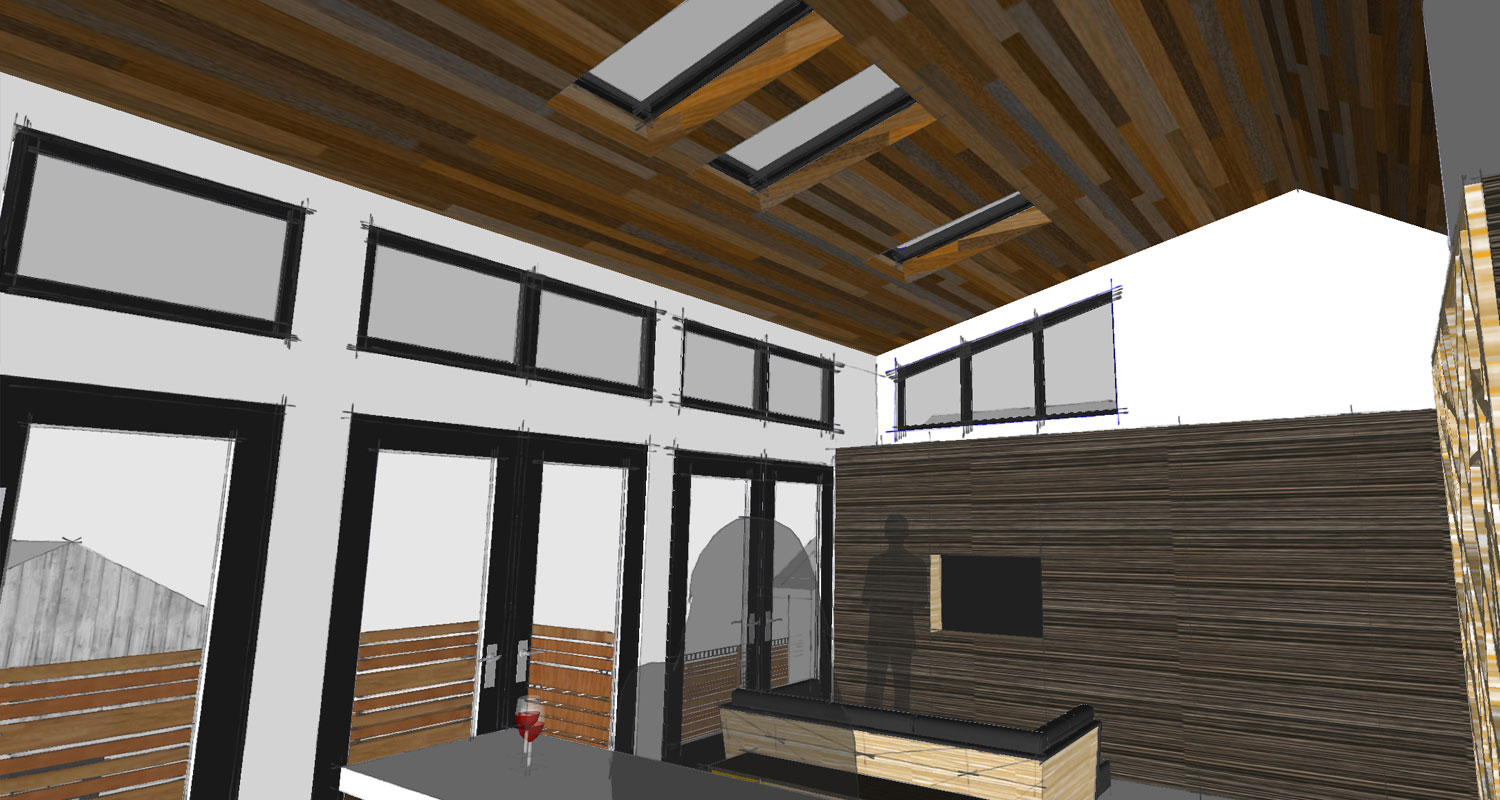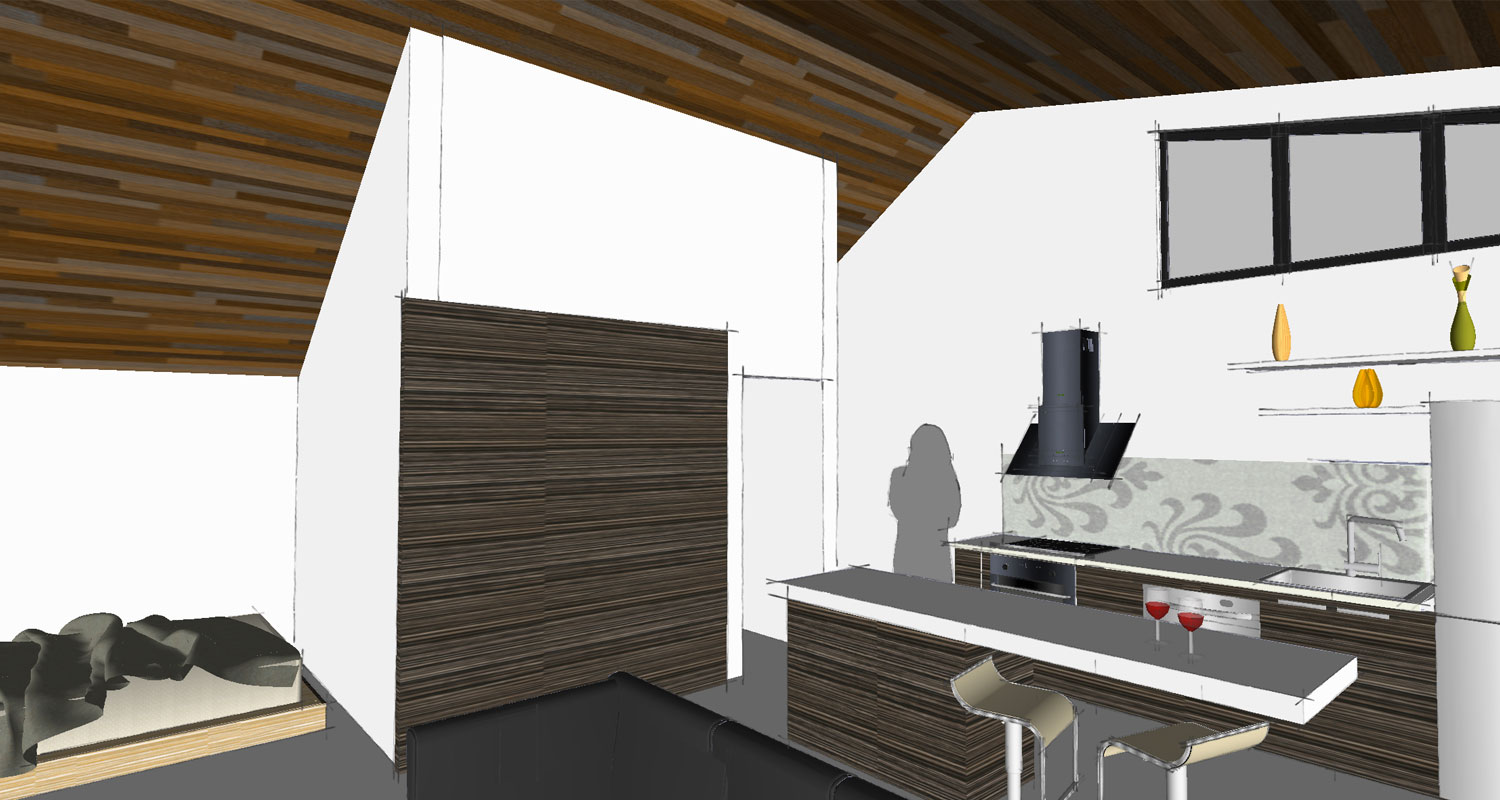 OVER GARAGE ADU (DRAFTING)

This over garage addition will provide a place for extended family visits. First to a cousin who needs a place to live during college, then later to mom when she wants to be nearby. The couple has a great midcentury-modern design aesthetic and we look forward to working with them to make this project a reality!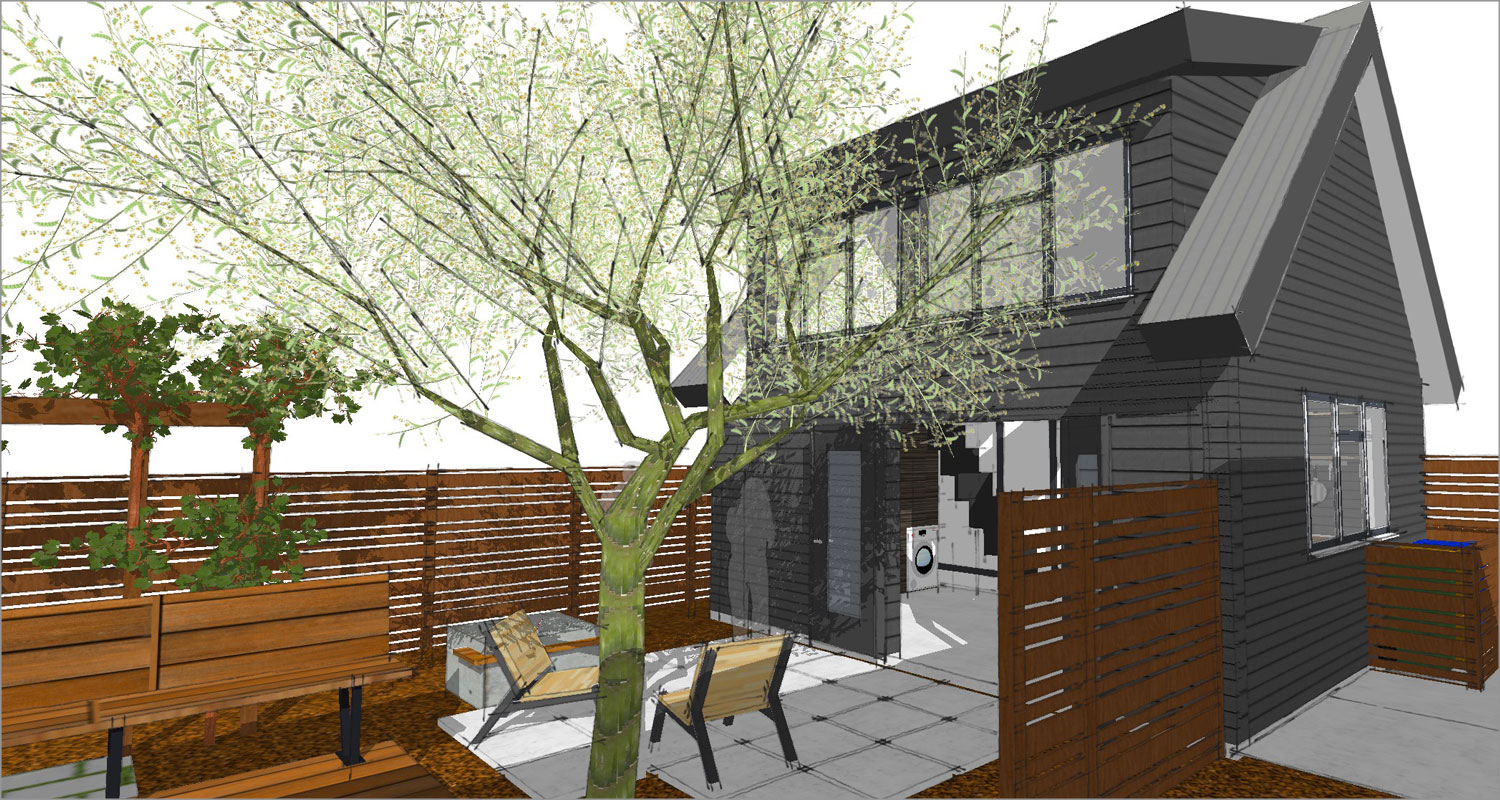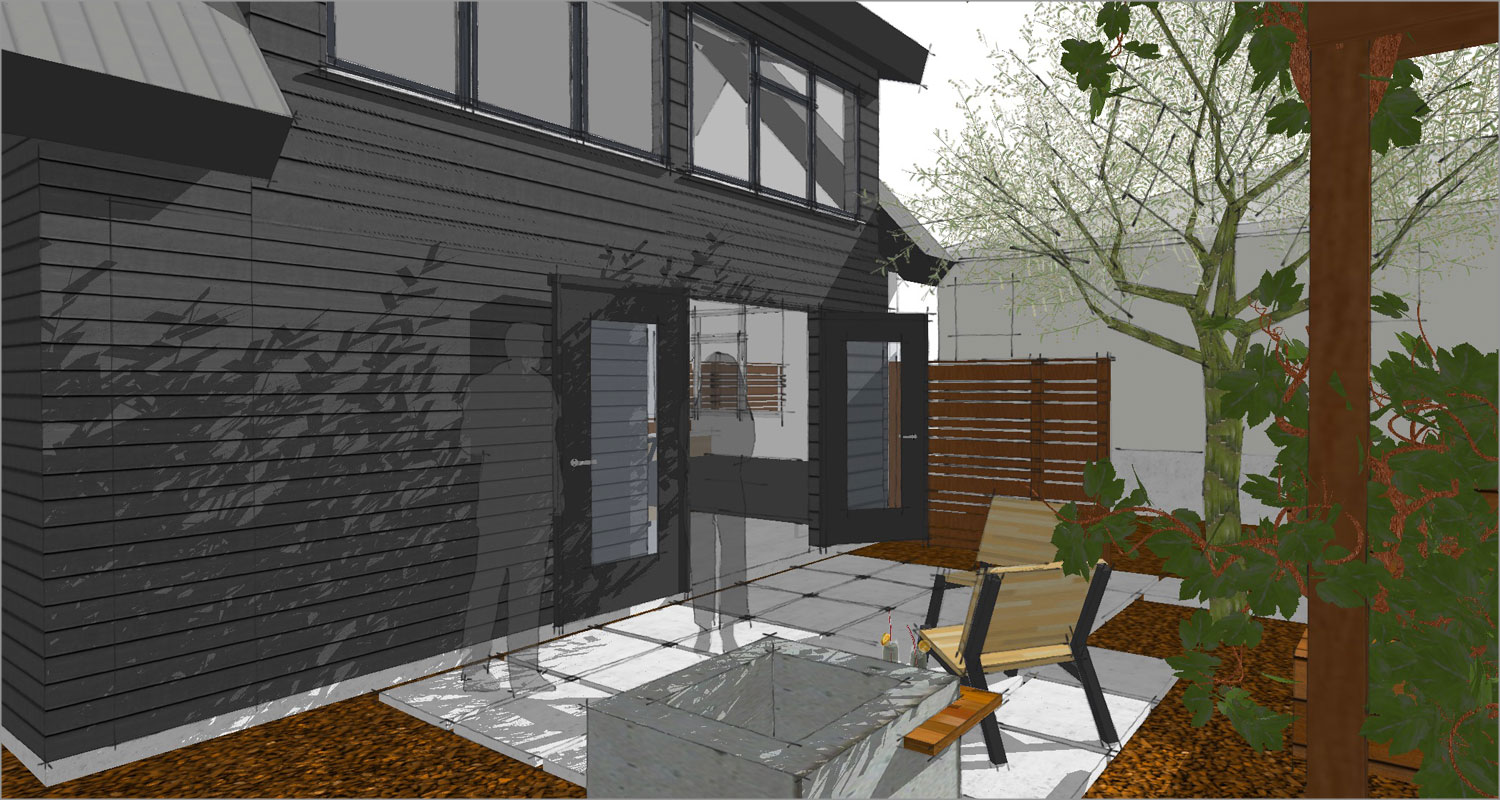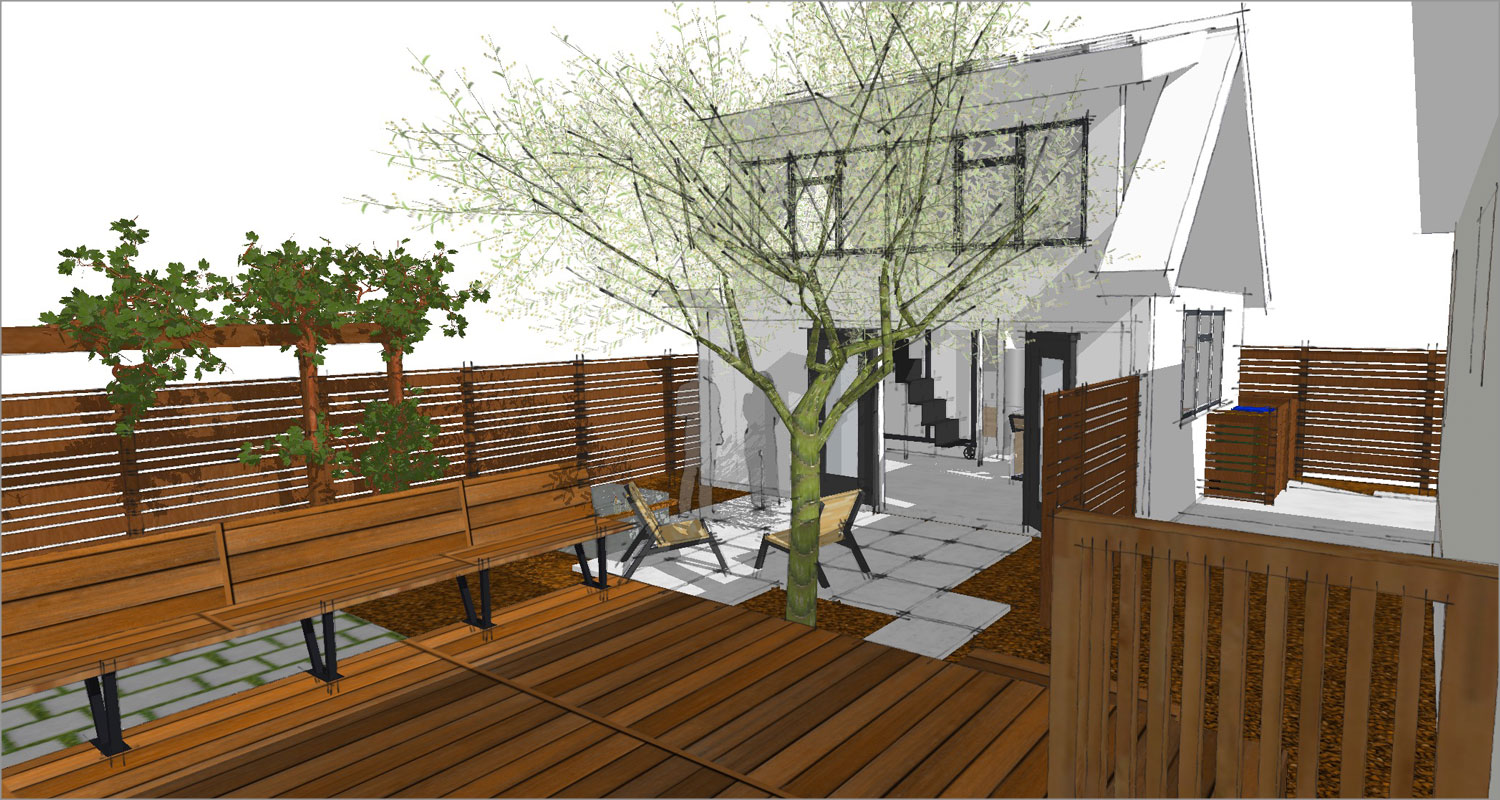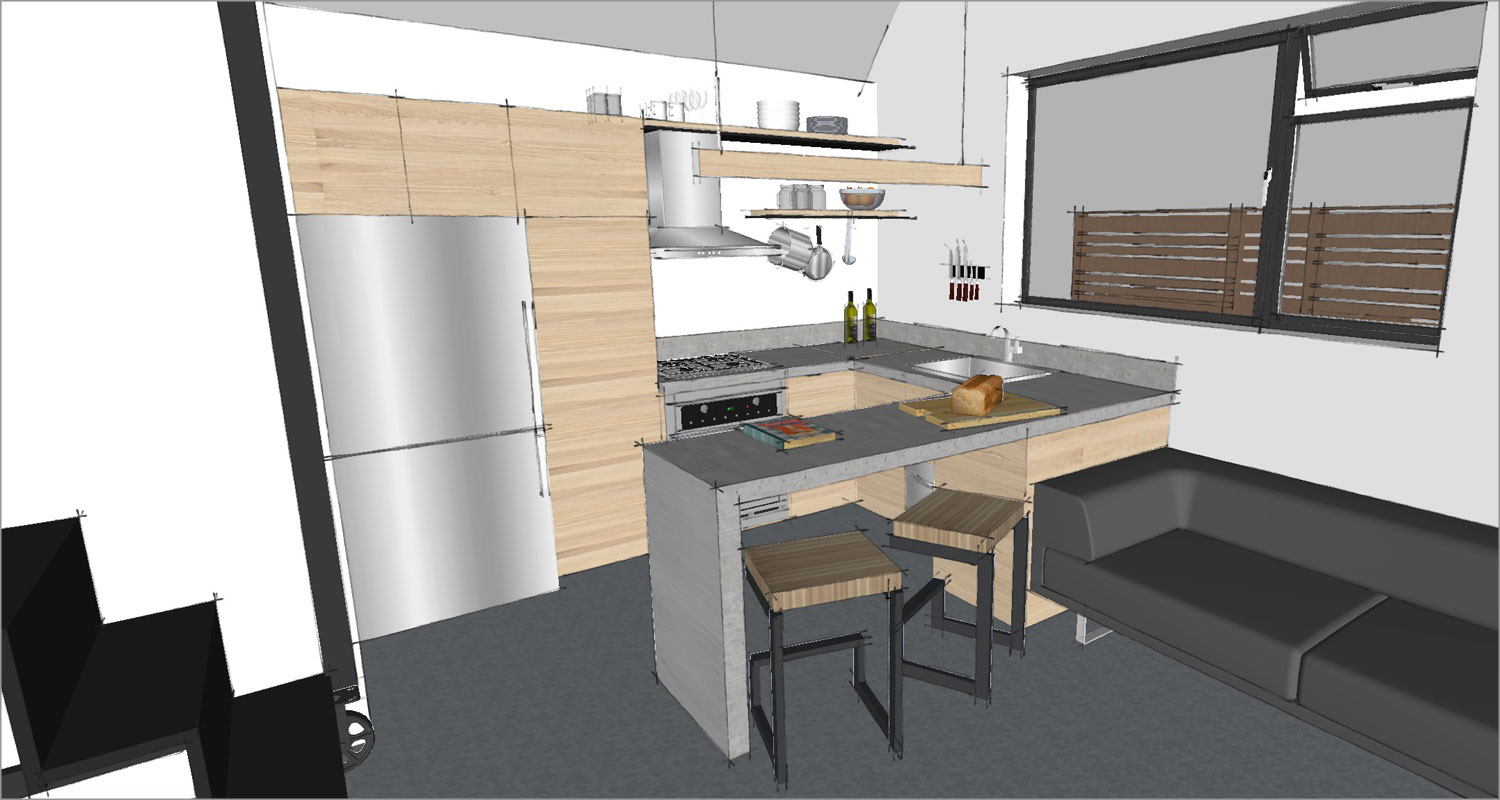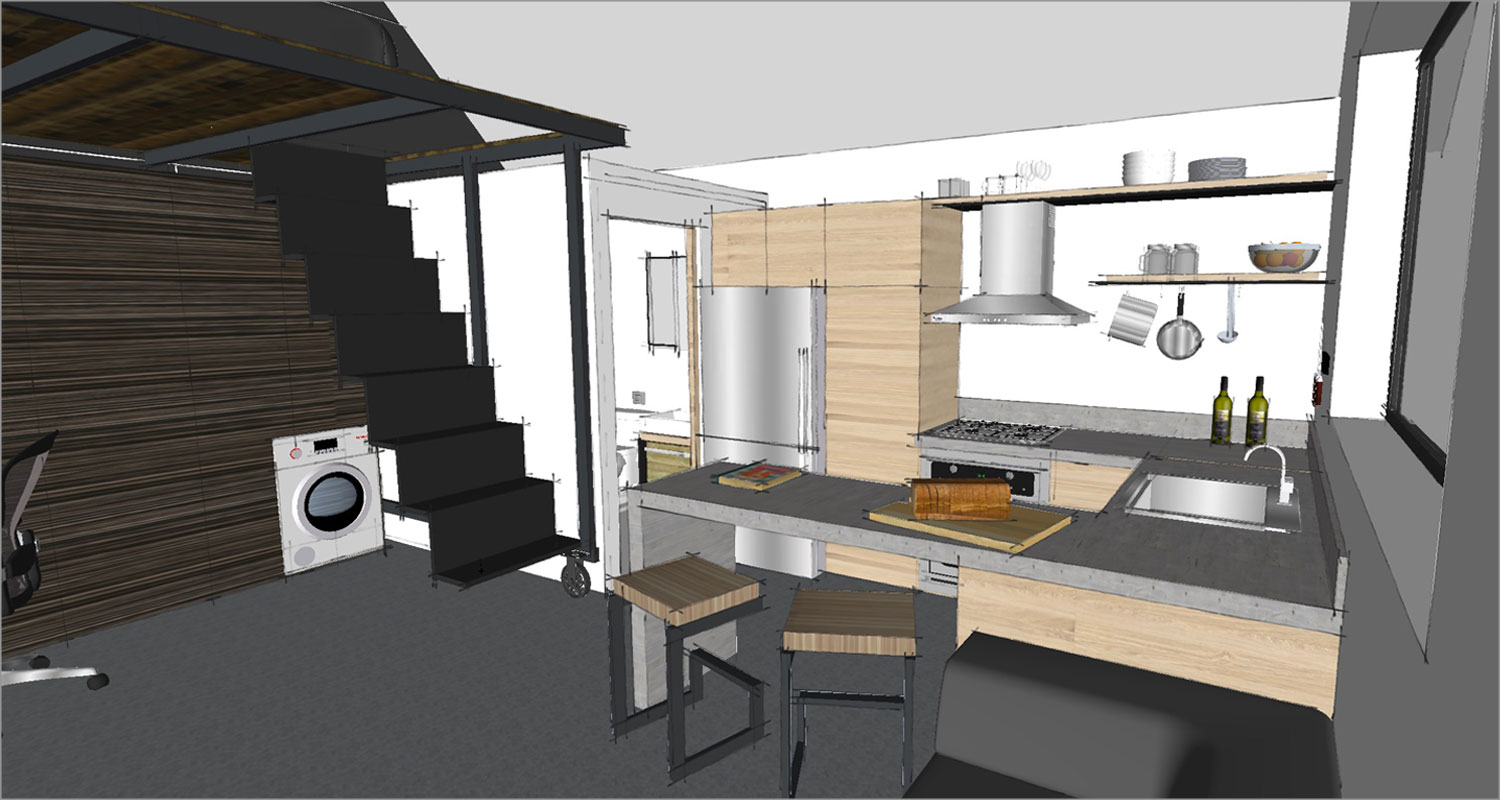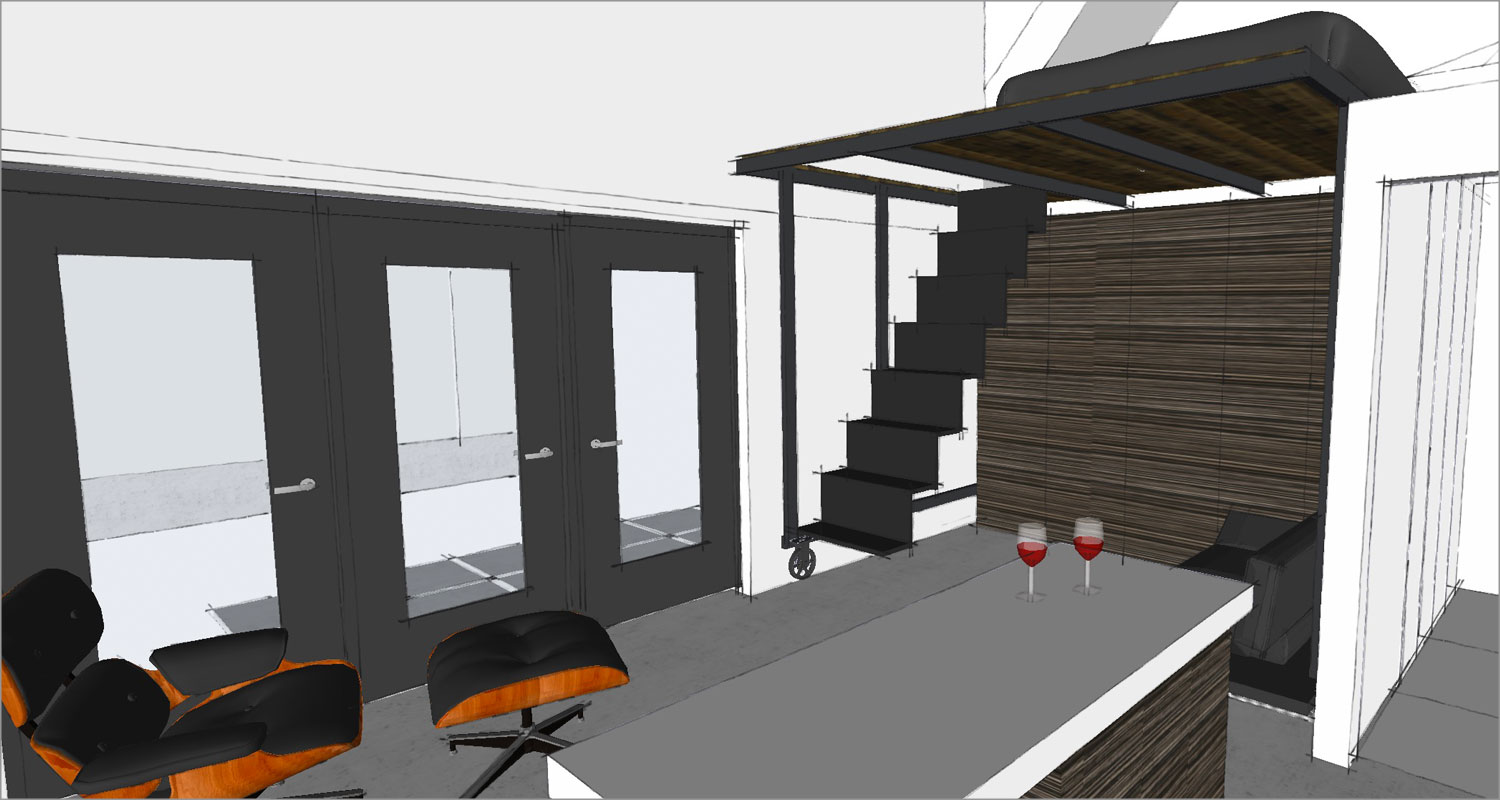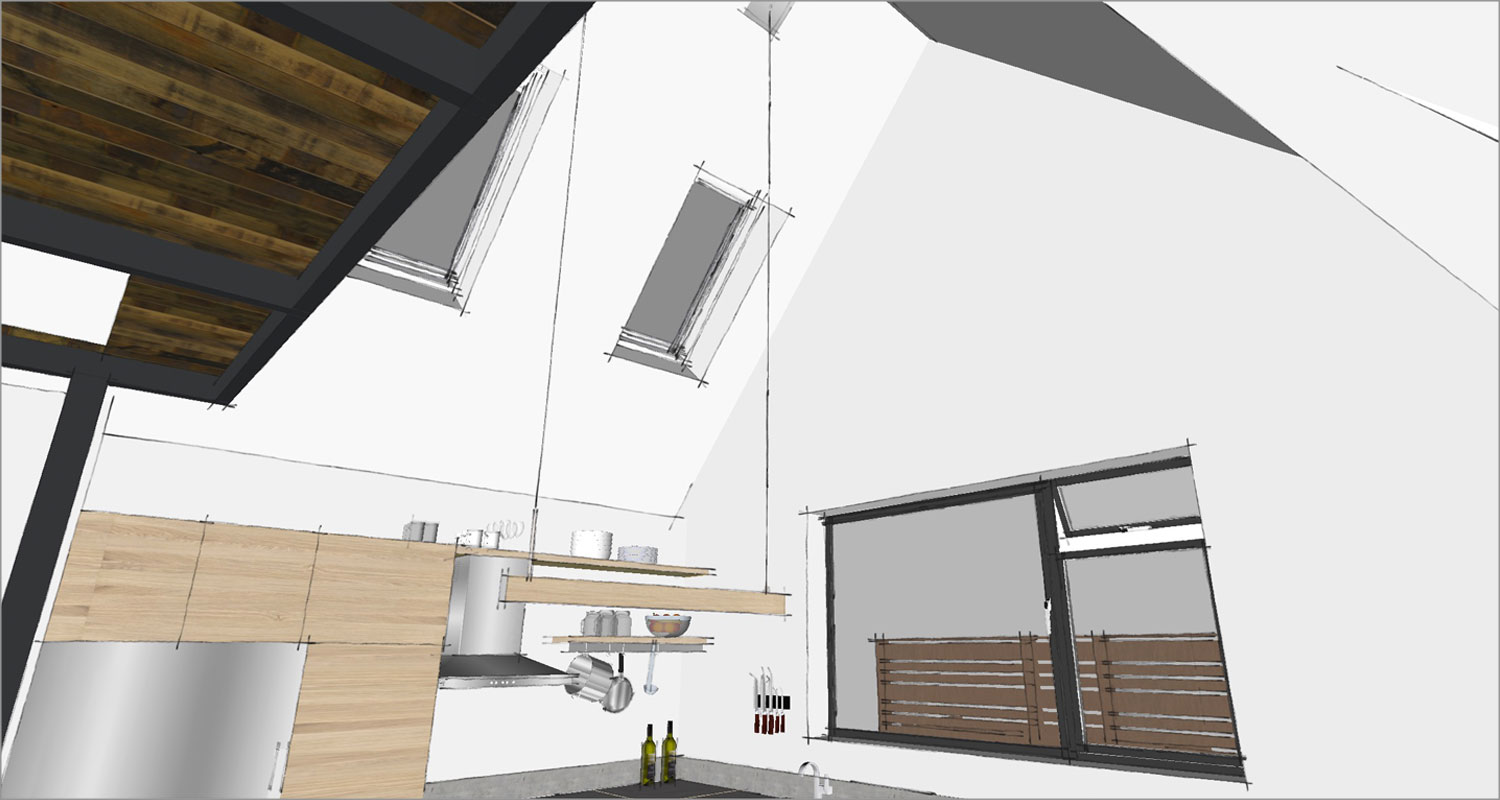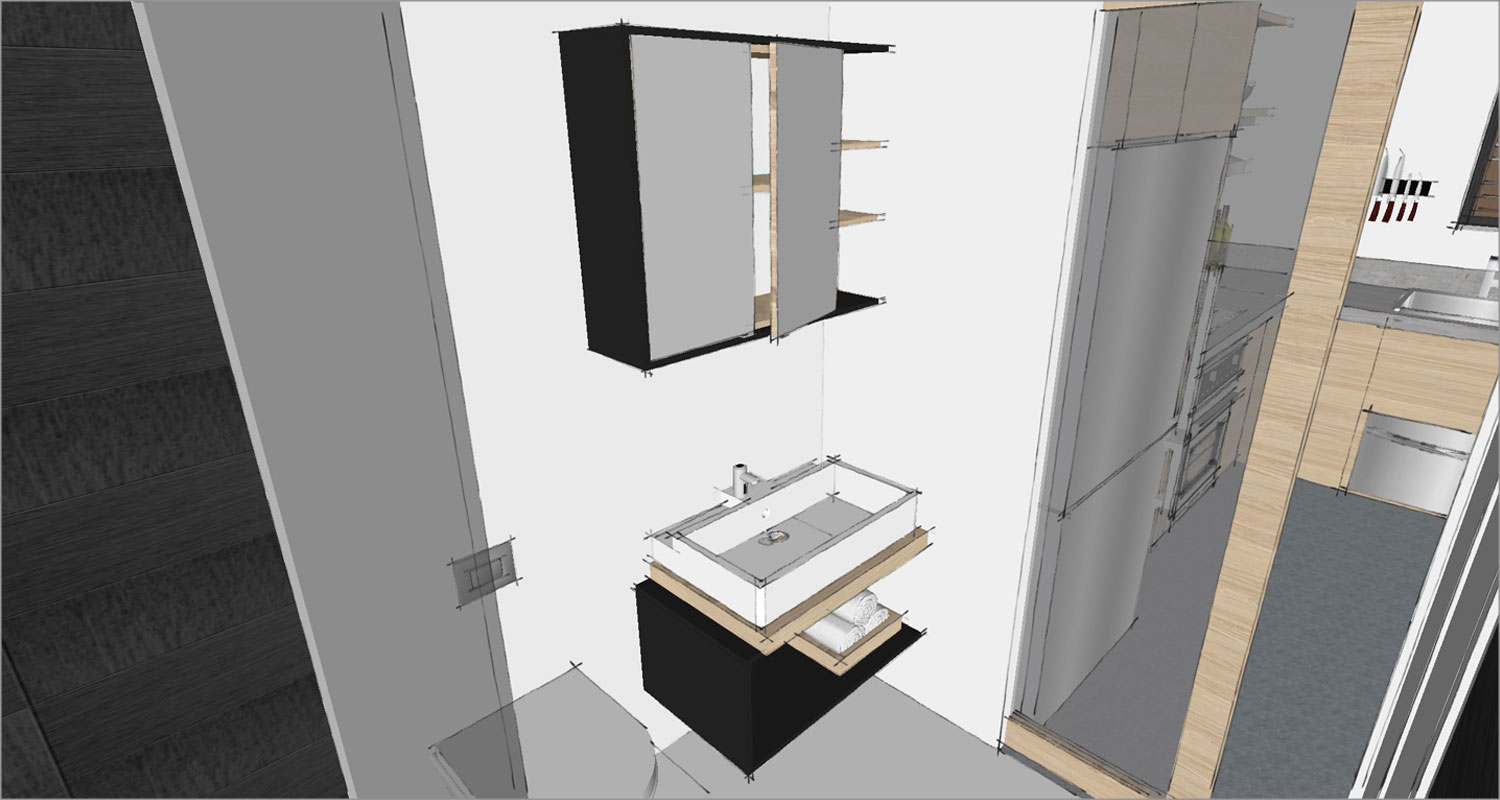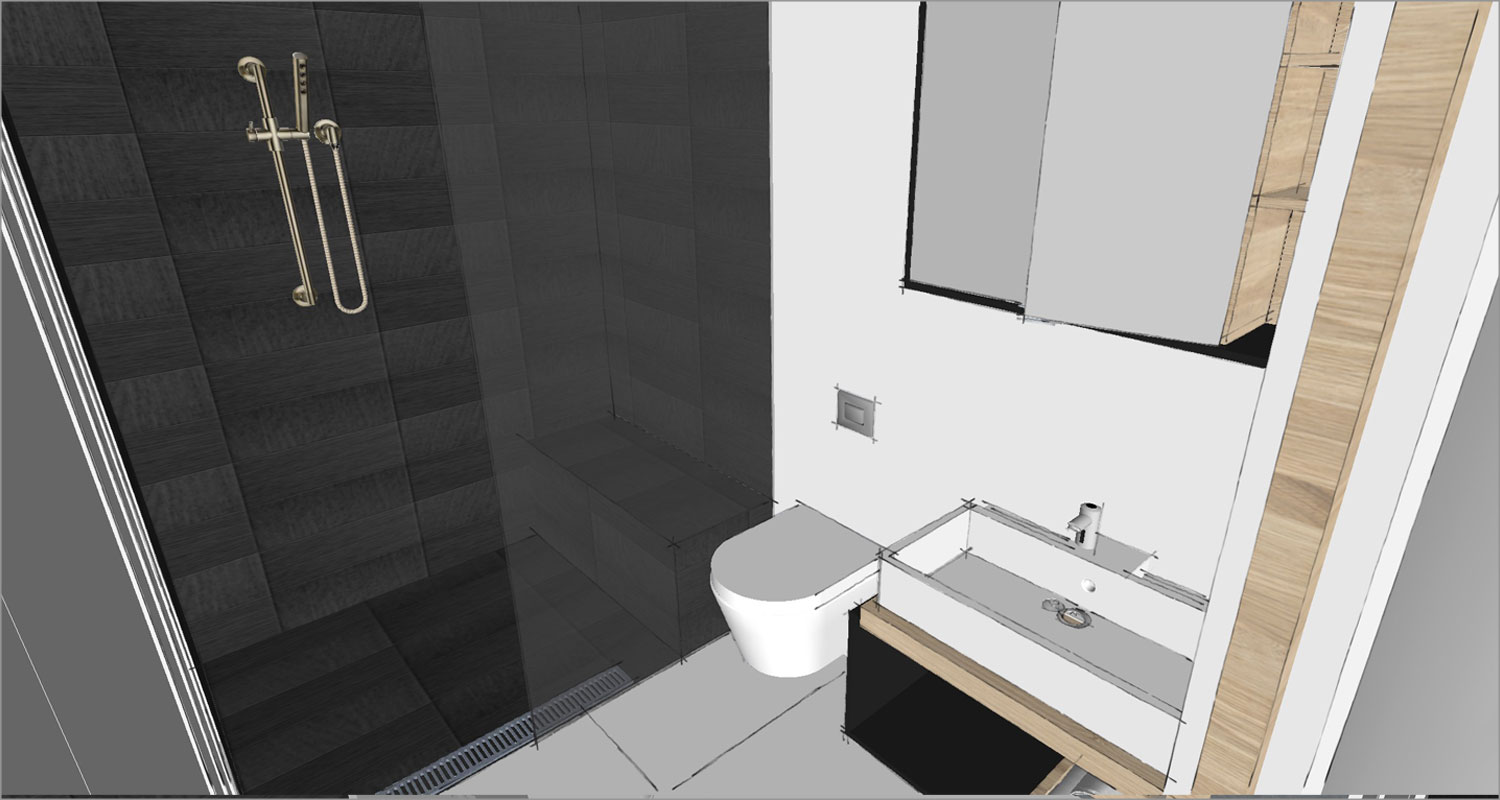 Upper Hawthorne ADU (drafTING)
349 SQFT
This client wanted to convert their existing garage into an ADU but the existing foundation isn't up to code. Like many small projects, it turns out they can actually save money by building from the ground up rather than trying to salvage the garage, so we worked with them to design a new ADU in a similar footprint to the old garage.
This is a simple, sleek but flexible studio space that can be used as a rental, for visiting friends/family or to fit an expanding family as their child grows.