Adventure fills the soul.
We think the design of your home away from home is just as important as your home itself.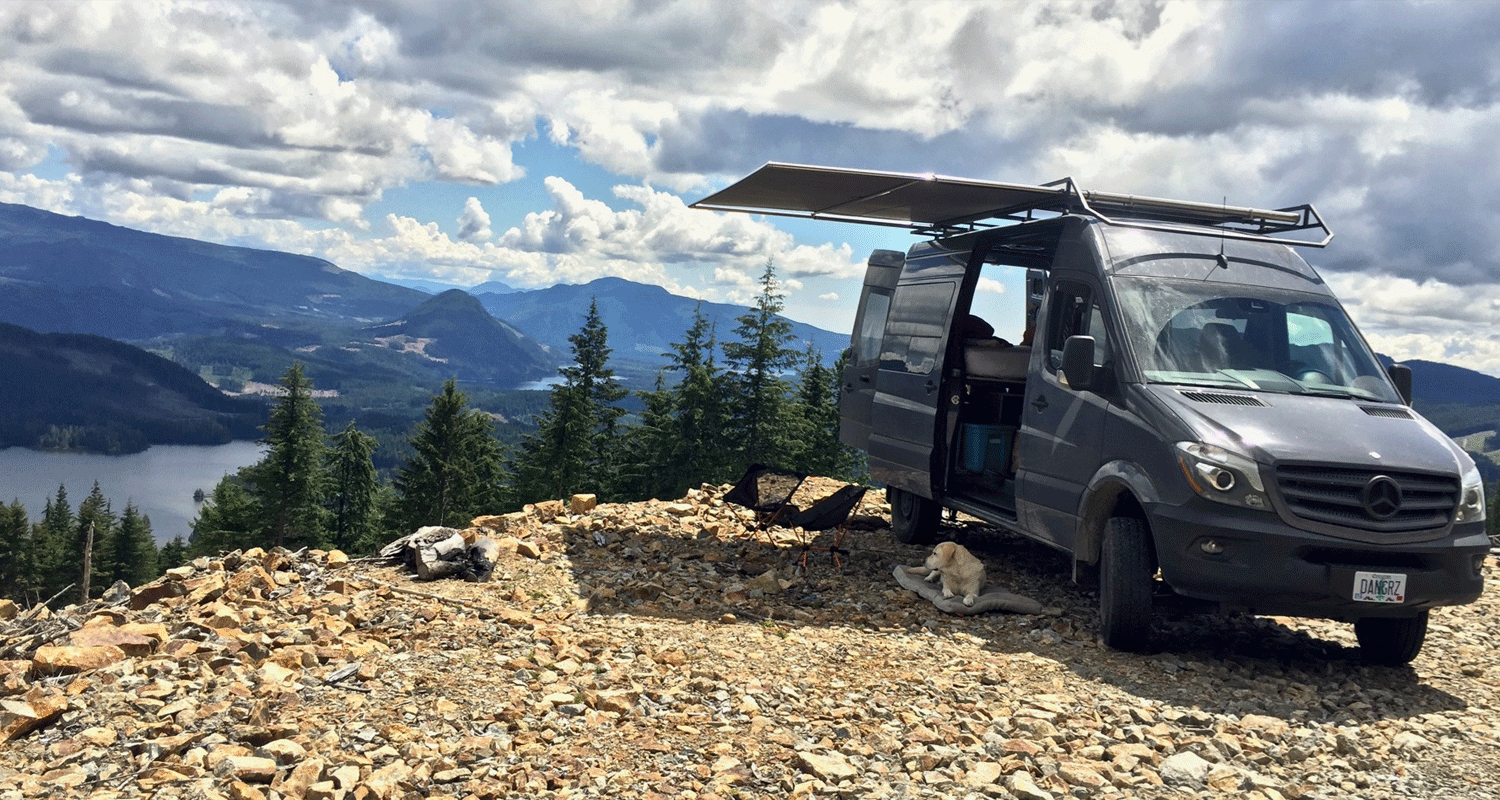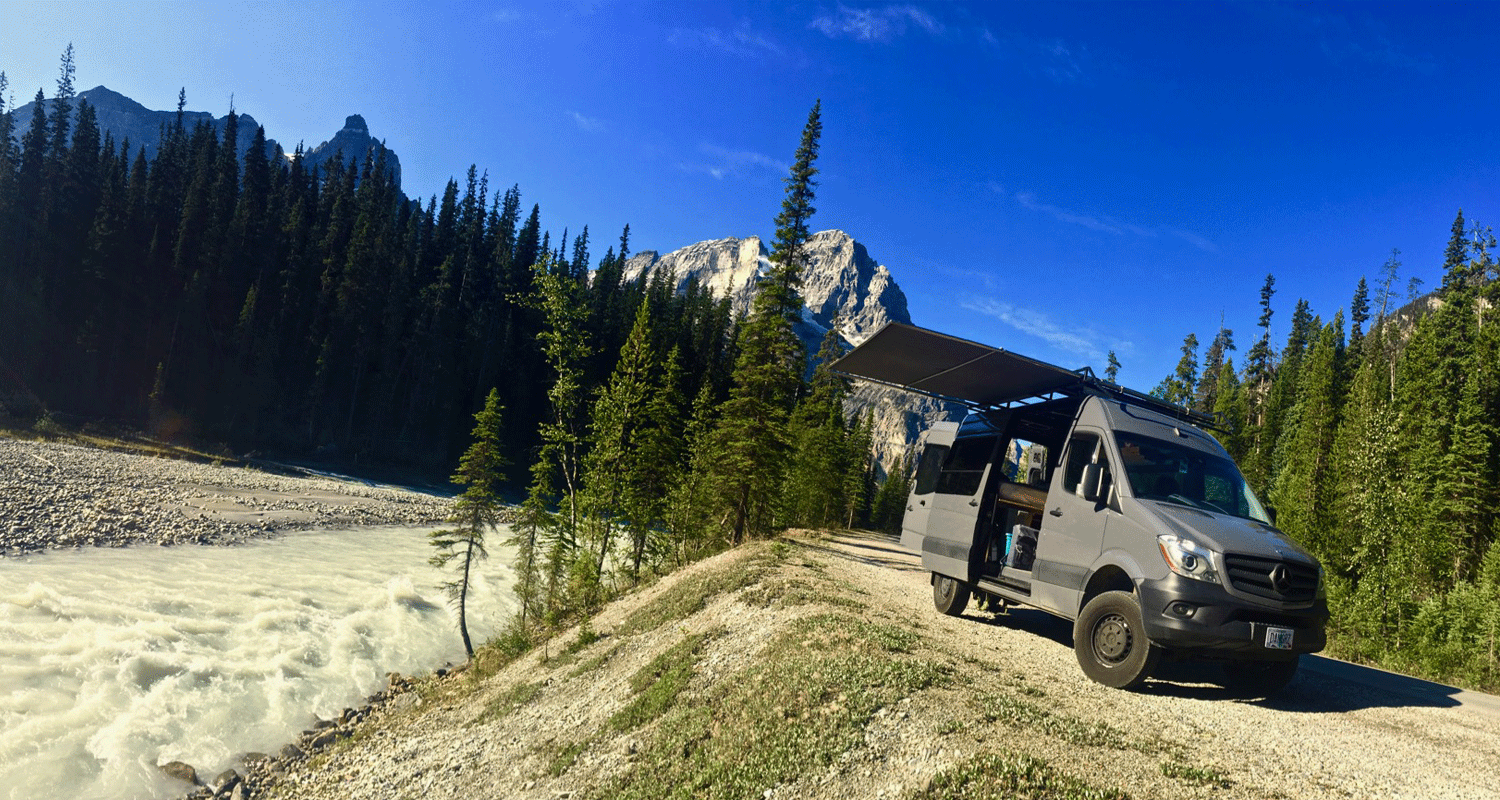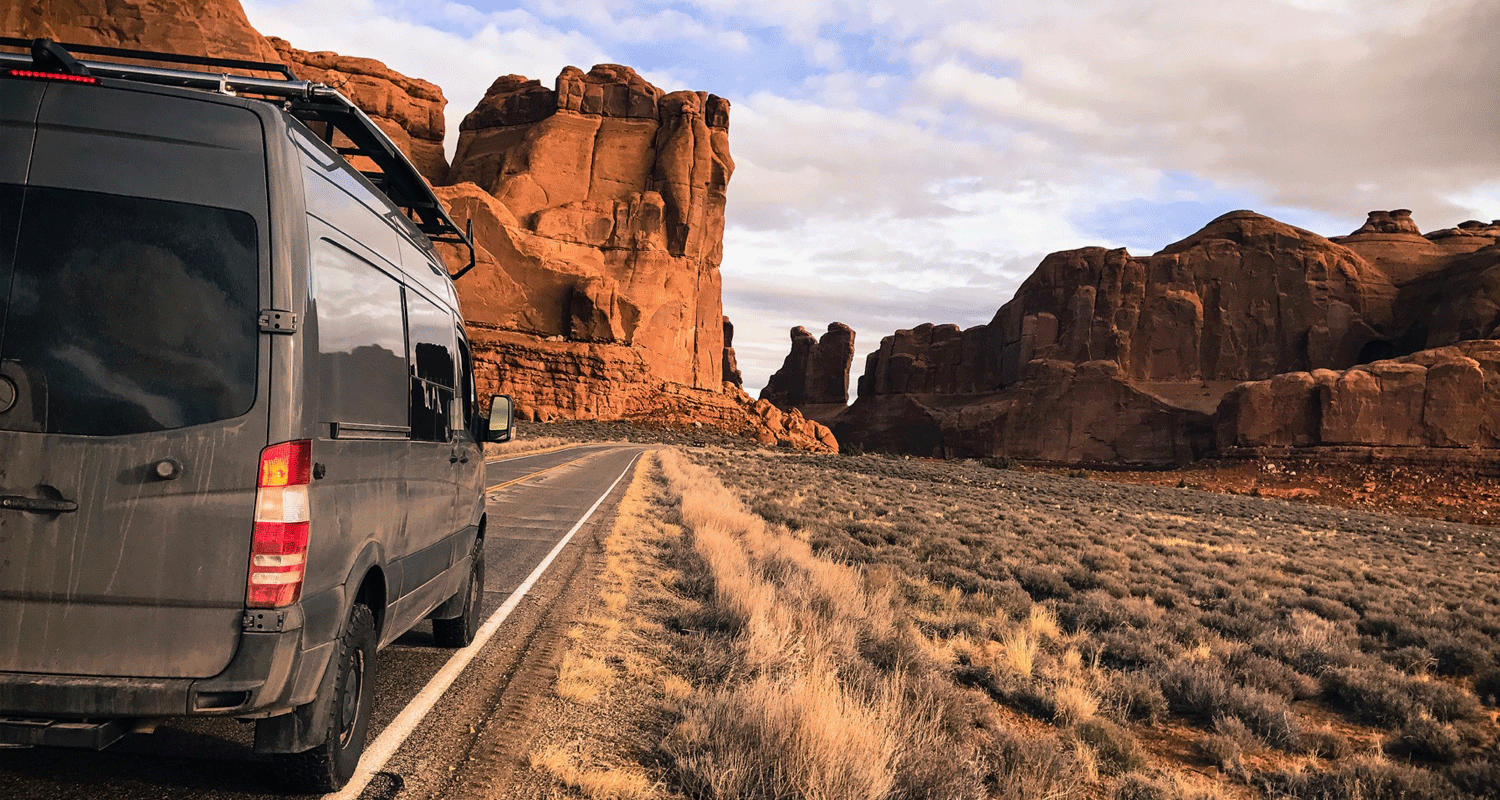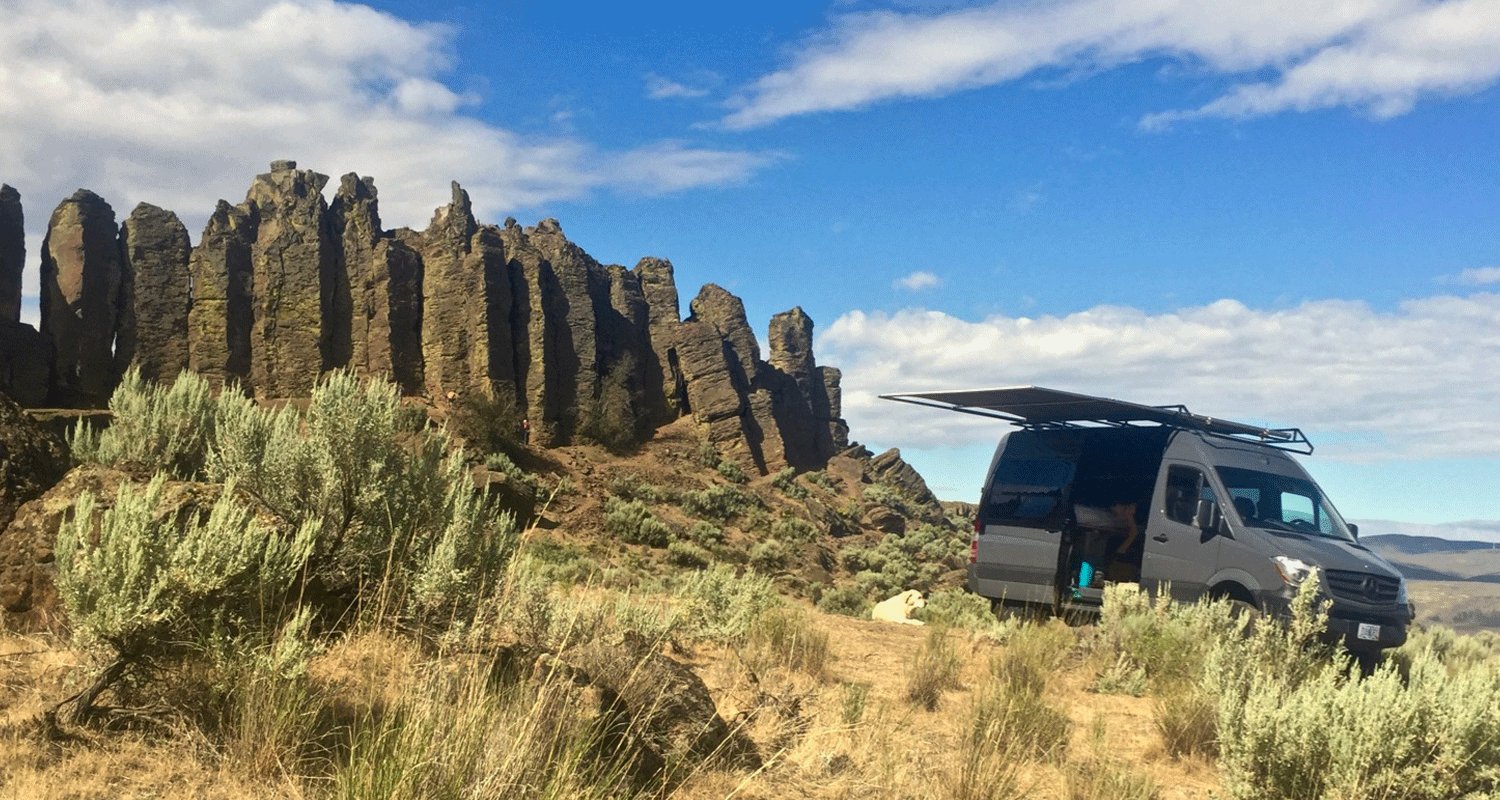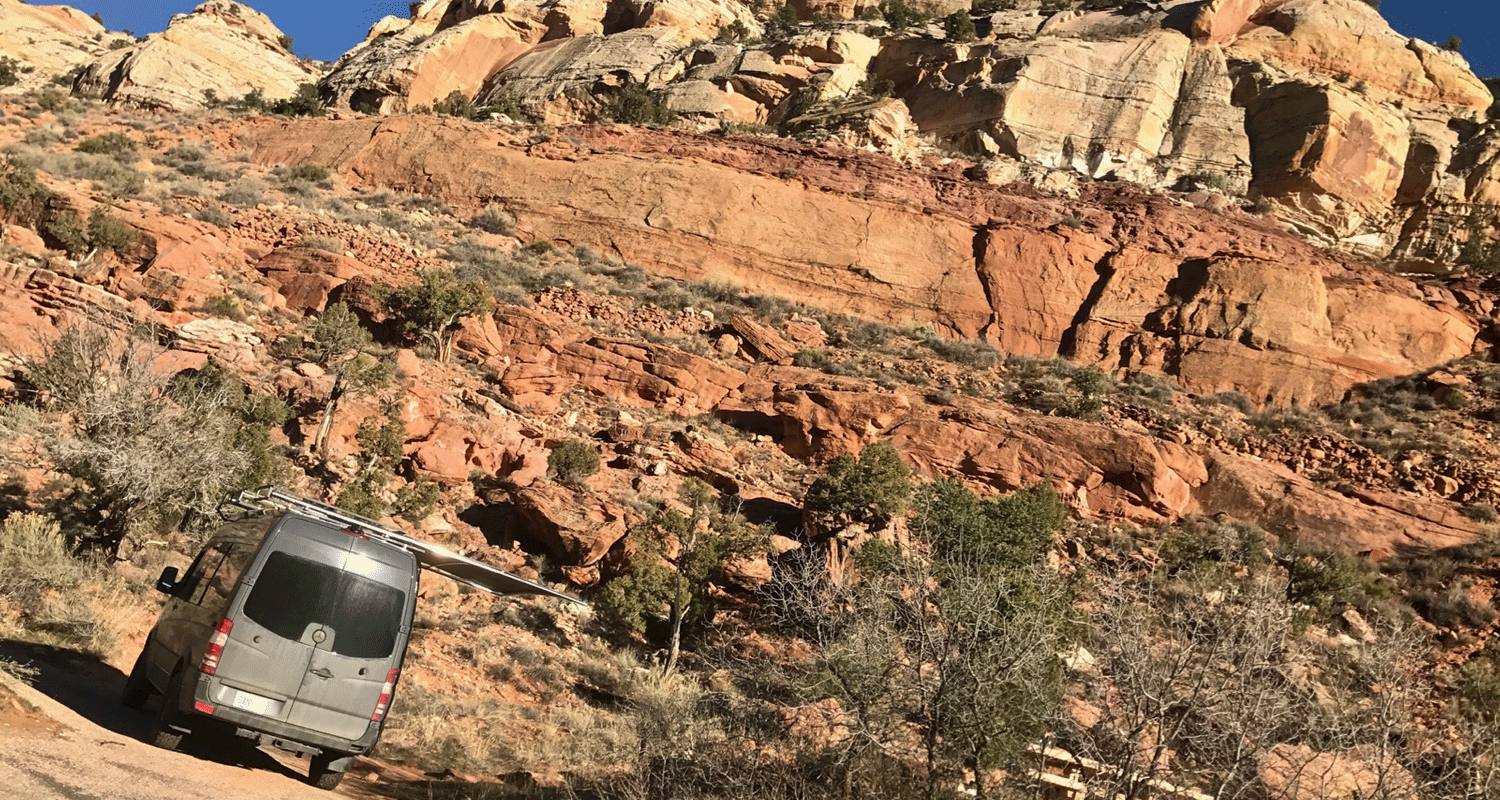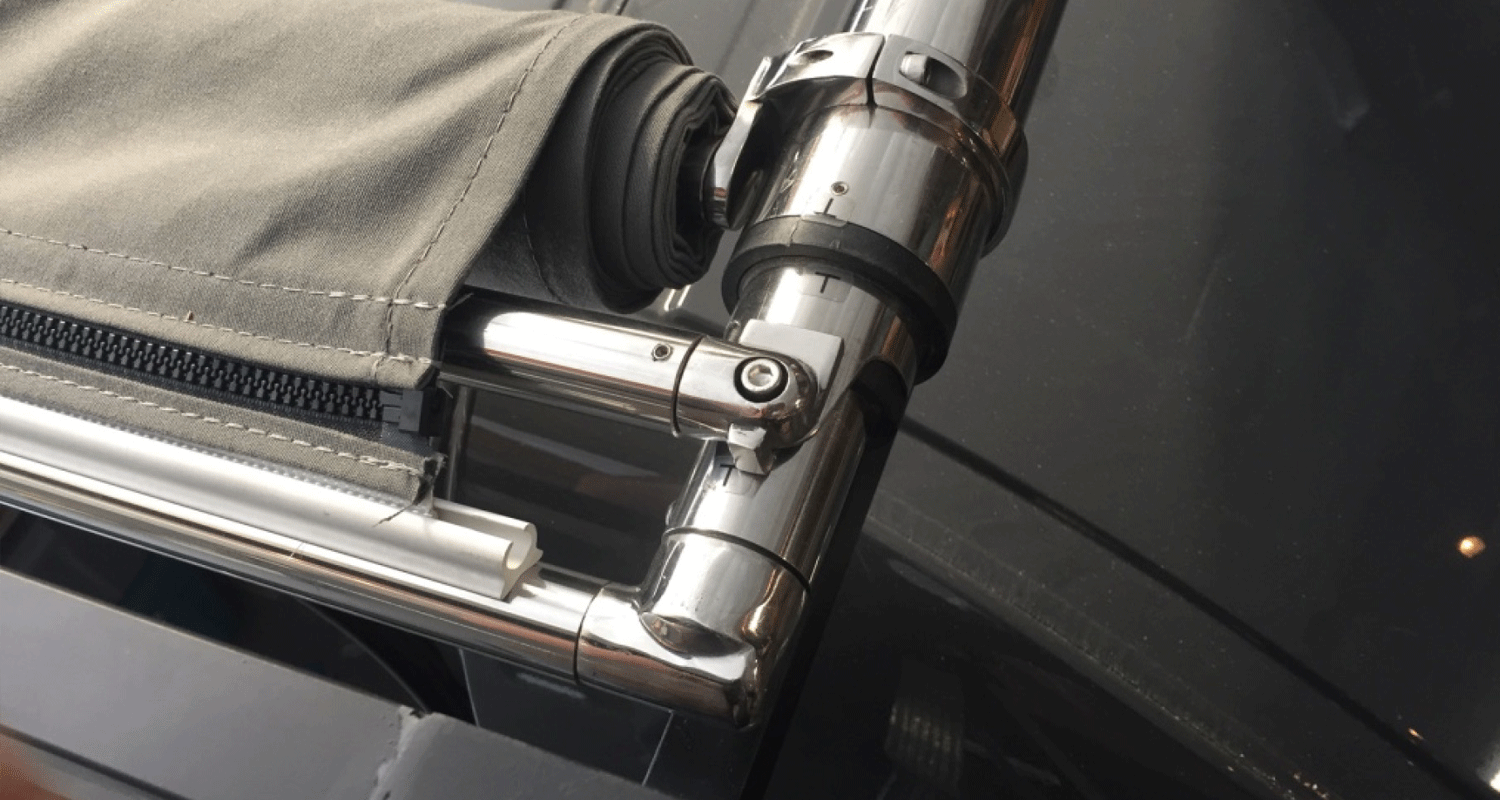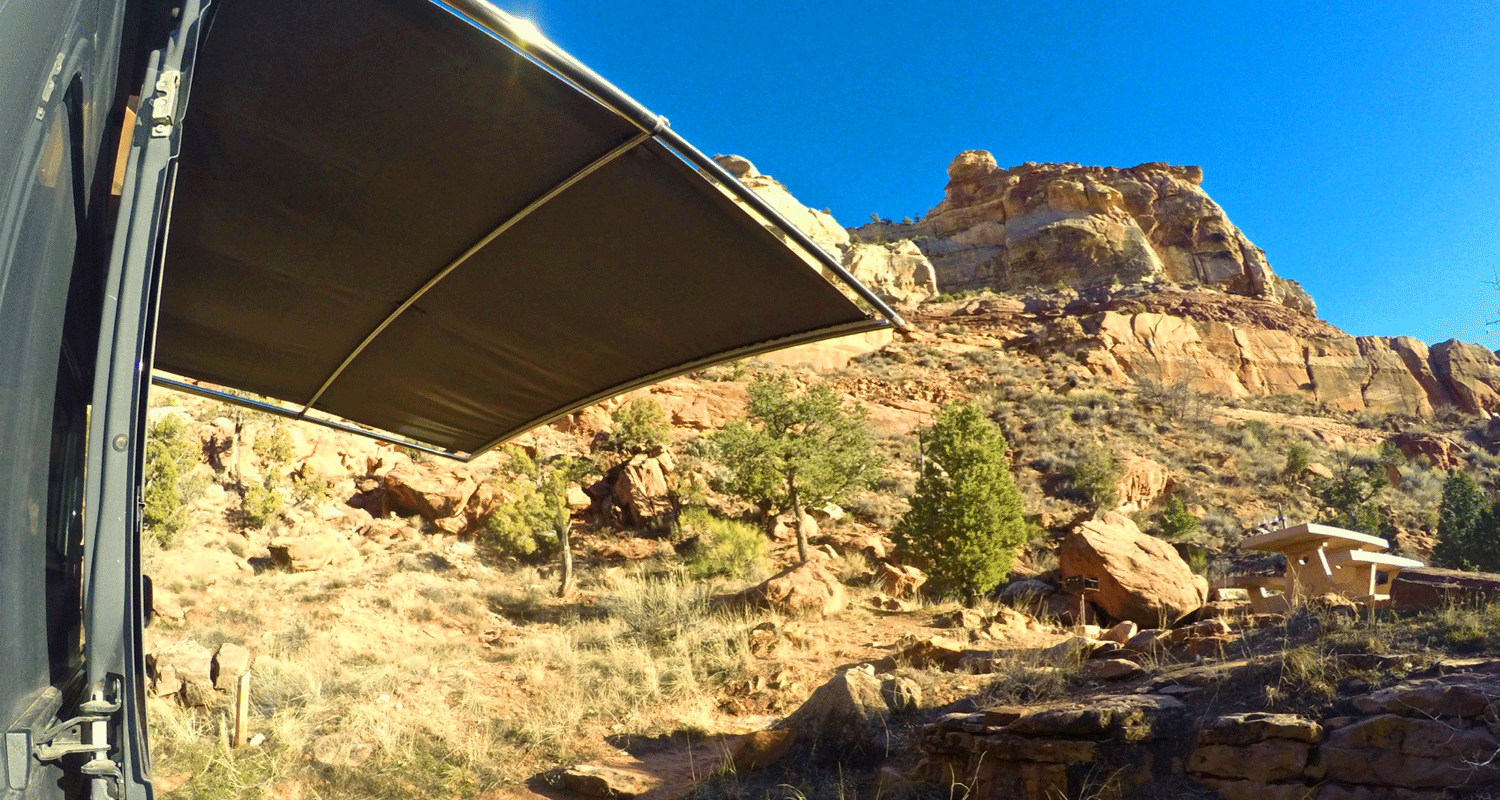 telescoping shade system
 
The sureshade awning/shade system was designed and tested in harsh marine environments and is the perfect addition to your adventurevan. Tired of other van/RV awnings having to be rolled up (or deciding to roll up on their own) when the weather picks up to a few mph of wind? Aren't those the times when you actually need your awning the most??
This automated shade is a patented, electric power-driven retractable shade system that automatically extends or retracts canvas at the touch of a button, and can also be either fully or partially deployed (in case you find yourself camping in tight quarters against a tree or boulder). The set of rugged stainless steel actuators and your choice of sunbrella fabric will help you weather the elements when stuck in anything short of hurricane force winds; and the patented camber will ensure water sheds off the awning during rainstorms just as well as it protects you from sun on the beaches of Baja.
The awning can be ordered in custom widths to attach to many existing roof racks and/or vehicles and will soon be available as a kit from your favorite rack manufacturers!
below are a few products/accessories specifically designed to integrate into your sprinter van build that we have designed and road tested in the field...
FEEL FREE TO CONTACT US FOR CUSTOM WORK OR to discuss full builds.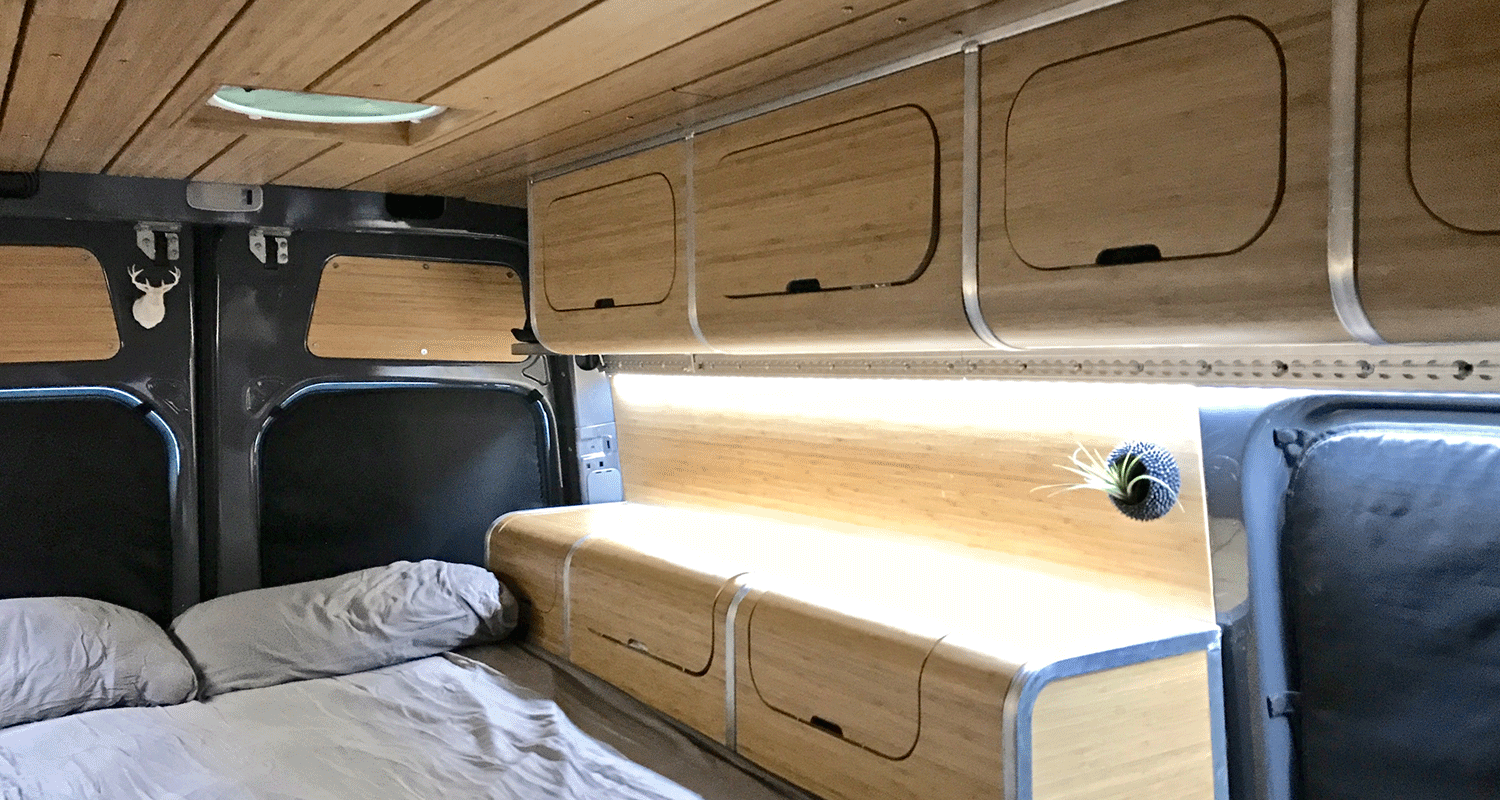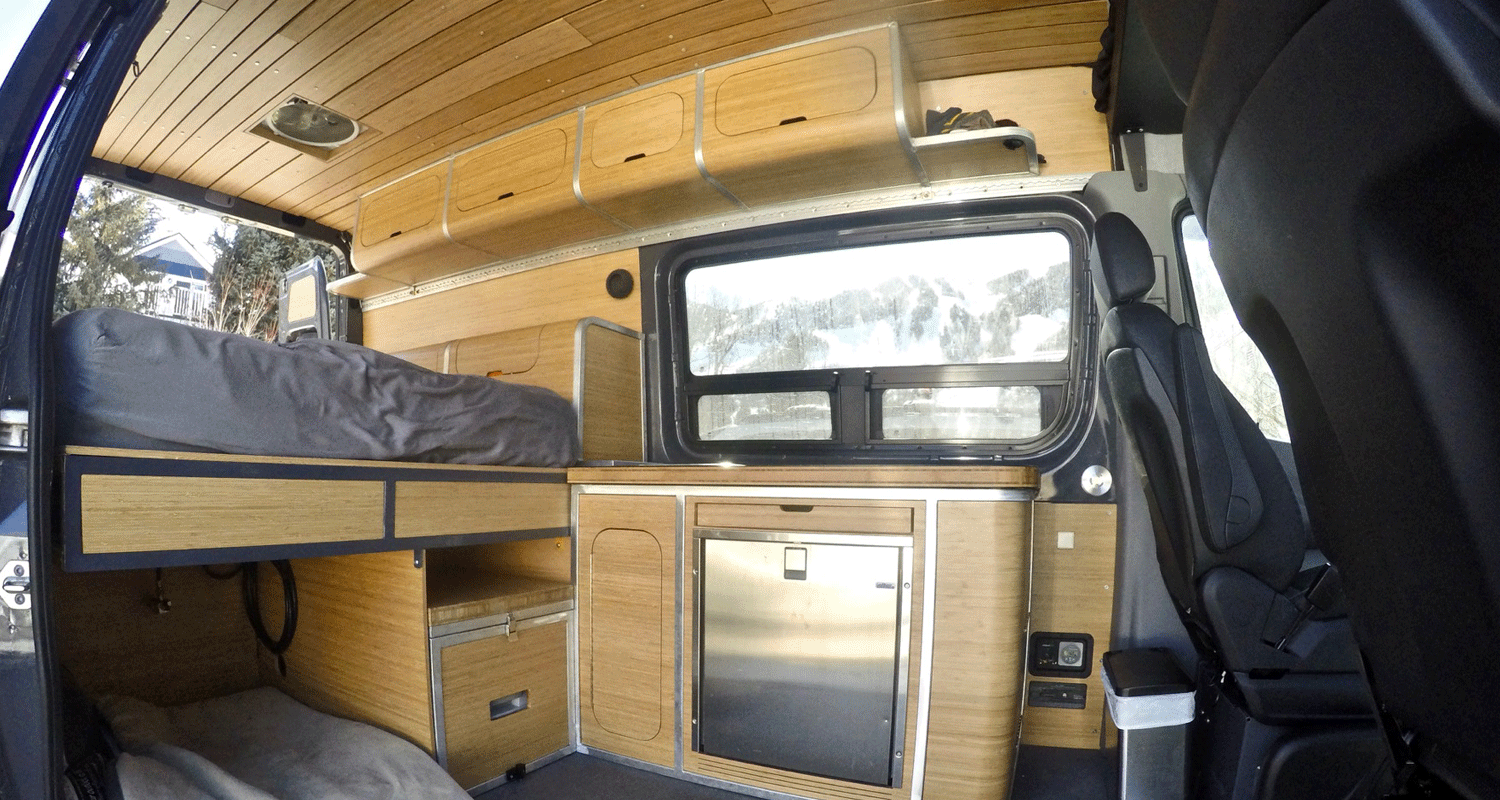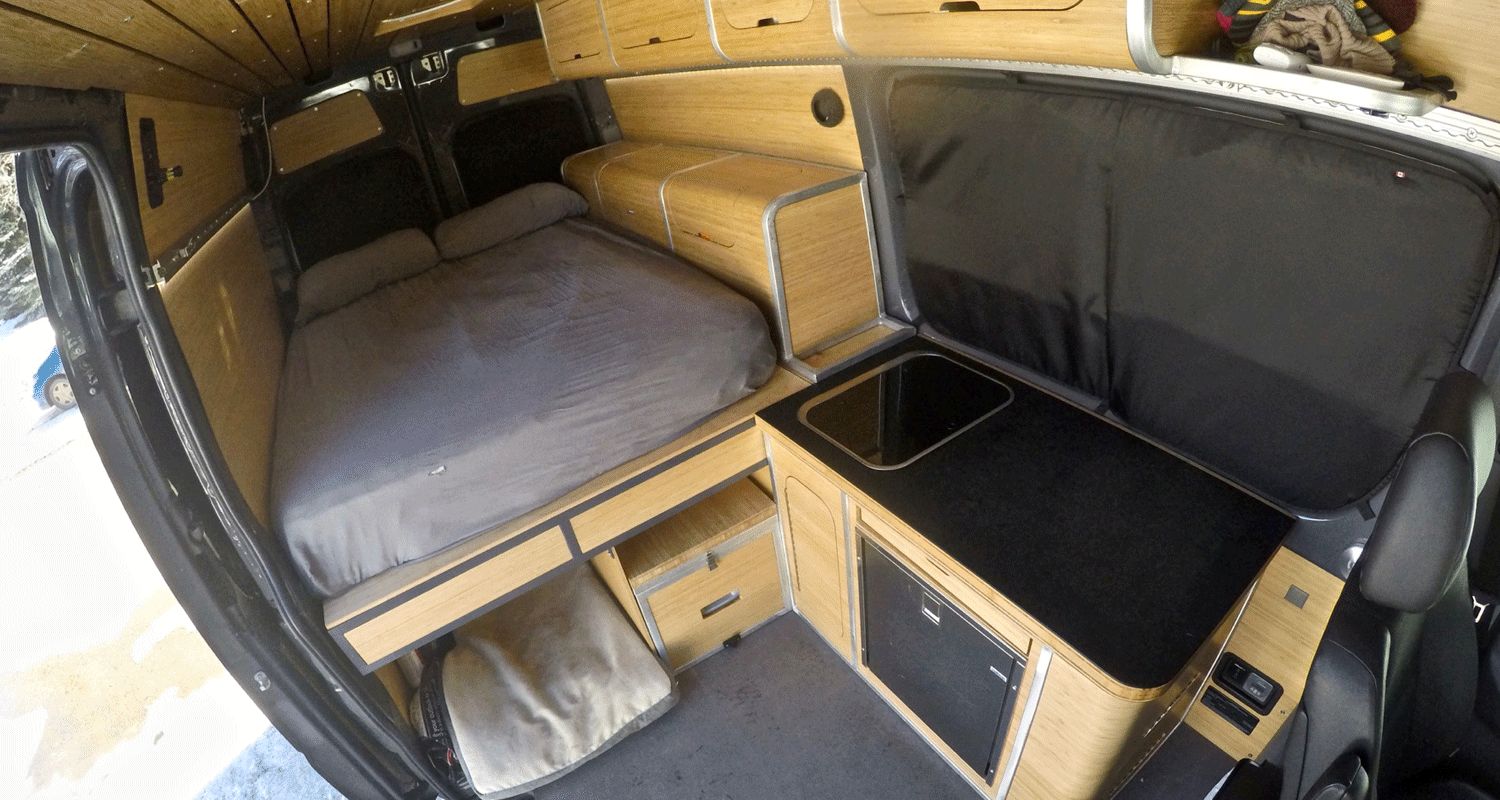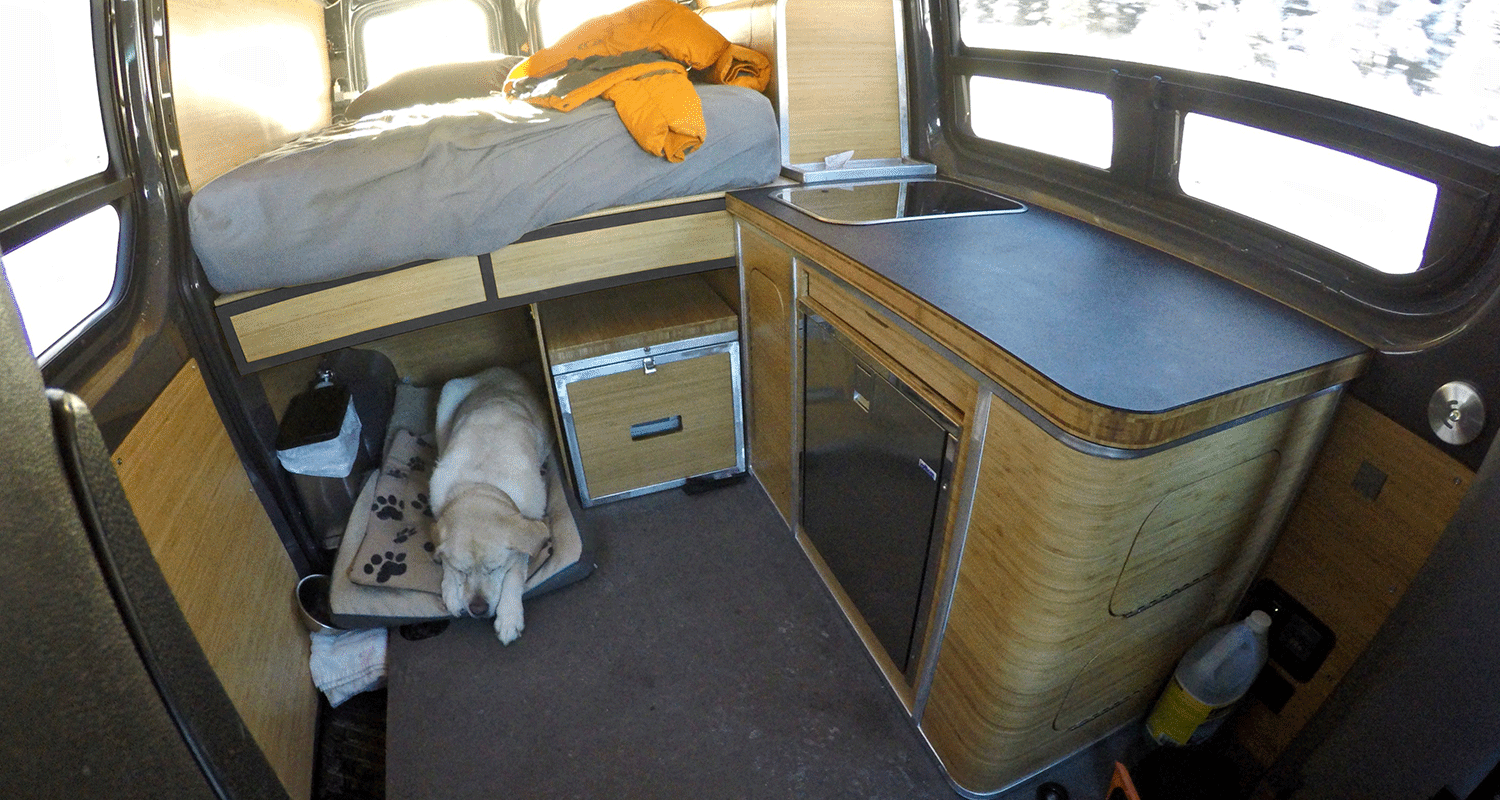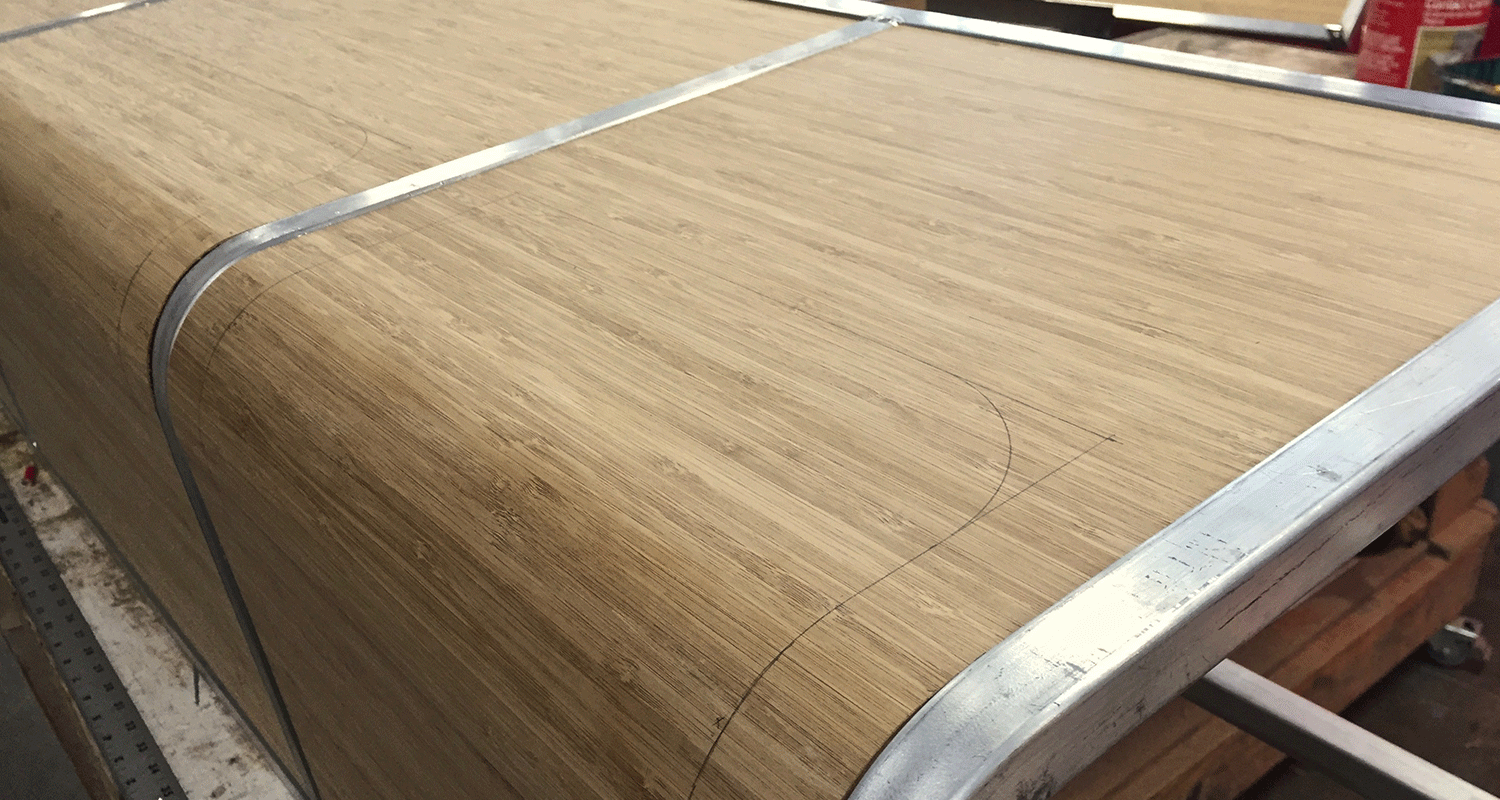 sprintervan Camper interior
 
We designed our SprinterVan camper "kit" components to be plug-and-play. Rather than permanently fixing cabinetry to the vehicle, we opted to design our components to be easily installed into existing "factory" holes. This prevents adding countless holes to your van frame and weakening the inherent strength of your vehicle; but also allows for easy removal and change as needed.

Use your van for weekend excursions, but need the open space for work on monday morning?
Simply pull out the components you don't need and store them in the garage during the work week or until your next adventure.
A rugged aluminum exoskeleton ensures durability and bamboo panels complete the pieces for a beautiful and long-lasting interior with ample storage and multiple uses. Upper cabinets, bedside cabinets and kitchen components are all available individually or as a complete set.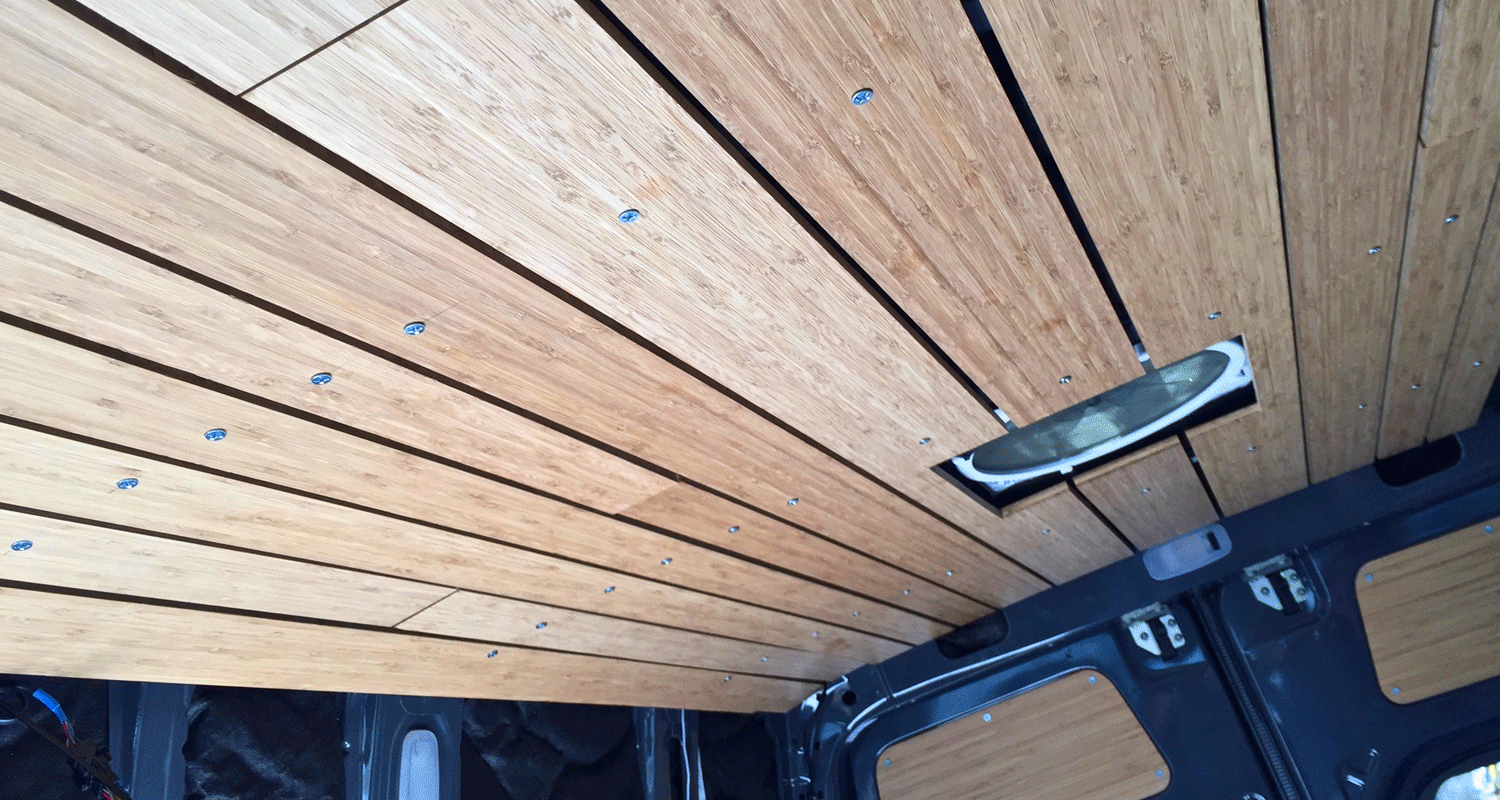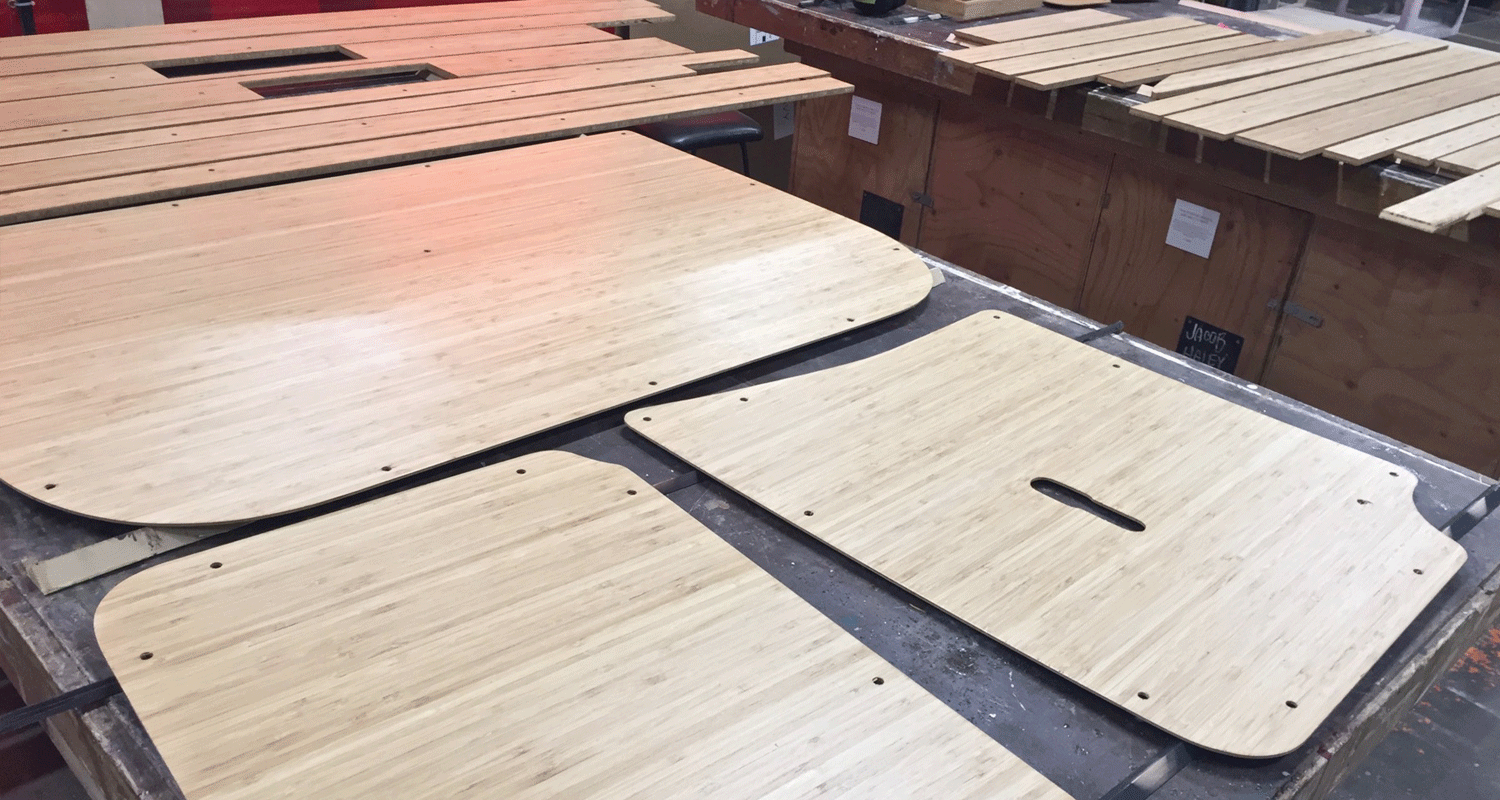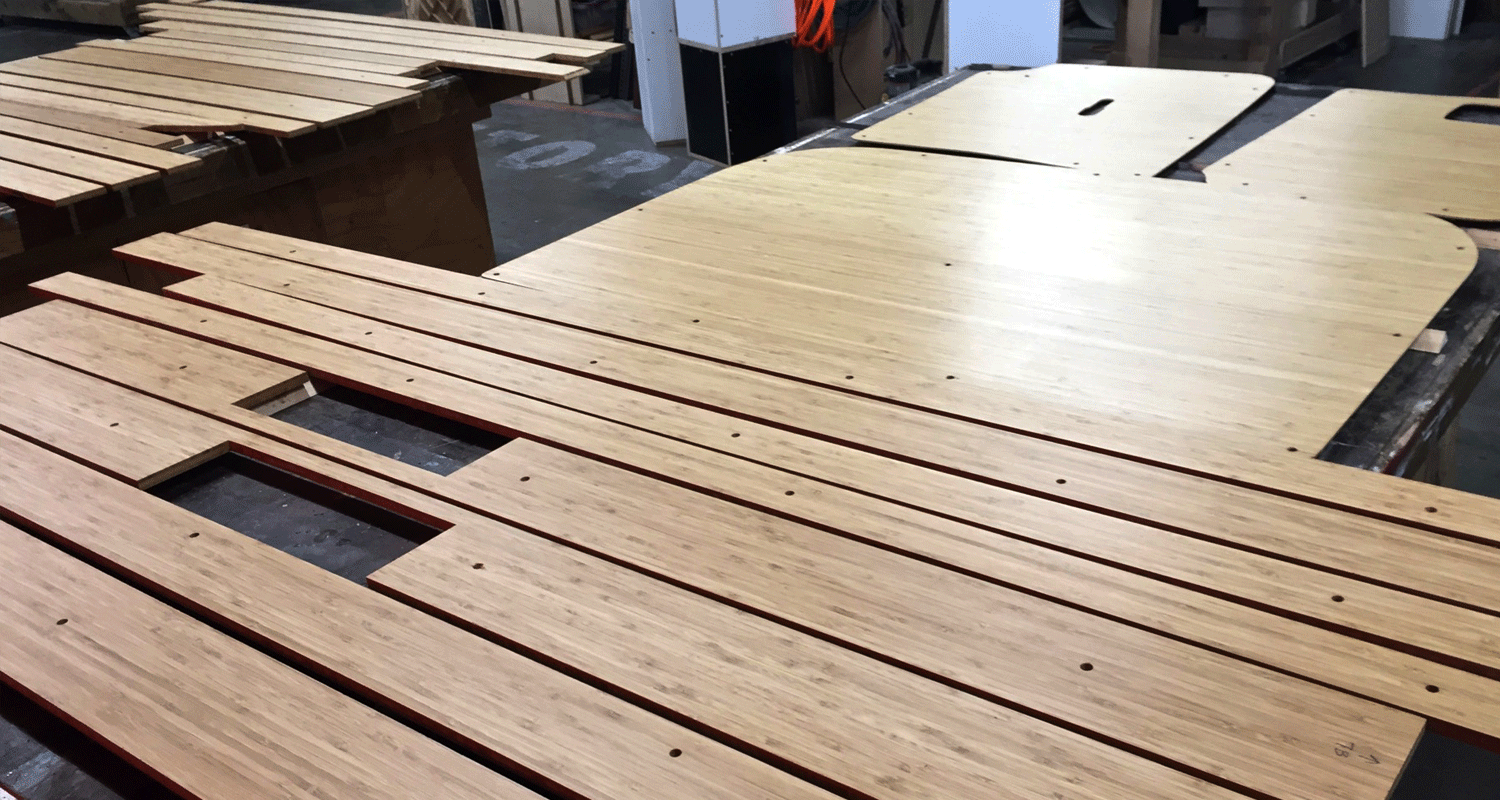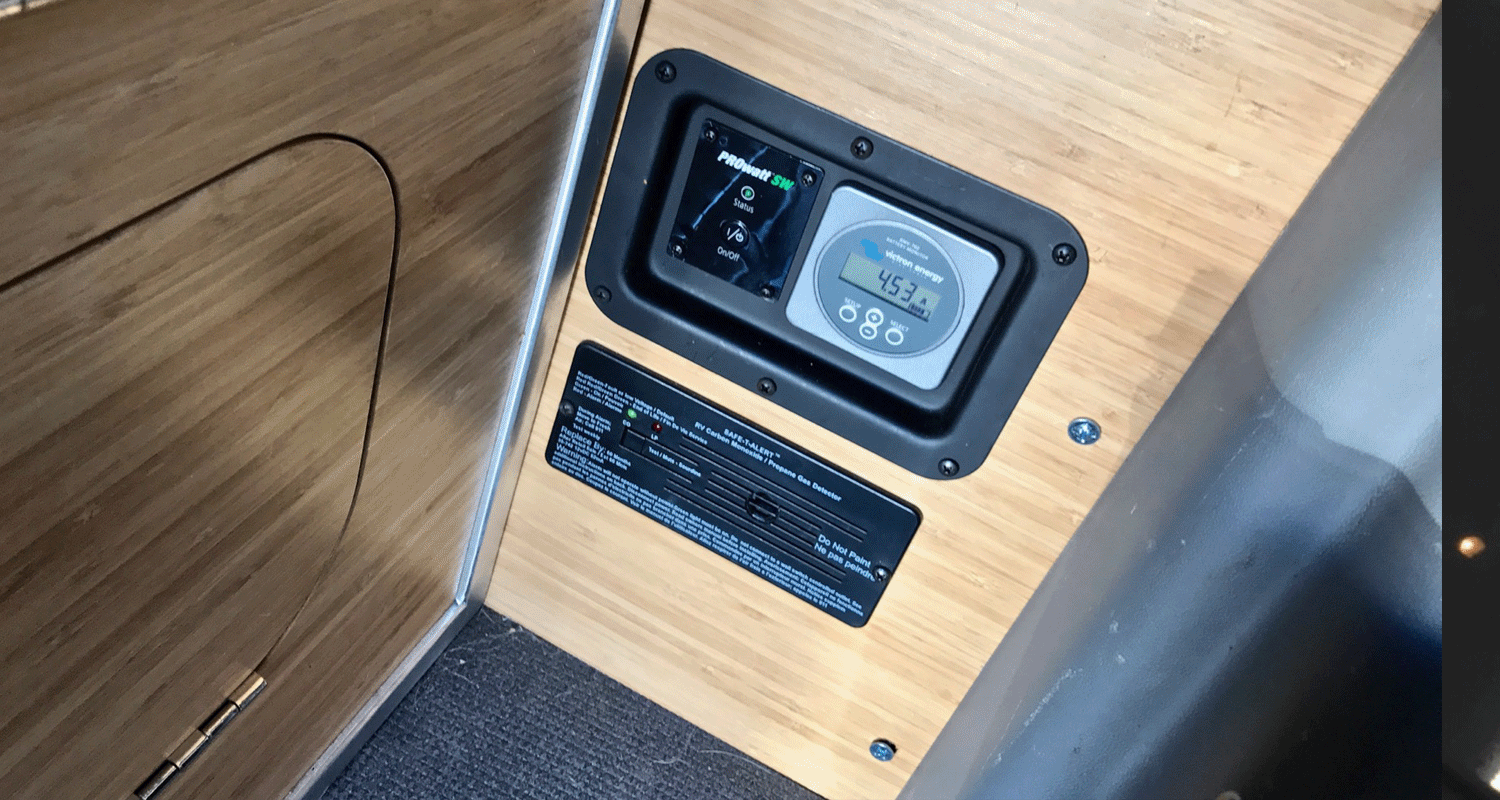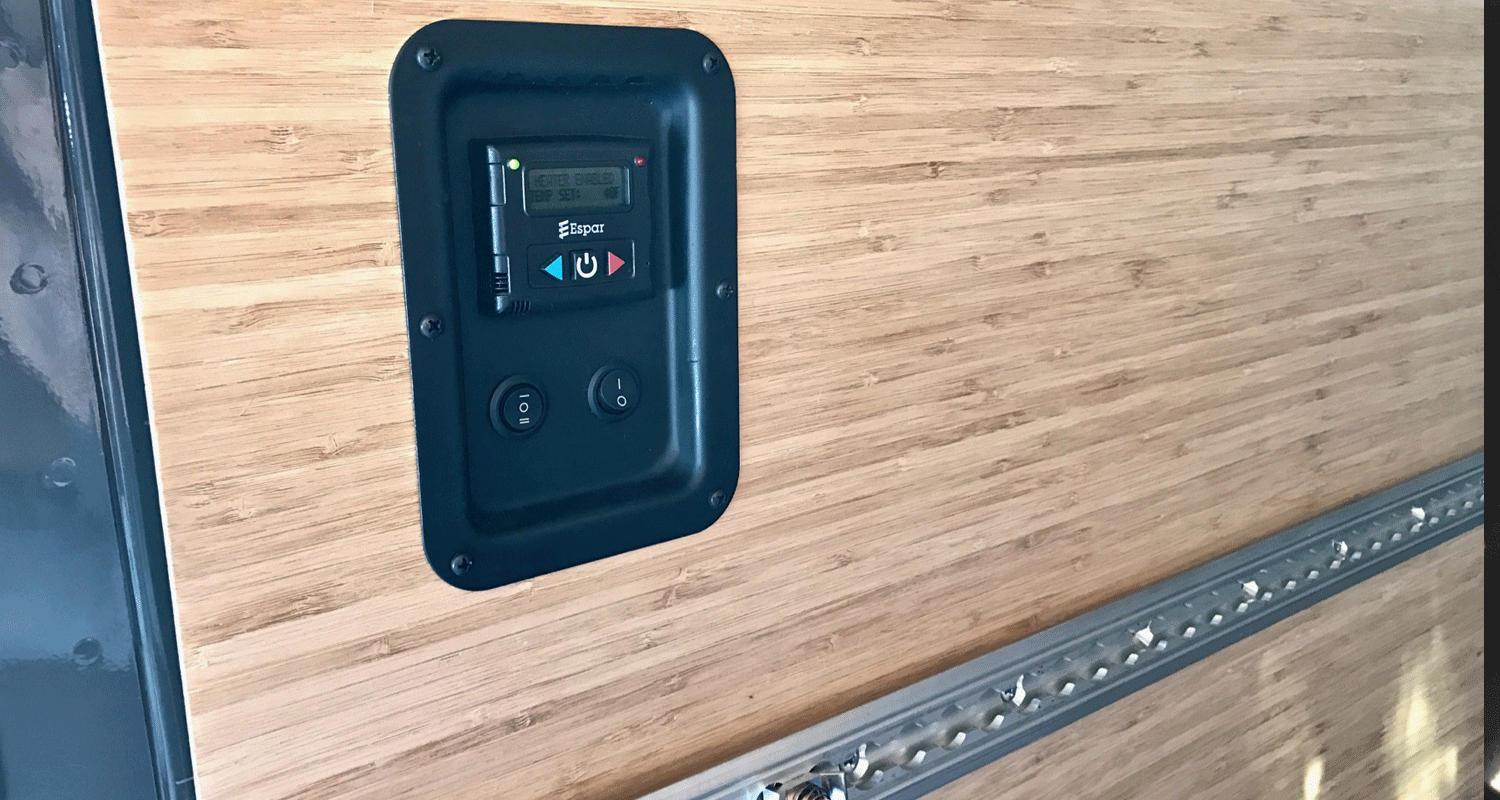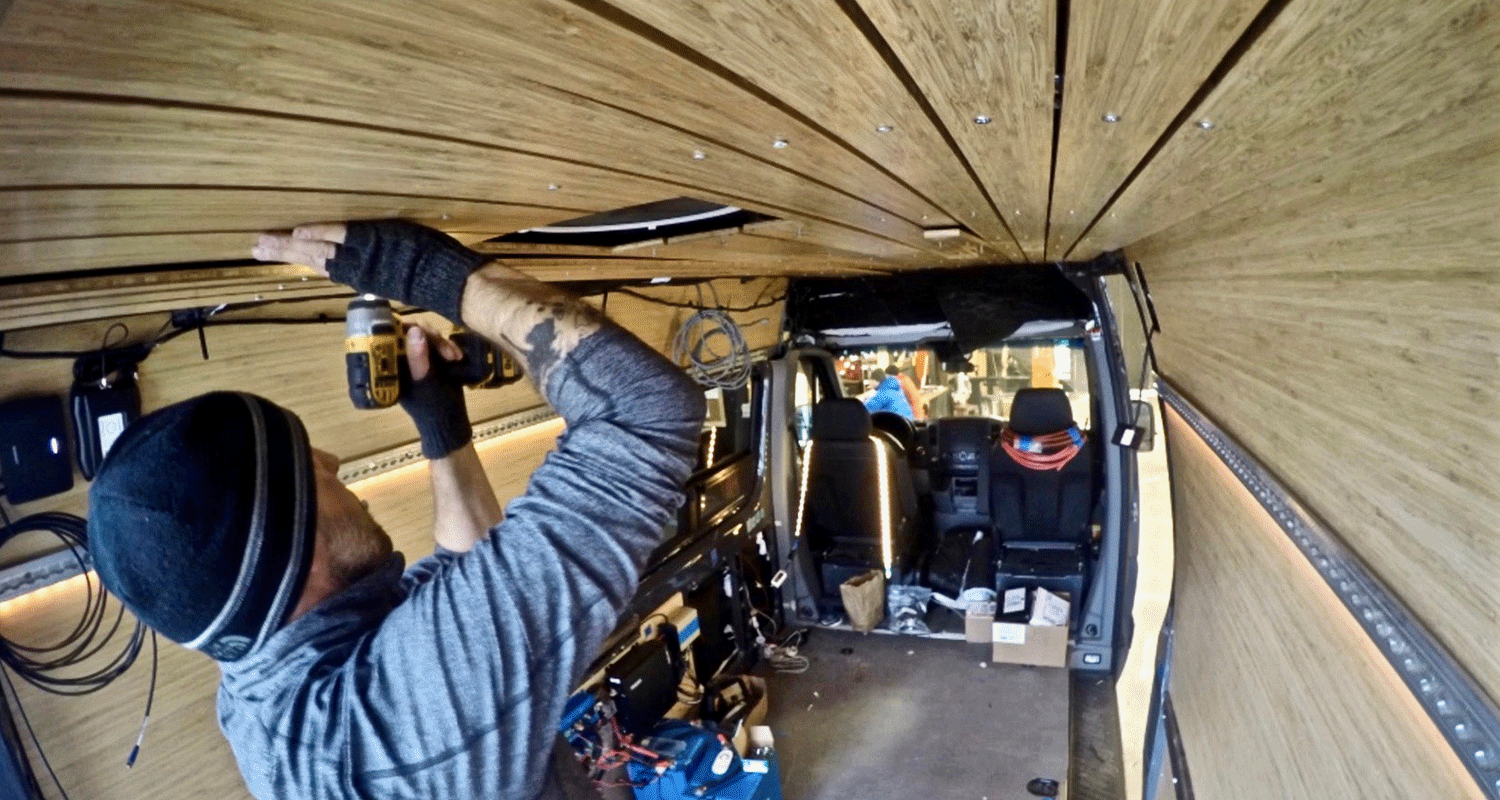 Ceiling Panels/wall panels
 
Our bamboo ceiling and wall panels are designed much like our interior kit, intended to be installed into factory holes for ease of install and removal. If 5 years of living in our van and designing small homes have taught us anything, its that eventually a repair will be needed or you will want to change/upgrade your layout. This shouldn't have to be a devastating moment and shouldn't mean having to start all over.

Ever wish you could add insulation or wiring to your van build? Find yourself curious what kind of moisture or other issues are collecting behind those sealed van panels? Ours unscrew in seconds so you can have a look, add insulation or change wiring as needed.
Our ceiling panels are also designed as individual slats so you don't have to remove the entire ceiling to get access to a single area, and the separation between them ensures airflow rather than moisture collecting/trapped along the van ceiling on cold/damp winter nights.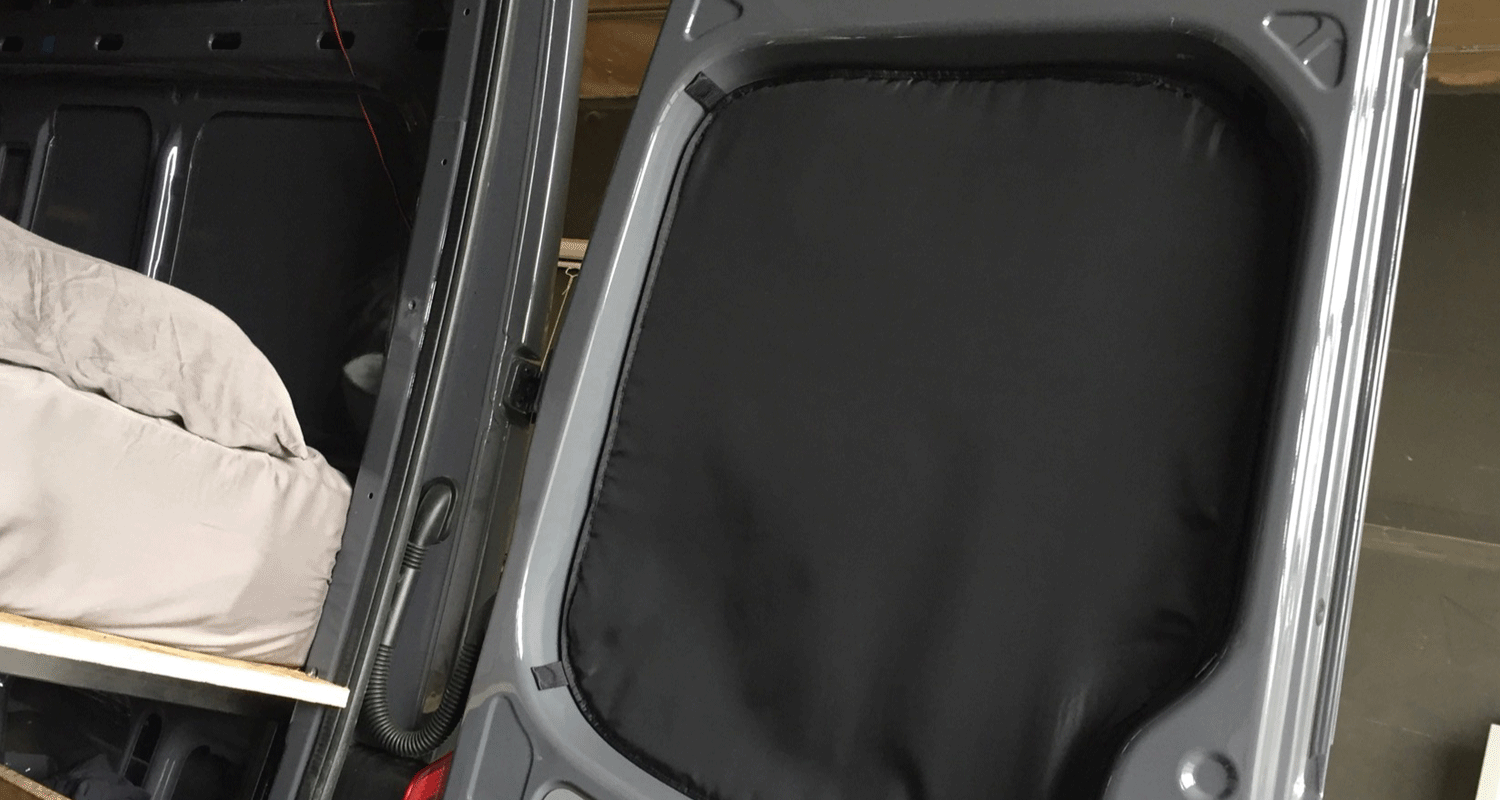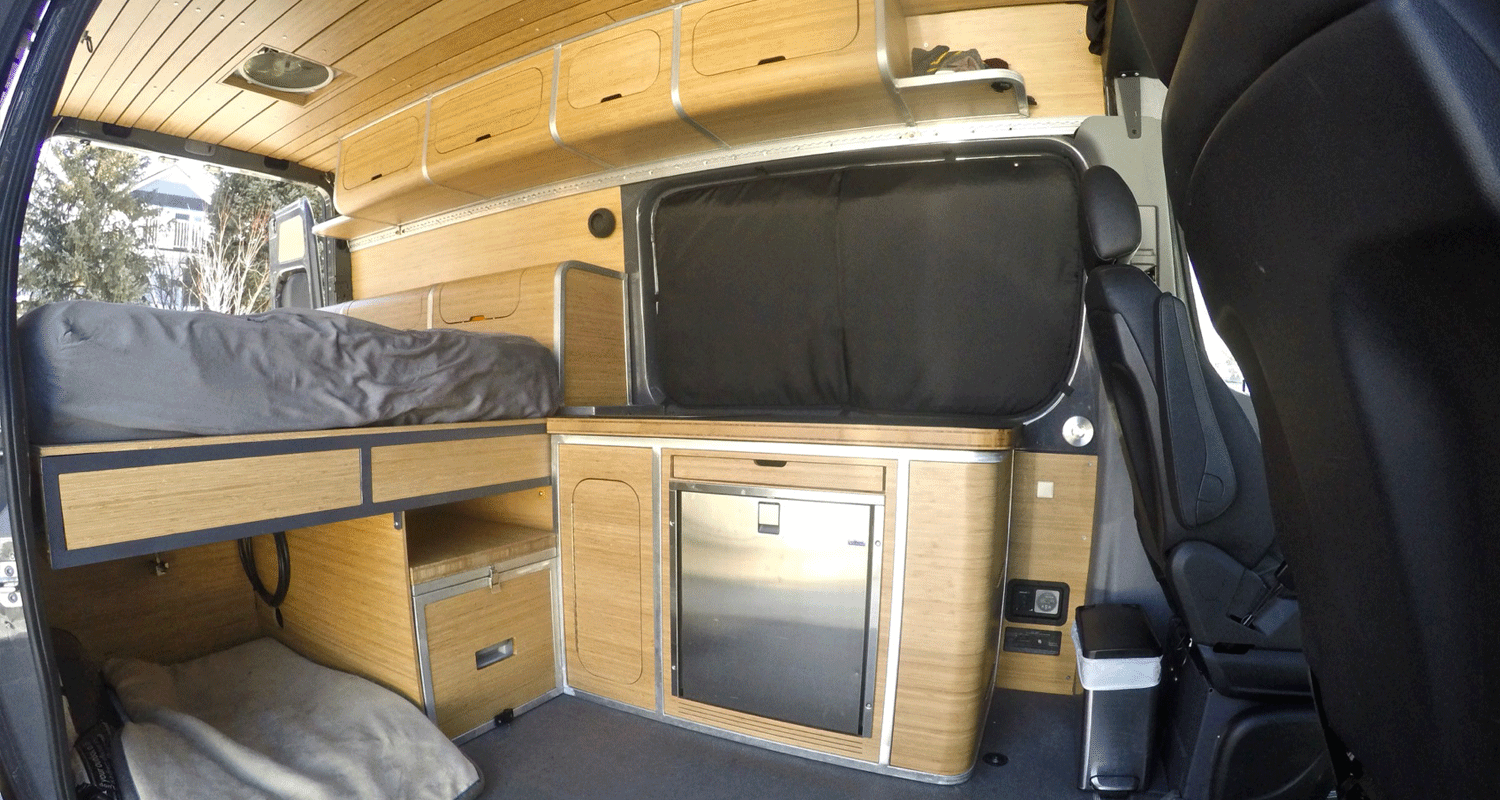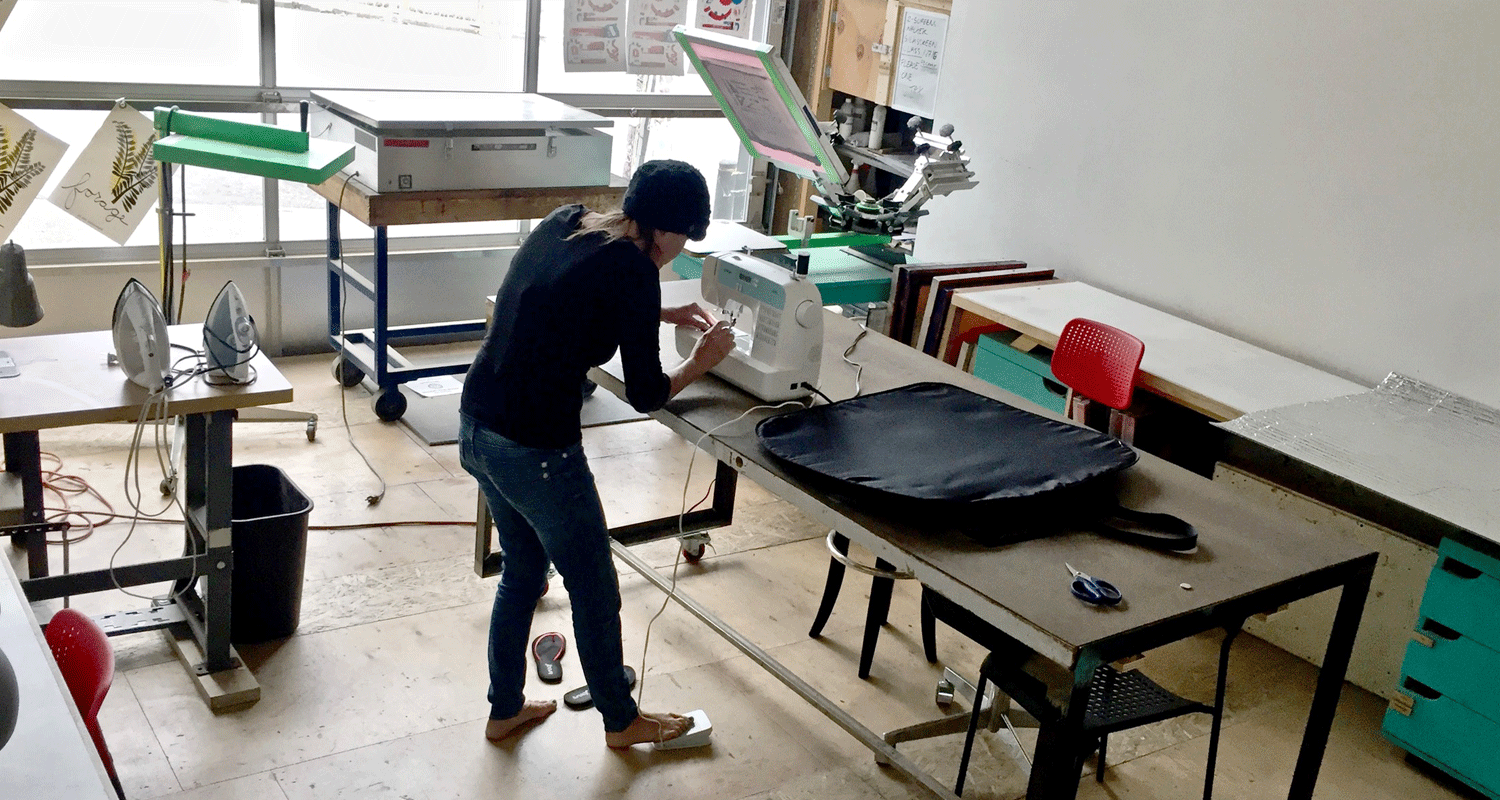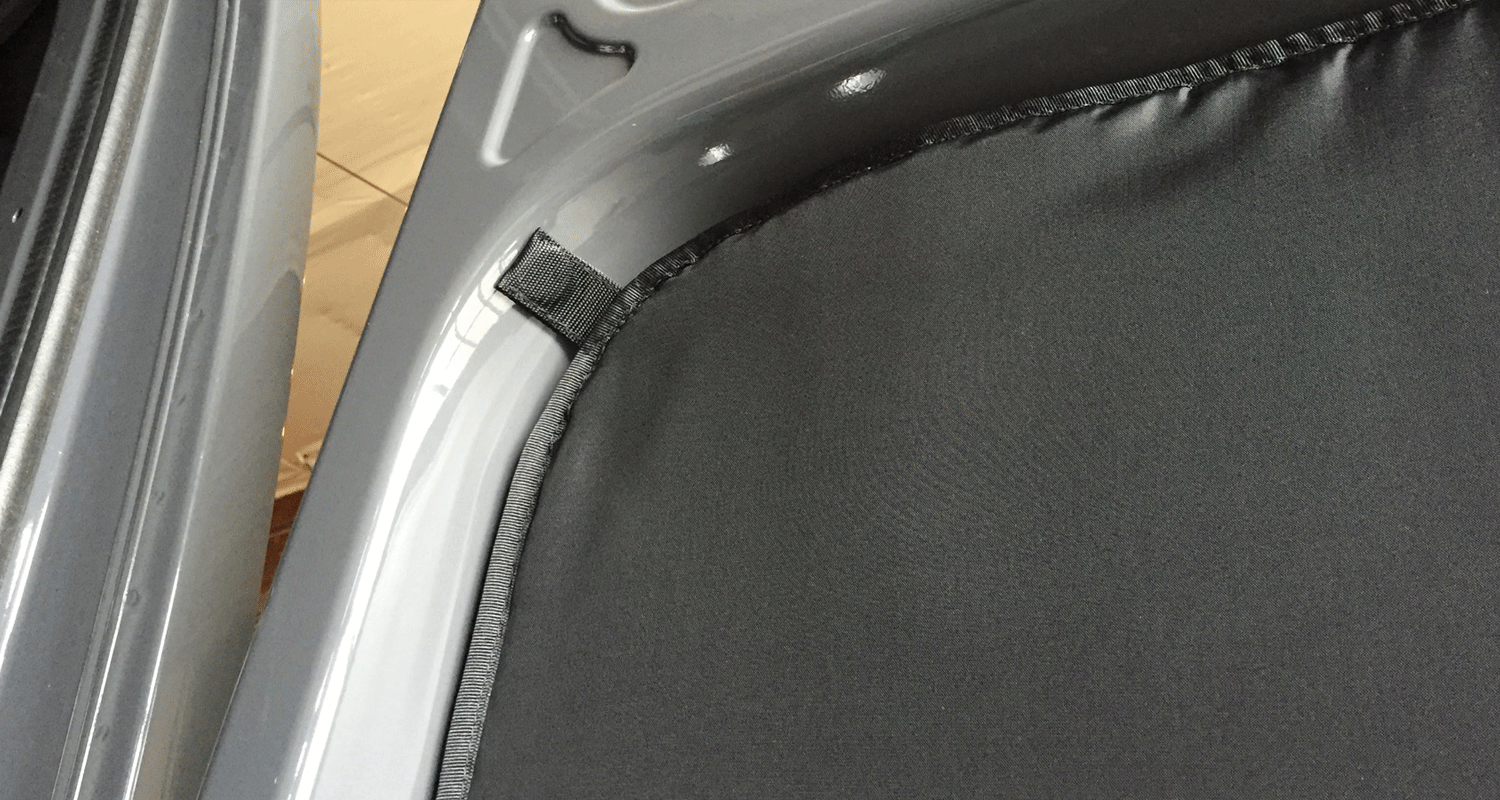 insulated black-out shades
 
Spend time stealth camping or simply looking for some privacy while at the campground?
Our insulated window shades fit snugly against the glass and allow you to camp without anyone even knowing you're inside the vehicle. The shades are made of a rugged satin fabric that completely sheds pet hair (for those of you like us who travel with pets), bound on the edges and use strong magnet "tabs" to nest into the window frames, which means no unsightly holes drilled into your beautiful van.

The insulated core also means less heat gain (or loss when snow camping), which means a more comfortable night sleep.
more products coming soon!